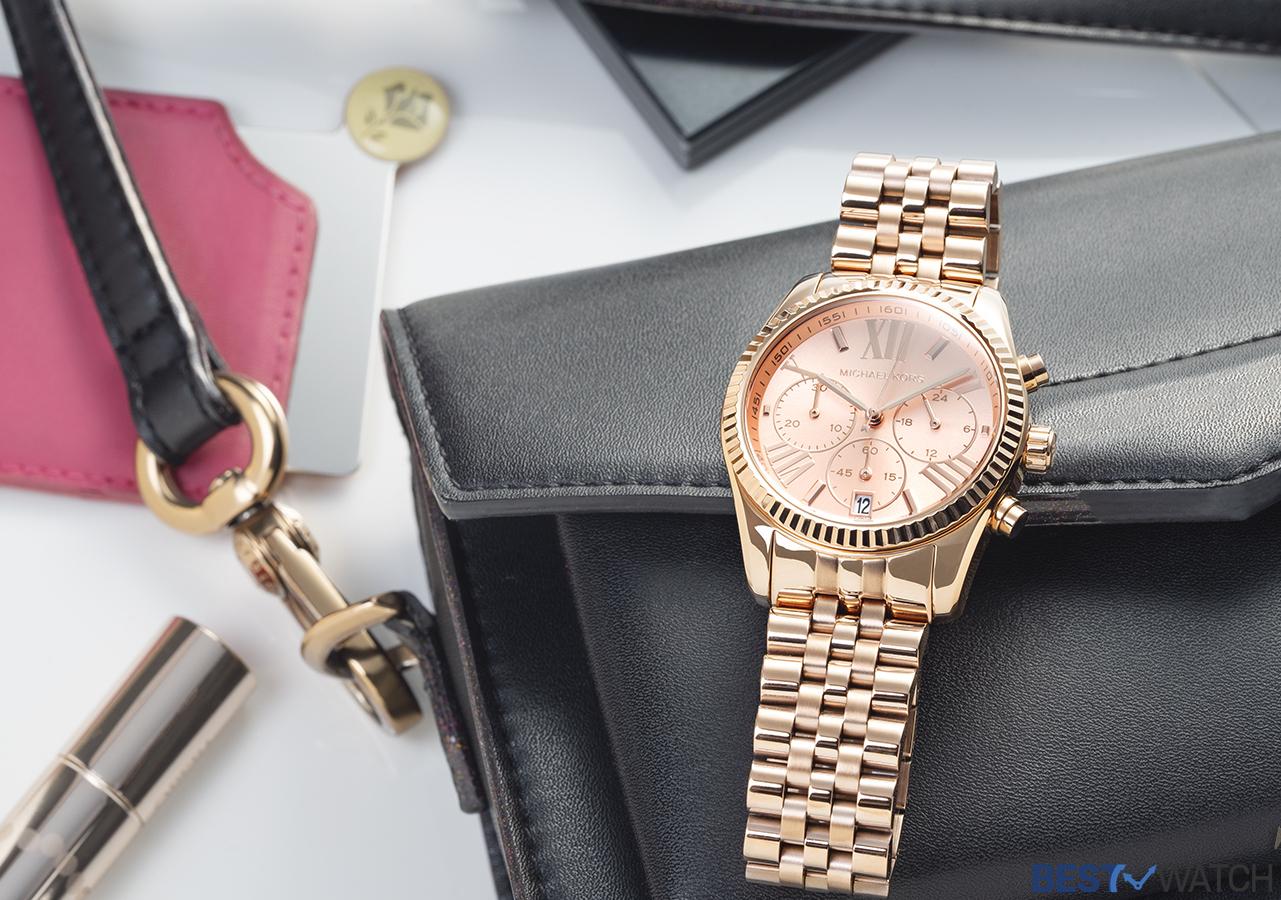 The Korean cultural wave is fast spreading across the world. From Kpop to Kdramas to Korean fashion and food, the West and the East have embraced this fresh, youthful cultural trend. What is a common thread weaving together all Korean trends? It's fashion. From the impeccable Korean-style fashion statements of Kpop groups like BTS and Blackpink to the famous Korean skincare practices, looking good is a fundamental part of Korean culture. The youth around the world is enchanted by this attention to detail and non-traditional dressing rules.
As any fashion-conscious person will tell you, accessories make or break an outfit. While there is no lack of accessories, the classic wristwatch is, without a doubt, the most timeless and elegant. In Korean fashion, style and panache can be greatly enhanced by wristwatches holding together an outfit. Let's find out what watches are in vogue in Korean fashion Style and how you incorporate them into your style. 

Michael Kors
People who know a thing or two about fashion are already familiar with Michael Kors. Primarily known for their range of handbags and accessories, Michael Kors watches are a great option for classic yet stylish timepieces. With the rise of smart wearable technology, more brands are venturing into smartwatches. Michael Kors did a great job with their range of smartwatches. Being under the parent company Fossil makes it even easier to find and purchase Michael Kors watches.

Access Sofie Heart Rate: Michael Kors aimed this new smartwatch at women. It has a shining yet sophisticated appearance, fit for all ages and genders. It can perform all the basic smartwatch functions like activity tracking, heart rate monitoring, etc., and has a 41 mm case diameter. The AMOLED touchscreen makes it both durable and functional. These watches add a modern vibe to an already edgy Korean style. 

Access Bradshaw 2: With a 44 mm case diameter, this is a bulky and grand watch. Both men and women can wear it, but it will look best on people with bigger wrists. It comes in color combinations of blue, rose, and gold. The watch is also moderately water-resistant, up to 30 meters. Its 22 mm straps are bold, elegant, and you can interchange them.  

Burberry
Burberry is a high-end fashion brand with an impressive collection of watches. They make watches for both men and women. Burberry watches are reflective of Burberry's chic and elegant designs and styles. Over the years, some Burberry watches have been very impressive and people have loved using those. 

Burberry Ladies The City Engraved Check Watch: With a PVD gold-plated case with a diameter of 35 mm, this is a perfect watch for women to pair with any outfit. The strap is also made of PVD gold-plated steel. The appearance of this Burberry watch is very chic yet modern. Its fastening technology uses a jewelry-like clasp. The hour and minute hands are also golden, and a checkered pattern is present throughout the watch. 

Burberry Men's The Utilitarian Chronograph Watch: It is a simple and no-fuss chronograph. With great looks and solid performance, it is a great chronograph in its range. The authentic leather strap gives it a classic look, and its 100 m water resistance makes it a solid performance watch. 
Emporio Armani
Emporio Armani watches carry forward the legacy of all Emporio Armani products. Their hallmark is a luxurious design with robust performance. Their watches are made in a similar vein. They are stylish yet incredibly durable – making them perfect for a Korean aesthetic. 

Luigi Black & Rose Gold Watch: The Luigi is one of the most popular watches from Emporio Armani. It has a classic sign with a gold case and transparent back. Its black pure leather strap looks stunning. With a water resistance of 30 m, this Emporio Armani watch is a great choice for wearing every day with different outfits. 
Emporio Matte Black Mesh Watch: Known with the reference AR11264, this watch is the definition of minimalist style. It has a very clean look in matte black. It is perfect for formal occasions when you want to look more serious and mature. 

Marc Jacobs
Marc by Marc Jacobs is perhaps the best brand that also makes watches within the budget segment. Marc Jacobs watches are grand and elegant. With metallic finishes and colored tones, they have some of the best dress watches out there. You can pair these watches with a wide range of outfits and look stunning. 
Two-Tone Marc by Marc Jacobs Watches: The two-tone collection is known for its elegant designs. They are available in gold-tone colors, and hence the name. You can find chronographs and classic analog watches in the range. These watches are ideal for any casual or business event. 

Stainless Steel Marc by Marc Jacobs Watches: As the name suggests, this collection features watches with stainless steel cases. These do not only look elegant but are extremely durable. You can wear them all day, and they will easily endure wear and tear. 

Tommy Hilfiger
Since 1985, Tommy Hilfiger has been a known name in the fashion circuits. Their watches would seamlessly blend into the Korean aesthetic. Like their other accessories, Tommy Hilfiger watches are both modern and timeless.
Tommy Hilfiger Men's Luke Gold-Tone Watch: With a gold-tone dial and strap with blue bezels, it is nothing short of a visual treat. Wear this Tommy Hilfiger watch to any occasion, and you will surely get compliments. 

Tommy Hilfiger Women's Blake Gigi Hadid Blue Dial: This limited edition watch is inspired by the supermodel Gigi Hadid. It draws inspiration from her stunning sense of style and can be a great addition to your wardrobe too.  

Diesel
Like many other watch brands, Fossil manufacturers watches for Diesel. With Fossil's track record, you can be sure of the quality of Diesel watches. Diesel watches are for the modern person who wants to make a statement with their watch. 
Diesel Men's Mega Chief Chronograph Watch: With a Diesel watch, you can be sure about leaving an impact. For example, this watch has a case diameter of 51 mm, enough to turn heads immediately. With water resistance up to 100 m, it is a complete watch for all purposes. 

Diesel Men's Armbar Watch Vibrant Red: This watch comes in bright red with a smaller case diameter, making it stand out from other Diesel watches. It goes best with experimental outfits, or at those times when you want to throw in one funky component and keep the rest of the outfit simple.