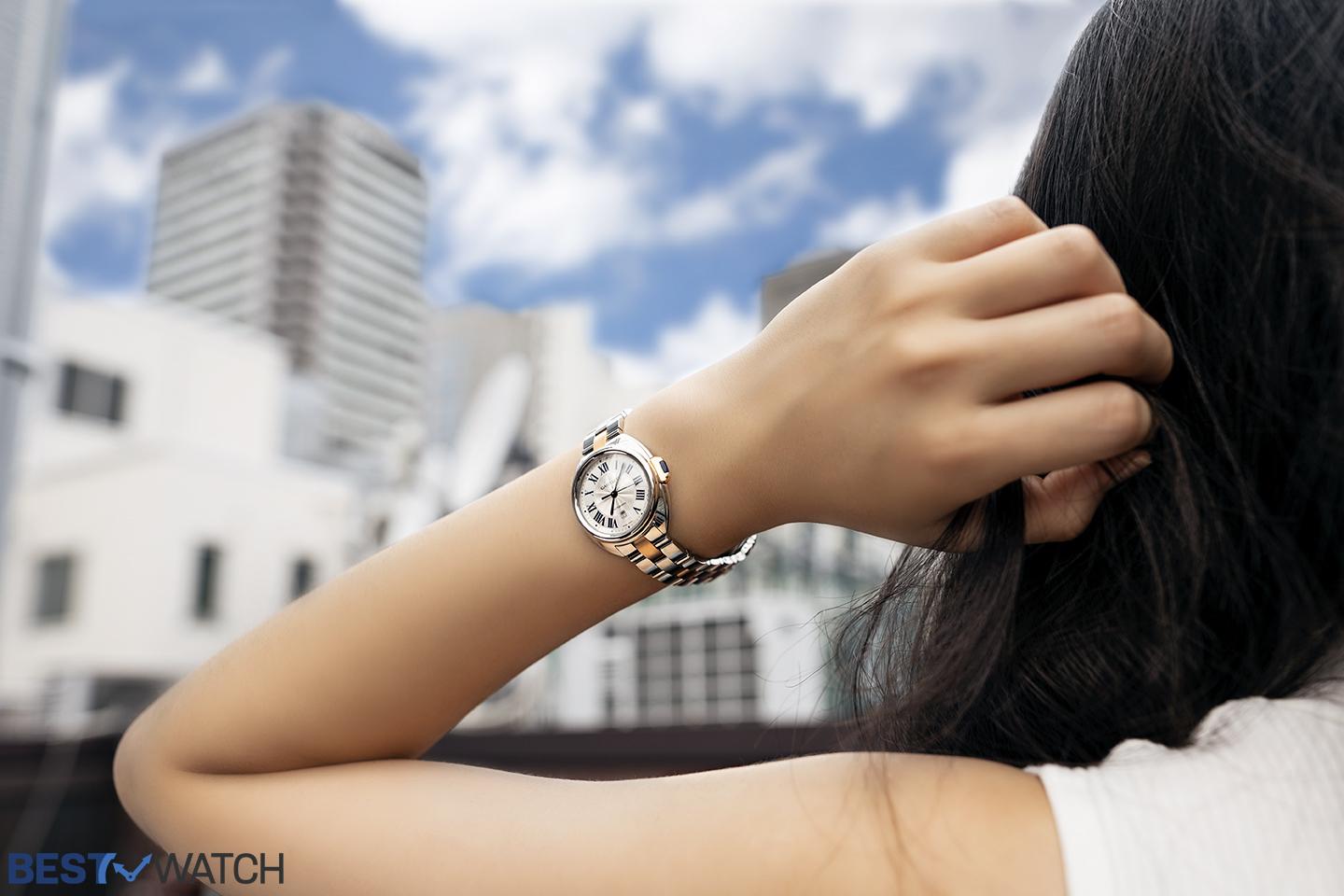 Founded in 1847 in Paris, Cartier has been globally recognized for its magnificent jewellery collections and luxurious timepieces. A pioneer of wrist-worn timepieces, the Maison created the first modern wristwatch "Santos" in 1904. This iconic creation instantly became a pillar of the prestigious French Jeweler's luxury watch collections. In addition to the Santos de Cartier wristwatch, the prestigious Jeweler and Watchmaker launched several iconic collections that stand out from the crowd with their distinct characteristics. Presently, the iconic brand offers an extensive range of Swiss made luxury watches for both men and women.
While most premium brands focus more in producing men's timepieces, Cartier maintains a diversified portfolio of women's luxury watches, with several collections and styles to choose from. The important collections that offer ladies wristwatches are: Pasha de Cartier, Panthère de Cartier, Santos de Cartier, Ballon De Cartier, Baignore de Cartier, Tank, Clé De Cartier, Maillon de Cartier, Tortue and Ronde de Cartier. Some of these collections are dedicated to women only. Each of these cartier ladies watches carries its own charisma and distinct characteristics. 
Further down, you will discover some outstanding characteristics that certify the brand's worldwide reputation as a leader of ladies luxury watches.
Cartier Watches for Women
No other luxury watch brand has such impressive ladies' wristwatch line-up. Cartier offers a broad collection of luxurious feminine timepieces with different case sizes and shapes, movements, materials and straps.
Different Case Sizes and Shapes
For women, Cartier makes small, mini, medium, larger and extra-large sized timepieces to suit different wrist sizes. This ensures the brand's popularity among a diverse spectrum of clientele. The brand also offers timepieces with different case shapes: round, rectangular, square, tonneau, oval, rounded-eclipse and hexagonal.
The extraordinary collections like Cartier Tank, Cartier Panthère and Santos de Cartier offer square and rectangular case watches. 

Introduced in 1919, the iconic Tank watch has been evolved into several variants, each of them designed after particular tanks. Inspired by the shapes of WWI battle tanks, the cartier tank watch collection presently includes models like cartier tank solo, Tank Française, Tank Louis Cartier and Tank Américaine. Featuring a fascinating and modern design, the Tank watch has been renowned for its discreet elegance.

The panthère de cartier watch inherited its name from its flexible, soft bracelet with curved Panthère links, inspired by the movements of the panther, which has been a source of creative inspiration for the Maison since 1914. Featuring rectangular or square case with rounded angles, the cartier panthère watch combines the 1980s free spirit with contemporary watch making. This watch line celebrates enlightened, carefree and victorious women of modern era.

Santos is the most historic and popular collection from the House of Cartier. Its roots trace back to 1904 when Louis Cartier, the founder of the Maison, created a wristwatch in 1904 for his friend and Brazilian aviation legend Alberto Santos-Dumont. The "Santos" watch was Cartier's first men's wristwatch. Now also available for women, its special design highlights include the rounded dial angles, geometric shaped case with exposed screws, and horns with flawless curves.
The Pasha de Cartier, the Ballon De Cartier and the Ronde de Cartier models come with round case, but with different design highlights. 
Inspired by a round wristwatch launched by the Maison in 1943, the Pasha de Cartier model features a more refined design. A stand-out design highlight of this timepiece is the so-called chained crown at 3' o clock. Set with a sapphire or a diamond on the top, this screw-down crown with fluted crown cap is attached to the case by a small chain.

Highlighting 'a circle inside a circle' design, the Ballon De Cartier watch derives its name from the eye-catching balloon like silhouette. The timepiece features a domed sapphire crystal and a bubble winding crown, which is perfectly integrated into the case. The crown cap under a metal ring at 3 o'clock protects the bubble crown.
The Baignore de Cartier timepiece boasts an astonishing case design inspired by the unique shape of a bathtub ('baignoire' in French), in which two straight parallel lines are closed by two curves. The Clé De Cartier model has a pebble case design, the Tortue features a tonneau case and the Maillon de Cartier boasts a distinct hexagonal case design.
Quartz and Mechanical Movements
Cartier produces various styles of ladies wristwatches equipped with quartz, automatic or hand-wound movements. While the quartz movements have been known for their precision and affordability, the intrinsic mechanical movements reflect a successful alliance of time-honored traditional know-how and superior watchmaking expertise. With their comprehensive selection of mechanical and quartz timepieces, Cartier attracts a broad range of customers, starting from fashionable yet budget-conscious young generation to affluent clientele who have a passion for traditional horology.
Wide Choice of Materials
The brand offers an impressive choice of materials for the cartier ladies watches: stainless steel, gold and bi-metal (steel and gold). For the straps, Cartier uses metal, leather or fabric. Additionally, the Maison offers bezel-set or full-set versions of its timepieces.
Distinctive Styles
Most of the brand's modern wristwatches typically share some signature design features. For example, the elegant dial layout featuring Roman numeral hour markers is a distinct attribute of all Cartier timepieces except the Pasha de Cartier, which features Arabic numbers. Most timepieces have blued steel hands featuring sword or diamond shape. A major design highlight of all wristwatches from the Maison is the distinctive crown topped with cabochon stone (like sapphire or spinel) or glittering diamond. In addition, all collections carry their own style, ranging from understated elegance to opulence and from traditional to modernistic.
Solid and Versatile

In addition to their stylish designs, all cartier womens watch models are well-built and comfortable to wear. Fitted with sapphire crystals, these timepieces offer pretty good water resistance of at least 3 bar (30 meters). They typically come with solid yet comfortable bracelets or straps. Some cartier watch women collections are provided with the innovative Quick Switch system, which allows the wearer to switch over bracelets and straps to complement different styles or occasions.
Quality Craftsmanship
Efficiently managed by one of the most prestigious luxury groups in the world, Cartier offers exceptional creations that faithfully reflect the profound respect for the longstanding traditions and quality craftsmanship. A major subsidiary of Richemont Group, the grand Maison houses in-house departments dealing with design, manufacturing, finishing, gem-setting and quality control of its jewellery and watch collections. The brand also produces in-house movements for its timepieces. The manufacture typically utilizes exceptional finishing techniques and gem-setting methods for its luxurious wristwatches. Thanks to its exceptionally skilled craftsmen and state-of-the-art manufacturing facilities, Cartier produces top-quality luxury watches that are precise, reliable and long lasting.
Broad Price Range
For women, Cartier offers entry level luxury watches as well as extremely expensive timepieces, which incorporate high-complications or set with magnificent diamonds. The cartier watch price starts from approximately $ 19,000 Hong Kong dollars for stainless steel models. The retail price varies depends upon the collections and materials used. Top of the range is a number of full-set cartier diamond watch models and some of them retail above one million HK$. The broad price range helps the brand to expand the reach of their women's wristwatches to a broad spectrum of customers.
Outstanding Brand value

Cartier is one of the most revered luxury houses in the world and since long time it has been enjoying a commendable ranking (in the top-five) among the most valued premium watch brands. Cartier watches hold an immense brand value, so they can be considered as great investments for the future.