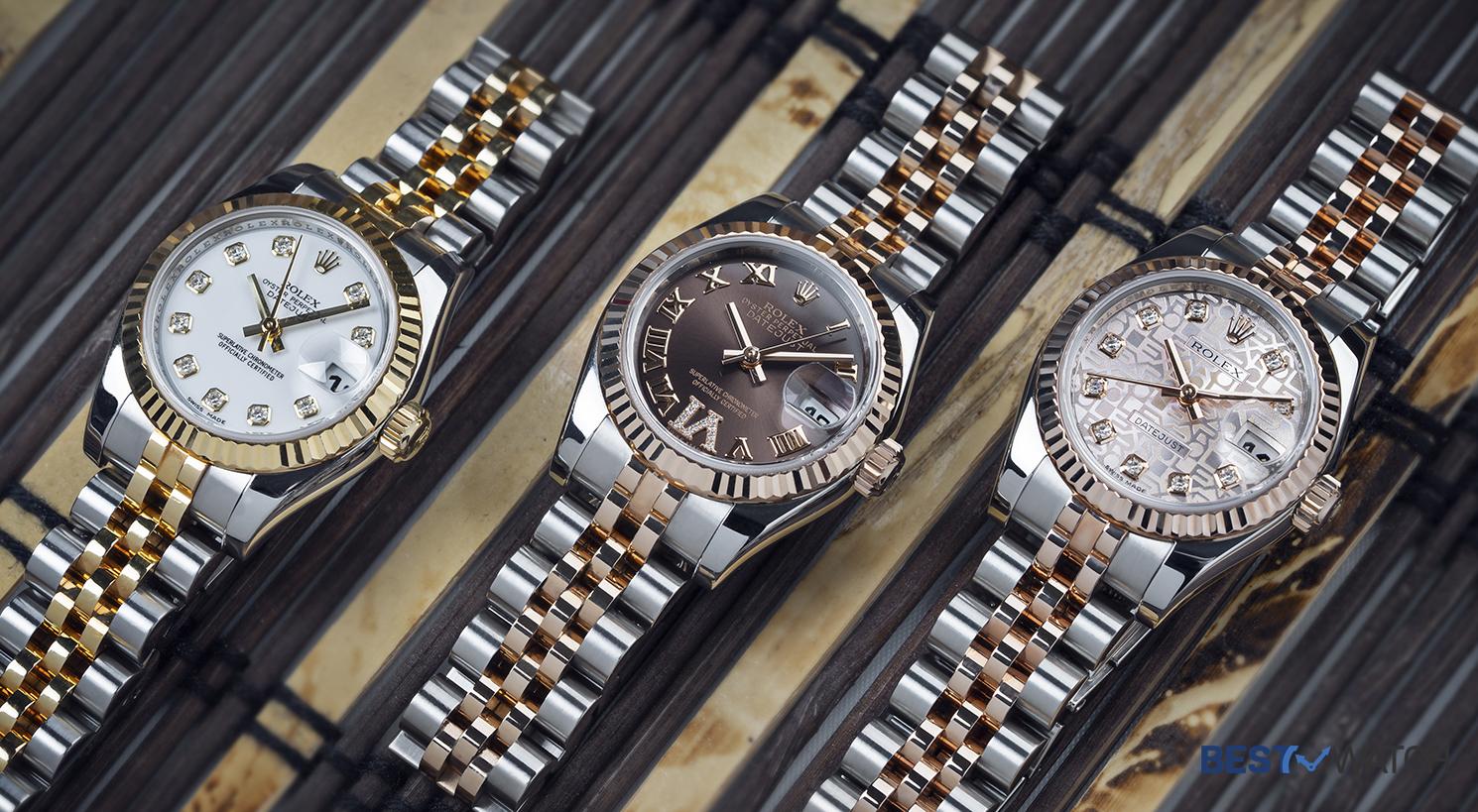 Introduction
The Datejust watch belongs to Rolex's Oyster Perpetual family, which enjoys an extensive history that goes back to the mid-1920s. Descendent of the water-proof and dust-proof (Oyster) watch introduced in 1926, the Oyster Perpetual collection is comprised of time-only, date and day-date versions. The date version has been known as Oyster Perpetual Datejust, which is one of the top selling Rolex wristwatches. It is also one of the premium brand's oldest collections with long and uninterrupted production run.
As on date, Rolex offers hundreds variants of Oyster Perpetual Datejust in Small (31mm & 34mm), Medium (36mm) and Large (41mm) sizes. For men, 36mm and 41mm versions are available. For women, the Rolex Datejust collection offers 31mm, 34mm and 36mm case versions. The brand also offers a separate collection of women's Datejust watches under Rolex Lady Datejust, which includes 28mm watches. 
As you know, it is challenging to single out your most appropriate choice from the massive inventory, which consists of around 700 models. Our pricing guide might assist you to pinpoint a perfect Datejust watch that suits your budget as well.

Datejust 41 126333 Black Jubilee
A Quick Look at History and Evolution
The Datejust collection boasts an impressive legacy of more than six decades. In 1945, Rolex celebrated its 40th anniversary. To mark this historical milestone, the brand launched reference 4467, an Oyster watch with a date display. This wristwatch featured an 18-carat yellow gold Oyster case, topped with a fluted bezel. It was the world's very first self-winding wristwatch to feature a date window that would automatically change over at midnight.
The very first Datejust was fitted with the Jubilee bracelet, which was introduced during the 40th anniversary (jubilee) of Rolex in 1945. Originally created for the Datejust watch, this bracelet has been used in numerous Rolex models. The Datejust models are also available with Oyster and President Bracelets.
In the 1950s, Rolex added stainless steel (reference 5030) and Rolesor (reference 5031) versions of Datejust. In 1955, Rolex upgraded these wristwatches with the patented Cyclops magnification lens on the acrylic glass over the date display. Before that, all Datejust watches were fitted with normal acrylic glass.
Subsequently, the brand introduced several new references with upgraded self-winding movements. In the late 1950s, Rolex introduced the 16xx series and in the late 1970s, 160xx series was launched. In 1988, Rolex unveiled 162xx series with Caliber 3035. This is the first Datejust series to feature sapphire crystal instead of acrylic glass. Interestingly, all of these references steadfastly maintained the case diameter of 36mm, just like the first Datejust watch.
In 2009, Rolex introduced Datejust ii, a new edition featuring a 41mm diameter case and equipped with the calibre 3136 self-winding movement. Initially, the Rolex oyster perpetual Datejust II was introduced in Yellow Rolesor (116333) and White Rolesor (116334) references. In 2012, a 904L stainless steel version (116300) was added. In 2016, Rolex introduced the Datejust 41, the latest 41mm model equipped with the calibre 3235 self-winding movement.
All modern Datejust watches are 100m water resistant and houses Superlative Chronometer-certified mechanical self-winding movements. All of them are equipped with Oyster case, scratch-resistant sapphire crystal with Cyclops lens over the date, screw-down crown with Twinlock double waterproofness system and screw-down case back.

Datejust 36 Automatic Black Dial Oystersteel Men's Watch 126200-0003
Buying Tips
As on date, the price range of the Datejust collection typically starts at approximately HK$ 51,940 for men's Oyster steel versions and around HK$ 50,785 for women's models with same specifications. The cost of Rolesor, Gold and Gem-set models are higher than entry-level 904L watches. These prices are subject to market fluctuations and local taxes. The retail price of a brand-new Datejust watch varies depending upon certain parameters, which are appended below.
(a) Material and case dimensions
The type of material used is always an important factor in deciding the selling price of a brand-new timepiece. For example, to purchase a Datejust in solid gold, you should have more cash than it required for a stainless steel model with similar specifications. At present, Rolex offers Datejust watches in Steel (904L), Rolesor (Steel and Gold), Yellow gold, Pink Gold and White Gold. The case size is also a major price determining aspect. Naturally, the large size (41mm) model with similar specifications costs higher than its smaller counter parts.
For men, the least expensive datejust watch is the 36mm steel model (126200) with smooth bezel and Oyster bracelet. The retail price of this watch is approximately HK$54,150. The Oyster Perpetual Datejust 41 (126300) with similar features costs around HK$67,150.
The Datejust 31 for women (278240) with 904L steel case, smooth bezel, Oyster bracelet and non-set dial costs approximately HK$55,360.
As expected, the Datejust Rolesor versions are more expensive than their siblings in solid 904L steel. For example, the Rolex Datejust 36 Yellow Rolesor model (116203) with smooth bezel and Oyster bracelet costs approximately HK$ 78,320. The Rolex Datejust 41 Yellow Rolesor model with similar specifications has a price of approximately HK$87,030. Moreover, the price of an Everose Rolesor version is typically higher than a Yellow Rolesor Datejust watch with similar characteristics.
At present, Rolex is not offering any 18-carat gold Datejust versions both in mid-size (34mm and 36mm) and large-size (41mm) categories. However, in the 31mm case category for women, the brand provides a broad selection of white gold, yellow gold and Everose gold watch models. The 31mm Datejust watch in gold offers several variants with attractive choices of smooth, fluted and Gem-set bezels. The 31mm version is also available with the choice of Oyster and President Bracelets. The Datejust 31 gold models come with a high price range than its siblings in 904L steel or Rolesor.

Datejust 31 Stainless Steel Automatic Dark Grey Roman Dial Ladies Watch 278240-0015
(b)Bezel design
The Datejust collection offers timepieces with three types of bezel options: Smooth, Fluted and Gem-set. The price of the Datejust watch differs with respect to the type and material of the bezel. Usually, versions with a fluted bezel are more expensive than the similar models with a smooth bezel.
In the Datejust collection, Rolex uses solid gold fluted bezels irrespective of the case material. The models featuring 904 steel case and 18 carat white gold fluted bezel are known as white Rolesor versions. The 41mm steel Datejust model with 18 carat white gold fluted bezel and Oyster bracelet (126334) costs approximately HK$79,860. Obviously, the price is higher than that of a Datejust 41mm steel variant featuring smooth bezel, which costs approximately HK$67,150. The Datejust collection offers fluted bezel variants in 31, 36 and 41mm cases. Among them, both the Yellow Rolesor and the Everose Rolesor variants are costlier than the White Rolesor versions.
As expected, the Gem-set bezel versions are more expensive than both smooth-bezel and fluted-bezel versions.
(c) Dial design 
Rolex offers five dial categories for the Datejust collection: Light, Colored, Dark, Gem-set and Diamond-paved. The light dial options typically include colors like white, mother-of-pearl, sun dust, silver and etc. The dark dial category offers colors like black, grey and slate. In the 'Colored Dial' category, you will find dial colors like Champagne, Aubergine, Bright blue, Mint green, Malachite, Olive green, Rose, Pink, Chocolate and Azzurro Blue and etc. The Datejust watches with semi-precious stones (mother-of-pearl, malachite and etc.), gem-set dials and diamond-paved dials are more expensive than those with the standard dials.
It should be noted that within the regular dial category, the Rolex Date-just watches featuring diamond-set hour-markers are costlier than the similar models with non-set classic, Arabic or Roman hour markers. For instance, the Datejust 41 Everose Rolesor model with fluted bezel, Jubilee bracelet and chocolate colored dial with diamond hour-markers has a retail price of approximately HK$123,150, In the same time, the same reference featuring classic hour markers costs HK$108,679.

Datejust 41 Chocolate Brown Dial Steel and 18K Rose Gold Men's Watch 126301CHSO
(d)Type of Bracelet
Rolex offers three choices of bracelets in the Datejust collection: Oyster, Jubilee and President. The type of bracelet is also an important aspect when it comes to the pricing of Rolex watches, including the Datejust.
The retail price of a model with Jubilee bracelet is usually higher than that of a similar Datejust fitted with Oyster bracelet. For instance, the Datejust 41 Stainless Steel model with fluted bezel and Jubilee bracelet retails at approximately HK$84,070 where as its Oyster bracelet variant costs HK$79,860.
Presently, the President style bracelet is available only for the gold watches from the Datejust 31 series for women. The Datejust 31 gold models are also available with the Oyster bracelet. The solid gold Datejust 31 watch models with the President Bracelet are more expensive than the similar variants with the Oyster bracelet.
(e)Production Year
The retail price of Rolex Datejust watch also varies with respect to the year it produced. The same model produced in previous years might be available with lesser prices compared to the recently produced ones.
(f)Gem-setting
The retail price of a Rolex Datejust Gem-set watch usually depends upon the number of diamonds and other stones. The complexity involved in gem-setting is also an influential factor.