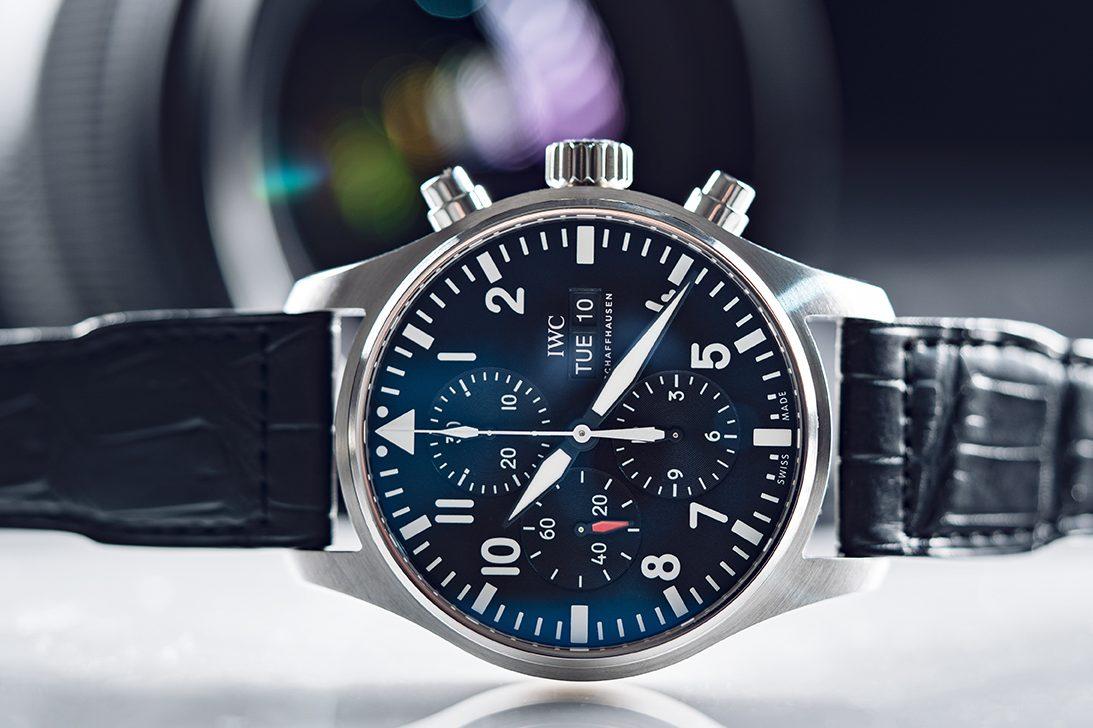 The pilot watches today have turned to a fashion item together with practical functions as a chronograph. They are popular because of their attractive designs for gentlemen, clean and easy readability of the dial and various functions other than timing.
Here we are going to introduce a few eye-catching brands for pilot watches.
4 Most Popular Pilot Watches
Rolex Sky Dweller 

The Rolex Sky Dweller is an iconic aviation watch.
The Rolex pilot watch is characterized by many distinctive features, including a display of a second time zone, an annual calendar, and most importantly, the Rolex only rotatable Ring Command bezel.
The off-centered sub-dial is a 24-hour display for the second time zone which is a practical function for pilots and frequent travelers, allowing users to clearly distinguish daytime from night-time in the second time zone.

The annual calendar in Sky-Dweller is also patented by Rolex. This revolutionary system replicates the irregular occurrence of 30 and 31 days in different months. Rolex adds innovation to this wristwatch for a more user-friendly function.
There is a rotatable ring command bezel topped on the dial. It can be turned to a different position for the selection of date, local time and reference time in the sub-dial. This design allows a quick and easy adjustment with the winding crown.
The sophisticated and high-quality design is powered by caliber 9001, a self-winding mechanical movement developed by Rolex in 2012. It is named one of the most complicated Rolex's movements, aiming to ensure the smooth interaction between the movement and the bezel of the timepiece to set various functions with just a few simple steps. 
Shop Rolex Sky Dweller
IWC Pilot

Founded in 1868, the Swiss luxury watch brand IWC is famous for its handcrafted mechanical timepieces. IWC pilot watches are one of the most eye-catching collections among the brand's broad range design of luxury timepieces.
The founder of IWC is an American who had an aim to merge his country's watchmaking technology with the precise and skilled craftsmanship of Switzerland. IWC is striving for excellence in its iconic watch families along with its 150 years of heritage.
As the best chronograph watch, IWC pilot watches feature chronograph design on the dial, but in a simple and low-profile style, providing functional features and adding distinctive designs to its timepieces. The dark-colored dial has a cockpit-instrument look, including contrasting and luminescent hands and markers design.
The most outstanding design of IWC's pilot watch is the enlarged conical crown of the big face watches, which is a specific feature for pilots who usually wear thick gloves together with flight suits. The enlarged conical crown allows the wearer to grip and adjust the tool easily.

IWC has five families in its aviation watch collection –
Spitfire with designs paying tribute to the fighter plane and optimized with various complications;
IWC Le Petit Prince with a trademark blue dial as a special edition for the world-famous French literature "Le Petit Prince";
IWC Top Gun featuring black ceramic cases, Classic with clean and bare dial design, and Antoine De Saint-Exupery with a special tobacco brown dial representing the humanist's great contribution to writing the history of aviation. 
Shop IWC Pilot
Breitling Navitimer

The founder of Breitling was an expert in chronographs.
The brand invented the world's first chronograph watches on the wrist in 1915. The iconic separated button on the watch crown has total control of the timekeeping function. This design which surprised the world of watch manufacturing was later evolved to a two-buttons one.
Breitling was granted a patent for the world's first wrist chronograph with two buttons, setting its status in the watch industry.
Launched in 1952, Breitling Navitimer is specially made for pilots flying up in the sky.  The slide rule bezel on top of the large dial is the most iconic feature of the collection. This bezel is designed for aviation calculation like elevation speed, fuel consumption, and speed of the plane.
The large dial in Navitimer is another feature. Their size ranged from 43mm to 46mm, slightly bigger than the ordinary design for men's watches, offering a clear and enhanced readability watch face and an increased space for various complications like 30-minute counter and 12-hour counter.
The chronograph has a sharp red seconds hand in its central dial, making it an outstanding and modern design. Some advanced models even offer a split-seconds hand for intermediate times measurement controlled by the third pusher into the crown. 
Shop Breitling
Hamilton Khaki Aviation

Hamilton watches are well known for American Spirit and Swiss Precision. The Swiss-made movements guarantee precision, no matter whether they are automatic, mechanical, or quartz watches.
Hamilton is good at the craftsmanship of military and aviation timepieces, including the Khaki Field, Khaki Aviation, Khaki Navy.
Hamilton has been the sponsor of the Air Race World Championship since 2005 and has become its official timekeeper in 2007, reinforcing its status of accurate timing.
Hamilton Khaki Aviation is well designed for pilots. On top of the accuracy in time telling, different models offer various complications.
Some of them are hearted with a caliber that provides an extra-long power reserve of 80 hours while some like the Khaki Aviation X-Wind is installed with a drift angle calculator for crosswind calculation for plane landing. 
The collection also has a beautiful design as wristwatches – engraved leather straps, enlarged numerals on the dial, and the curved day window at 12 o'clock position in specific models. 
Shop Hamilton Khaki Aviation