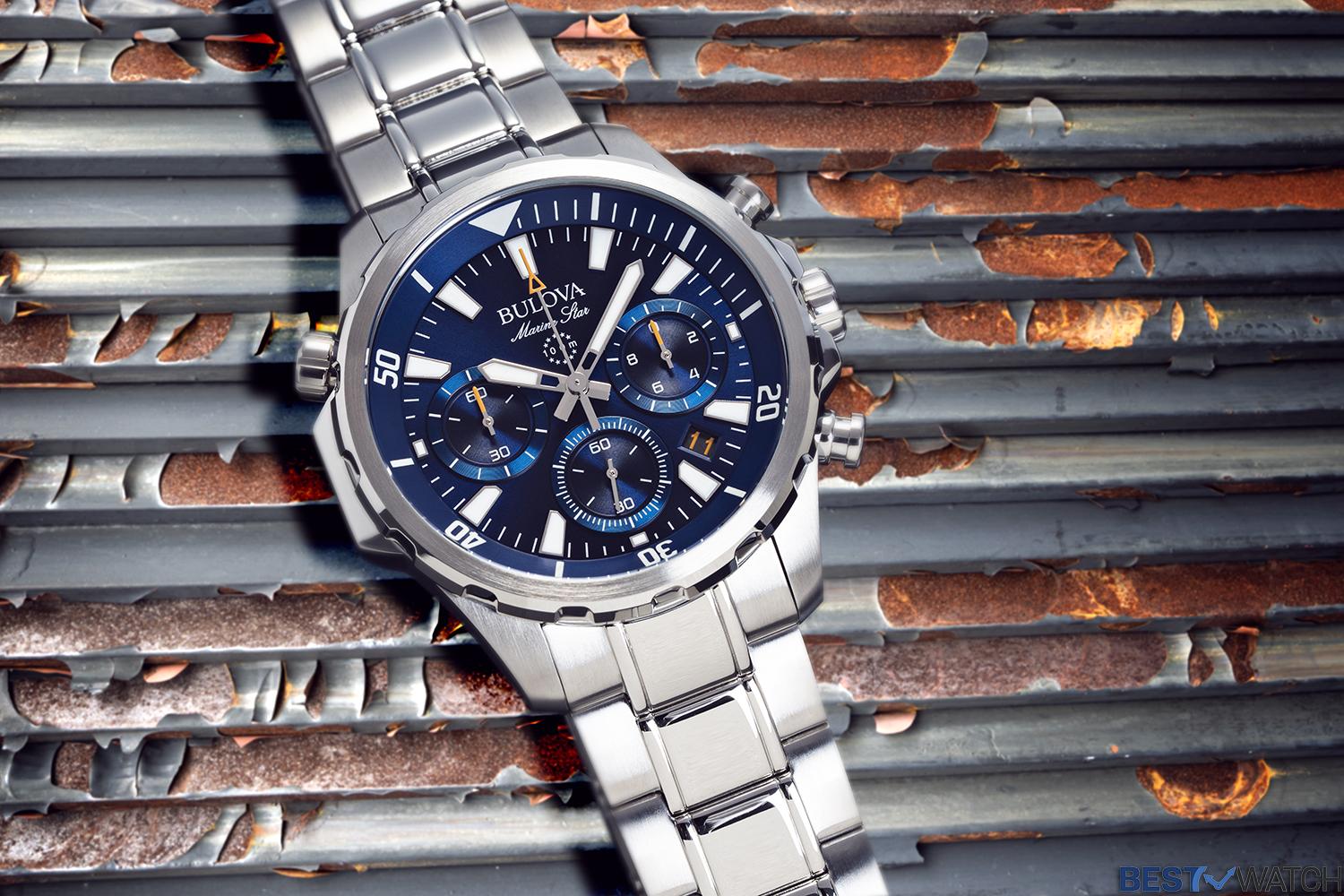 Bulova traces its roots to 1875 when visionary entrepreneur Joseph Bulova opened a small watchmaking shop in downtown New York City. One of the greatest American watch brands in history, this innovative company has been known for several world firsts.
It was a pioneer in the standardized production of timepieces. Its historical achievements range from the first fully electronic watch with proprietary tuning-fork-based technology to the world's first curved chronograph movement. The other innovative creations from Bulova include the Accutron timing mechanism developed for NASA, the first clock radio, the first electronic clock, and the high-precision quartz watch with an extraordinary accuracy of 10 seconds a year (Precisionist), and the Accutron Calibrator. Although known for its illustrious history and brilliant innovations, Bulova is often considered as an underrated brand.

In 2008, the company became a subsidiary of the Citizen Group. In 2015, Bulova evoked its origins by establishing its headquarters in New York. It still maintains its enduring popularity as a prominent manufacturer of reasonably priced high-quality timepieces. The nominal Bulova HK retail price range is HK$1,000 to HK$10,000.
The brand offers an extensive selection of both quartz and mechanical watches, ranging from the classic dress category to the professional-grade segment. Its notable flagship collections are Archive Series, Classic, CURV, Chronograph C, Crystal, Military, Gemini, Futuro, Lunar Pilot, Marine Star, Oceanographer and Precisionist.
In this page, we invite your attention to some popular Bulova watch models of contemporary times.
Bulova Lunar Pilot Chronograph

Inspired by the original Bulova moon watch worn by Apollo 15's mission commander in the 1971 NASA lunar mission, this timepiece is driven by the proprietary, high-performance quartz movement with a frequency of 262 kHz. It belongs to the brand's Archive series. The stainless-steel chronograph features a black dial with three counters and a tachymeter outer dial-ring. Depending upon the version, it comes with a stainless-steel bracelet or leather strap.
In 2021, Bulova launched a limited-edition version to mark the 50th anniversary of Apollo 15 and the moon landing. Limited to 5,000 pieces worldwide, the 50th Anniversary Lunar Pilot Limited-edition model features a grade 5 titanium case enhanced with gold-toned steel details and an attractive light gray dial.
Bulova MIL-SHIPS-W-2181

This exemplary timepiece from the Bulova Archives range is based on a prototype diving watch for the U.S. Navy in the late 1950s. In 2021, the brand launched a commercial variant of the iconic diver in a limited 1,000 pieces.
The new "homage piece" features a solid stainless-steel case measuring 41mm in diameter, double-domed sapphire crystal glass, and black dial with vintage-themed luminescent coating on the hands and indexes. It also has a "press to rotate" exterior diving bezel. The Bulova Mil-Ships-W-2181 watch houses an automatic Miyota 82S0 movement for operating the hour, minute and seconds hands. It typically offers a power reserve of 42 hours.
A stand-out aspect of this model is a unique paper-strap indicator on the dial to alert the presence of moisture inside the watch. The solid steel case-back spotlights the Diver Helmet engraving. Worn on a trendy nylon Nato-style strap, this diving instrument is rated for water resistance of 200 meters. Two strap colors are offered. The 98A265 Bulova Mil-Ships model features a black band whereas the Bulova 98A266 comes with a slate blue strap.
Bulova Classic Automatic Day Date 

Bulova Classic is a remarkable collection of dress watches for men and women. It comprises both quartz and self-winding mechanical watches. The series offers variously typed of models ranging from quartz-movement powered chronographs to automatic skeleton timepieces.
You can discover a fine selection of Bulova Day-Date watches in steel or gold-toned case in the automatic segment. Boasting a new American Clipper style case design, these 42mm classic dress models are fitted with mineral crystal glasses on the top. Available in black, silver-toned and white dial versions, they feature day and date windows at 3 o'clock. Depending upon the version, this self-winding wristwatch comes with a smooth grain leather strap, croco-embossed leather strap or stainless-steel bracelet. Visible through the exhibition case back, the automatic calibre delivers a power reserve of 42 hours.
Bulova Classic Automatic Skeleton

Bulova offers a series of automatic skeleton wristwatches from its Classic collection. These sophisticated timepieces feature skeletonized dials revealing the inner mechanisms of the self-winding movement beating inside. They are available in steel cases, fitted with sapphire or mineral glass on the top. The case is offered in silver-toned, gold-toned and black IP versions. For example, the Bulova 98A283 "Sutton" model comes with a 43mm diameter black IP steel case secured on a matching color alligator leather strap. These mechanical timekeepers are also provided with exhibition case-back for viewing the rotor side of the self-winding movement.
Bulova Oceanographer 

This collection from the Bulova Archives series is inspired by the iconic Oceanographer automatic diving watch introduced in 1972. Water-resistant to about 200 meters, this historic model is known as Devil Diver. The brand is presently offering a re-edition of the 1970s timepiece.
The reproduction model features a 44m diameter cushion-shaped case with a dual-toned, unidirectional rotating bezel, screw-in case-back, screw-down crown and a self-winding movement with a power reserve of 42 hours. As of now, four bezel themes are offered: black with green (96B322), black with orange (96B350), blue with orange (96B321) and black with red (98B320).
Bulova Military 

This series of Bulova Mens watches pays tribute to the American brand's rich military heritage. A popular model from the collection is the Hack Watch. Equipped with the Miyota 8S20-43A automatic movement, this field watch has been dedicated to Veteran's Watchmaker Initiative, a nonprofit organization that supports disabled war veterans.
Mounted with mineral crystal glass, this stainless-steel timepiece is available in black and ivory dial versions. In addition to the 1 to 12 numeral hour markers, the dial features a 13 to 24 marking to quickly calculate the corresponding military time format. These watches come with Nato-style straps in nylon or leather. The brand contributes 10% of the proceedings of this series to support the Veteran's Watchmaker Initiative.
Bulova Precisionist

Precisionist is one of the most precise quartz watches ever made. Driven by a proprietary calibre beating at the rate of 262 kHz, this watch is eight times more accurate than standard timepieces. This line-up offers chronographs and three-hand models with date display. These high-performance Bulova watches are available in stainless steel with silver-toned, gold-toned or IP-coated finish. Depending upon the version, water resistance can be 100m or 300m. The other features are mineral crystal glass, screwed-in case back, screw-down crown, and availability of various straps (leather, metal bracelet, rubber and polyurethane).