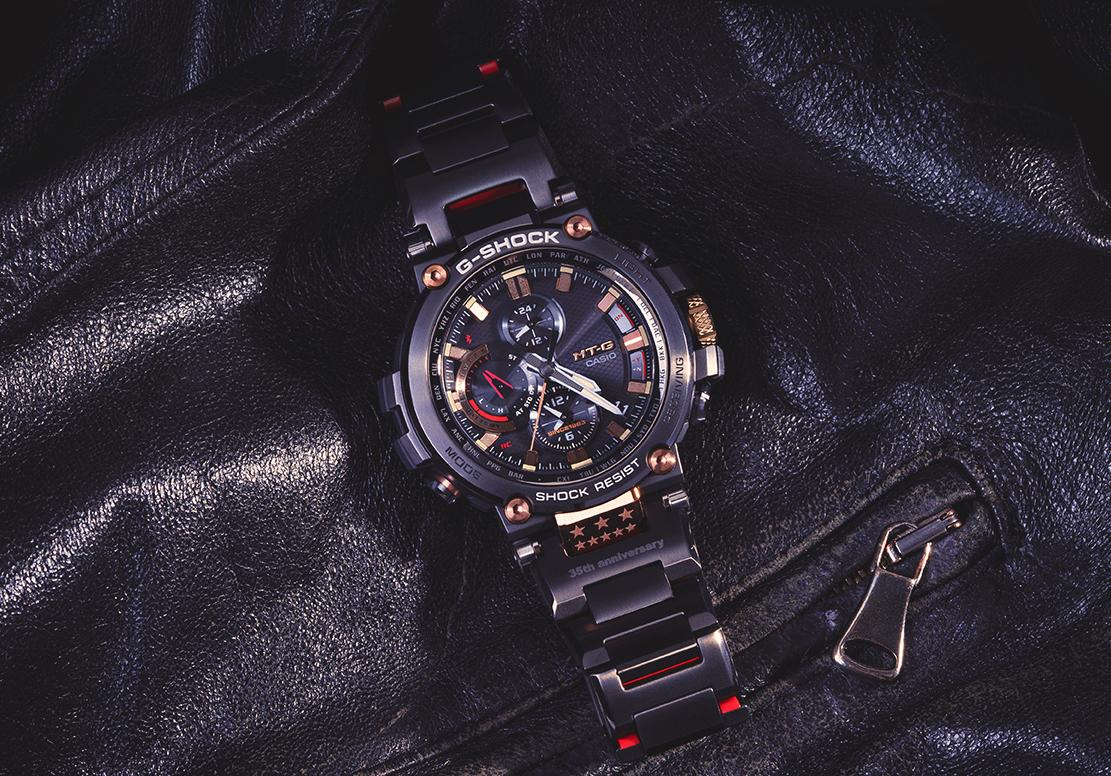 Being regarded as "the toughest watch on the planet", the Casio G-Shock is actually much more than that. In recent years, the brand has been proofing it to us with more groundbreaking pieces including its more premium MT-G and MR-G series. On top of the use of premium materials, the G-Shock MTG and G-Shock MRG watches are equipped with the brand's complete set of top-notch technical specifications crafted with Japanese watchmaking traditions. 
Early this year, the new releases of G-Shock MTG and MRG lines have again exceeded people's expectations. Here we are going to introduce you to these two breathtaking collections and their new models. 
What is G-Shock MTG and G-Shock MRG? 

As of today, G-Shock's name is so huge that it almost overshadows its belonging brand name Casio. First released in 1981, G-Shock has already built its name widely over the globe with superb robustness and accessible price range. Being loved by numerous international celebrities like Eminam and Justin Bieber, the Casio G-Shock is undoubtedly one of the worldwide leaders in functional tool timepieces.
Both MT-G and MR-G are premium lines from G Shock. However, if you are not very familiar with G-Shocks, the Casio G Shock MT-G and MR-G are probably not what you would expect from a standard G-Shock model. The models from MT-G and MR-G series are nothing like the classic G-Shocks you have known since they're nigh-indestructible. Premium materials are used for the watches in these two collections, such as superb quality titanium, high-tech carbon fiber and fluoro-elastomer rubber. 
In addition to materials, the parts inside are all sophisticatedly made with the brand's most advanced technologies. Actually, these MTG and MRG watches are still powered by quartz movements, yet the quartz movements used on them are equipped with the brand's Multi-Band 6 timekeeping mechanism that precisely receives signals from atomic radio towers over the world. These G-Shock watches offer Bluetooth to connect the user's smartphone through the brand's Connected app, and also be able to connect to GPS to track your path anytime. 
Now let us take a deeper look at the difference between MTG and MRG watches. 
The Casio G-Shock MT-G Collection

Referring to "Metal Twisted", the G-Shock MTG collection was grand released in 1999. This line was introduced as a house of supreme watches with hybrid case constructions. Its early models were mostly made from stainless steel and resin combinations. 
Presented as one of G-Shock's high-end watches, the MT-G features all of the brand's most advanced features, including Bluetooth connectivity to the G-Shock smartphone app, the brand's famous Tough Solar charging, as well as the latest Multi-Band 6 atomic timekeeping. 
So as we can see from the name, the G-Shock MTG is mainly playing on innovative and robust materials and further improves to the ultimate quality. 
G-Shock MTG-B3000

In March this year, the new MTG-B3000 was released as the slimmest G-shock solar model of the brand. Its total dimensions are 51.9 x 50.9 x 12.1 mm, which is significantly slimmer than its previous models MTG-B1000 which is 14.4 mm and MTG-B2000 which is 15.9 mm in thickness. Featuring innovative exterior design with impressive slimline construction, the slim MT-G has followed the original design concept more of the MTG-B1000 than that of MTG-B2000. It resembles the B1000 models with a thinner and lighter reinforced resin case. Its case back has extended into an intricate 3D module, which is well protected by the brand's more advanced Dual Core Guard structure. 
Preserving the refined look and texture of the resin metal, there are several options that make an eye-catching contrast in colors, including the full gray version with soft urethane band reference MTG-B3000B-1A, the red version MTG-B3000BD-1A, and the green MTG-B3000BD-1A2.
The G-SHOCK MR-G Collection

Debuted in 1996, a few years before the MTG collection, the G-Shock MR-G collection is the most technically advanced member of the G-Shock watch family. Holding the name of G Shock MRG which stands for "Majesty" and "Reality", every MR-G watch carries the brand's best technical and material innovations. Over these years, we can see that it has taken the lead to push G-Shock further to the direction of prestige watchmaking. 
Being considered G-Shock's most prestigious lineup, the G-Shock MRG watches are presented with premium titanium and resin builds and a digital display. There were two models released in the line in March 2022 and received overwhelming responses from the world. 
G-Shock MRG-B2000B

From the collection's most luxurious line, this watch was designed with the traditional Japanese kachi-iro color which is dark navy blue with a rich history in Japan. In the old days, this color described the combination of red and gold which was favored as a "winning color" by the Japanese samurais and were used on their armor and helmets.  
Based on the MRG-B2000 model, the B2000B G-Shock watch added a touch of Japan motif on the dial for some extra traditional beauty and strength. The indices were presented as the curvature of a Japanese sword with rendered edges. Besides, some details on the bezel, inner dial, and logo are colored with kachi-iro to create a strong samurai feeling. This watch is definitely a lovely pick for those who are fond of Japanese culture. 
G-Shock MRG-B5000

The new MRG-B5000 is the collection's first full digital display model after the MRG-1100-2 Frogman model released in 1999. It is also a MR-G model which took inspiration from the G-Shock DW-5000C origin model of 1983. It has adopted the original square case and other classic features such as the brick background pattern and further modified it with the contemporary style. 
This model is one of the most sophisticated watches to enjoy the exceptional robustness and reliability of G-Shock with formal or business attire.
Maintaining a clear stand and authentic approach on function-focus watchmaking, G-Shock has built a prominent reputation and status solely in the market. For these years, it has successfully developed and enhanced the value of its watches with more impressive innovations and technical attributes. Expanding to the more luxury segment, the Casio G-Shock MT-G and MR-G lines will continue to grow and break new ground for G-Shock. As a watch admirer, we are looking forward to see more exciting new releases from these prestigious lineups.