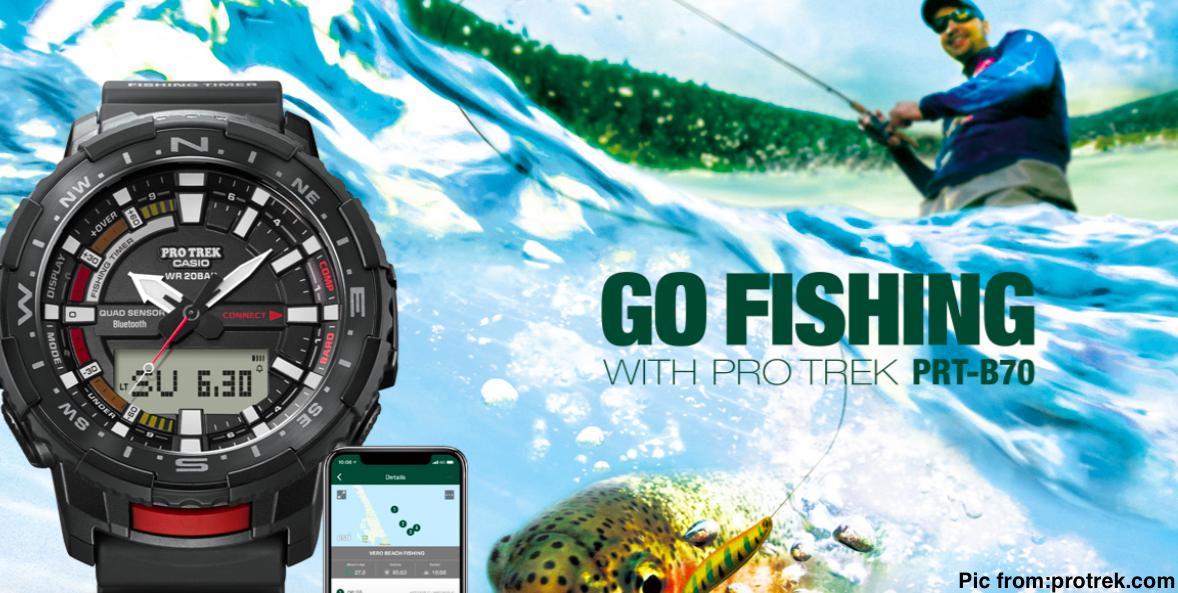 Introduction
Casio Protrek represents an outstanding collection of outdoor watches made by Casio, the well-established Japanese multinational electronics manufacturing corporation.
PRO TREK has been renowned for the seamless integration of rugged case design with a multitude of extremely useful functions for outdoor activities.
Its origins date back to 1994 when Casio introduced the first Triple Sensor model ATC-1100. In 1995, the company launched DPX-500, the first PRO TREK branded model. Since then, this remarkable series has grown phenomenally into one of the best-selling outdoor sports watch collections. In 1996, the Auto EL backlight system was unveiled with PRT-40. In 2000, the brand added PRG-40 to the line-up. It is capable to measure up to 10,000m attitude.
Initially, this outstanding collection included digital watches only. In 2003, the first Protrek Casio model with an analogue plus digital display was launched. In 2005, the first solar-powered, radio-controlled variant was introduced.
In 2008, the brand created models with a water resistance of 200 meters. Casio has continued expanding the family with new versions and technologies. In 2016, the company introduced PRO TREK WSD-F20 outdoor smartwatch. In 2019, the first PRO TREK Casio watches with a quad sensor and smartphone link functions (PRT-B50 series) were launched.

Presently, the PRO TREK brand is offering several watches for various outdoor activities like mountaineering, water sports, camping, exploration, fishing, trekking and etc. In this article, we are highlighting some popular models from the PRO TREK smartwatch series. 
(1) Casio PRO TREK WSD-F20

Unveiled in 2017, PRO TREK WSD-F20 is an outdoor smartwatch powered by Android Wear 2.0 operating system. This rugged, stylish and versatile model was developed according to United States military standards (MIL-STD-810G). With water resistance up to 50 meters, it comes with a multitude of functions and smart apps to support extensive outdoor activities.
It maintains an extremely durable exterior comprising of resin case, stainless steel fixed bezel, plastic band and mineral crystal glass. Its dimensions are 61.7mm × 56.4mm × 15.7mm. Optimized for various outdoor activities, this Casio Pro Trek smart WSD F20 watch efficiently utilizes a low-power built-in GPS technology to track the user's current location without smartphone connectivity. It also features a full-color map functionality that can be used offline.
WSD-F20 comes with a dual-layer touch screen display featuring Super Illuminator and LED Light. This Casio GPS watch also incorporates the brand's Triple Sensor technology and offers functions like Digital compass, Barometer, Activity Tracker, Casio Moment Setter, Location Memory app and built-in Microphone.
Compatible with Android 4.3 or later and iOS 9.0 or later, it supports both Bluetooth and Wi-Fi. For enhanced functions, this Casio Pro Trek smartwatch can be paired with a Smartphone. Other noteworthy features are Calorie Counter, Notifications, Countdown Timer, Auto Calendar, Alarm and Moon Data Tide Graph. The GPS connectivity can be disabled by switching over to Timepiece Mode for extending the battery life.
The Casio Pro Trek WSD F30 is an evolution of WSD-F20. It spotlights a slimmed-down case and improves design features. Apart from this, it comes with all the technical characteristics and functionalities of its predecessor. 
(2) Casio PRO TREK PRT-B50 

Introduced in 2019, this Casio PROTREK collection is comprised of a number of outstanding outdoor smartwatches specially designed for mountaineers and hill trekking enthusiasts. Certifying its suitability as an excellent climber, PRO TREK PRT-B50 incorporates a SmartPhone Link and a Quad Sensor forbearing, barometric pressure/altitude, temperature and pedometer functions.
Rated for impressive water-resistance of 100 meters, PRT-B50 is a great outdoor connected watch. It features an extremely tough case that is made of resin. The case measures 57.5mm × 50.8mm × 15.8mm. Made of resin, the rotary bezel is large but allows easy handling. The button guards protect from inadvertent operations. Under the mineral crystal glass, it boasts a hybrid dial display, featuring analogue hands and LED window.
Regarding the basic timekeeping, the analogue display of the hour, minute and seconds are carried out by three centrally positioned hands. The large Arabic numerals and bold arrow-shaped hands ensure effortless reading of the time. The LED panel of this Casio smartwatch displays hour, minute, second, am/pm, month, date and day.
The digital panel also indicates several other functions like Digital compass, Altimeter, Barometer, Thermometer, World time, 1/100-second stopwatch, countdown timer, 5 daily alarms, Hourly time signal, Hand shift feature, Phone Finder, Full auto-calendar (to year 2099) and 12/24-hour format.
The Casio World Time function offers 38 time zones (38 cities + coordinated universal time), daylight saving on/off and Home city/World time city swapping. The watch also indicates sunrise time and sunset time for a specific date. You can also monitor step count using a 3-axis acceleration sensor: 0 to 999,999 step count display range.
The Casio PRO TREK PRT-B50 connected watch can be paired with a smartphone with Wireless linking using Bluetooth®. The PRO TREK Connected app offers a number of functions that support outdoor activities. With the help of smartphone connectivity, the watch automatically adjusts four times a day to show both home time and world time correctly.
This PRO TREK model is available in various iterations. It features a titanium bracelet or resin wristband. 
(3) Casio PRO TREK PRT-B70 

This series includes a number of outstanding outdoor smartwatches endowed with some special and extremely useful features for anglers and recreational fishing enthusiasts. 
Just like PRT-B50, Casio PRO TREK PRT-B70 all the by the Quad Sensor (digital compass, altimeter, barometer and thermometer) as well as various other features including World Time, chronograph, and etc. Additionally, it generously offers various functions dedicated to fishing activities: Moon data (moon age of the specific date), Tide graph and Fishing timer. With smartphone connectivity, the user can also access various functions and applications related to fishing activities.
The PRT-B70 connected watch features a similar analogue with digital display fitted on the PRT-B50 Climber Line model.
The Casio PRO TREK PRT-B70 boasts a hard-wearing resin case and a large rotating bezel made of aluminium. It measures 57.5 × 50.8 × 16.8 mm. To cement its aquatic nature, this model offers an outstanding water-resistance of 200 meters. It comes fitted with a wavy soft urethane band, which ensures a snug fit. It is also available in a variant featuring titanium bracelet and stainless steel buckle.
Summary
Casio's PRO TREK watches are known for their superior reliability, ruggedness and versatility. It is one of the best outdoor smartwatch collections in the market. Since 2017, the brand has been offering wearable technology-enabled versions. In addition to its superb exterior features, these smartwatches offer lots of useful functions that can be used in your daily life and during extreme outdoor activities.

The Smart line is comprised of two types of Casio Protrek watches. The first category comes with full digital display. Examples are WSD-F20 and WSD-F30. In the second category, the brand offers analogue plus digital display. PRT-B50 and PRT-B70 are the examples.

The above-mentioned smart/connected watches are capable of measuring the attitude ranging from –700 to 10,000 m (–2,300 to 32,800 ft.), which is useful for mountaineers. With the in-built thermometer, they display temperatures within the range of –10 to 60°C (14 to 140°F). With the barometer function, the wearer can measure the air pressures and analyze the tendencies in the weather. Made of exceptional materials, PRO TREKs offer ultimate ruggedness while ensuring a comfortable fitting. Another noteworthy thing about the PRO TREK smartwatches is the affordable pricing. The Casio HK price of this series typically varies from HK $2,000 to HK $3,500.