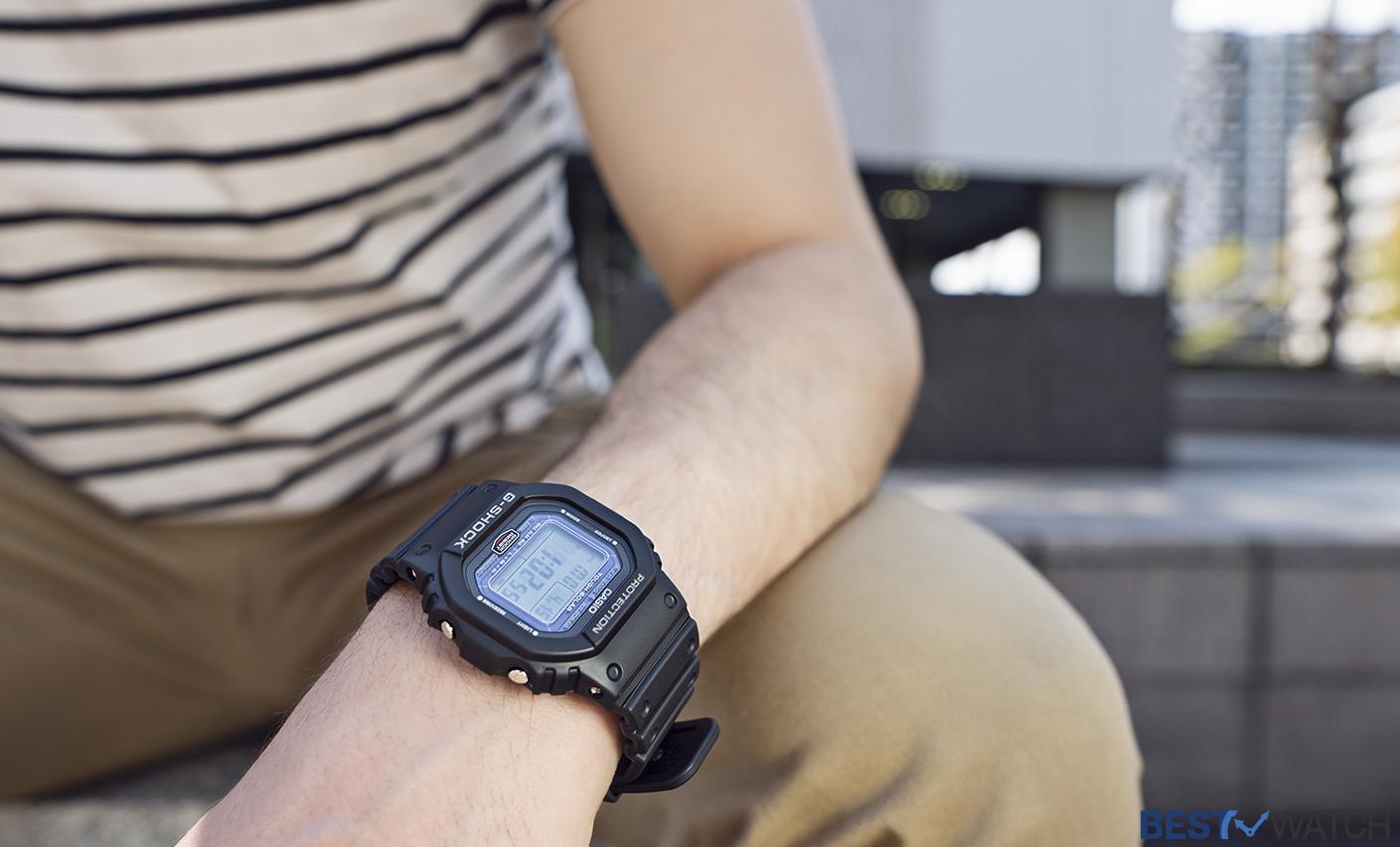 Casio is a leading manufacturer of calculators, digital cameras, electronic musical instruments, projectors, label printers, cash registers, hand-held terminals and wristwatches.
Casio embarked on its journey in 1946 in Mitaka, Tokyo. Initially, the company used to produce electric calculators. In 1965, it started manufacturing electronic calculators. The first electronic personal calculator by Casio was introduced in 1972.
The Japanese firm ventured into watchmaking in 1974 by launching Casiotron, an electronic wristwatch. In 1982, it launched a timepiece with both analogue and digital display. The best-selling G-Shock series was introduced in 1983.
In 1994, Baby-G (G-shock for women) was released. During the initial years of the 21st century, Casio unveiled innovative products like the world's first wristwatch with MP3 Player, the world's first wristwatch with a digital camera and OCEANS, a radio-controlled wristwatch powered by a solar battery. The brand has also introduced high-tech watches endowed with modern technologies like GPS, Bluetooth, Radio Time Signal Reception and the Android Wear operating system.
In 2016, the company launched the Casio smart outdoor watch WSD-F10. Equipped with the Android Wear operating system, it was the first smartwatch with a built-in microphone and 50m water resistance. 
In 2019, the company unveiled a Casio gold watch from its G-Shock collection. Limited to 35 pieces, the 18K Gold G-SHOCK (G-D5000-9) is equipped with a solar-powered radio-controlled movement.  

Casio produces quartz timepieces with analogue, digital or ana-digi displays, as well as clocks, stopwatches and smart-watches. However, it does not manufacture mechanical timepieces. Presently, the brand is offering wristwatches from its flagship collections like G-Shock, Baby-G, Edifice, Enticer, Outdoor, Pro Trek, Sheen, Vintage and Youth Series.
Casio G-Shock

G-Shock, the most popular wristwatch collection from Casio, has been renowned for its excellent durability, shock resistance, toughness and waterproofness. G-Shock is a great wrist companion for assisting you in various activities like adventures, explorations, outdoor sports and military operations.
The notable watch models from the G-Shock collection are Gravitymaster, Mudmaster, Gulfmaster, Professional, MT-G, MR-G, G-Steel, Origin, G-Squad, Full Metal, G-Glide, G'MIX, Metal Covered, Standard Digital, Standard Analog-Digital and S series.
Introduced in 1983, G-Shock has evolved into a bestseller collection acclaimed by millions of customers all around the world. It offers solid timepieces to suit various environments. They are water-resistant to 200 meters. Casio uses tough and highly durable resin material for manufacturing cases and straps of G-shock watches. Some models come with steel bezels or bracelets. G-shocks are also available with fabric straps.
Depending upon the version, G-Shock watches feature quartz or Tough Solar movements. Some of the Casio smartwatch models feature Mobile link technology, allowing wireless connectivity to smartphones using Bluetooth. The G-shock series also offers radio-controlled timepieces that automatically adjust time settings based on the reception of calibration signals and GPS navigation enabled models. The selling price range of this collection is HK$500 to HK$7,500.
Casio Baby-G

Baby-G is a feminine counterpart of the popular G-shock watches. These timepieces juxtapose cute, feminine designs with toughness. The Baby-G collection is comprised of models like ATHLEISURE, G-MS, G-LIDE, Neon Illuminator, Round, Special Colors, Sports, Standard Digital, Standard Analog-Digital and Tandem Series.
Depending upon the model, they feature regular quartz, solar-powered or Tough Solar movements. The type of dial display can be analogue, digital or hybrid (analogue and digital). The timepieces from MSG-B100 and BSA-B100 lines are provided with a Mobile link function. The case and wristband of Baby-G watches are usually made of resin. Indeed, this ladies watch collection offers a comprehensive range of colorful resin straps to delight fashion-conscious women. Depending upon the model, they offer water resistance up to 200m.
The approximate selling price range of the Casio Baby-G series is HK$500 to HK$1,500.
Casio Edifice

Edifice is a collection of quartz wristwatches inspired by the motor-sports. It offers various types of sports watches ranging from the basic analogue three-hand timekeepers to solar-powered chronographs and from multi-functional analogue-digital timepieces to Mobile link (wireless linking using Bluetooth) enabled high-tech models. Edifice watches are usually made of stainless steel. Depending upon the model, the case is also available with ion-plated, gold-plated or dual-tone finishing. They come with stainless steel bracelets, leather straps or resin wristbands. The water resistance rating of Casio Edifice is 100 meters.
Casio Sheen

Dedicated to women, Casio Sheen offers elegant, smart and stylish wristwatches. This analogue quartz watch collection includes Three-hand and Multi-hand models, Sapphire crystal range and Color Series. Fitted on a steel bracelet or colored leather strap, Casio Sheen watches are available in steel, gold-toned, ion-plated and dual-toned versions. The series also offers a wide range of dial colors and designs. They have water-resistant to 50 meters. The approximate retail price range of the Sheen Casio watch for women is HK$600 to HK$1,400.
Casio Pro Trek 

Pro Trek is an extreme outdoor watch loaded with multiple features like Altimeter, Alarms, Auto-calendar, Barometer, Countdown timer, Digital Compass, Stop-watch, Thermometer and World time. The notable models from this series are Climber Line PRT-B50, Camper Line PRG-30, PRT-B70, PRG-600, PRG-240 and PRG-270.
Casio Pro Trek models feature resin case, resin or metal bezel and mineral glass. The water resistance ratings range from 100m to 200m. These watches come with analog-digital or digital display. They are available with the option of metal (steel, ion-plated steel, titanium), silicone, resin and fabric straps. The majority of Pro Trek wristwatches are equipped with Casio's Tough Solar quartz movement. The PRT-B50 & PRT-B70 models are equipped with Mobile link technology.
The retail price range of this Casio watch collection is HK$1,500 to HK$2,500.
Casio Vintage

This collection is comprised of modern re-editions of digital/analog-digital watches produced by Casio in the 1970s and 80s. Equipped with quartz movements they feature LCD displays just like their ancestors. The Casio vintage watch series models come in steel, gold-toned and resin versions. They are available with the choice of stainless-steel bracelets, mesh bracelets and resin bands. The retail price range is HK$120 to HK$750.   
Casio Outdoor

As the name suggests, this collection offers wristwatches suitable for outdoor activities like fishing and sports. They feature resin cases with 100-meter water resistance, resin or aluminium bezels, resin glass and easy-to-read dials with digital or ana-digi display. These watches are equipped with multifunctional quartz movements, offering additional functions like Alarms, Auto Calendar, Countdown Timer, Digital Compass, Stop-watch, Thermometer and World Time.
The popular fishing gear watches are WSC-1250H and WSC-1200H. They offer special utilities like fishing time and moon data. These details are useful for both amateurs and professionals involved in catching fish.
The average Casio HK selling price range of the outdoor series is HK$250 to HK$700.
Casio Enticer

Enticer is a collection of quartz wristwatches for men and women. This series is comprised of analogue and ana-digi timepieces, ranging from minimalist time-only dress watches to multi-function models. Casio Enticer offers a wide selection of designs, case finishing and dial colors. The strap choices include metal bracelet (links or mesh), leather and resin. These timepieces usually feature mineral glass. Some models are equipped with Tough Solar movements. Depending upon the model, the water-resistance ratings vary from splash-resistant to 100 meters. The retail price range is HK$150 to HK$500.
Casio Classic

This collection offers various kinds of ladies and gents wristwatches, including analog, digital and analog-digital models. The Casio classic watch series includes dress, sports and diving categories. They feature quartz or solar-powered movements and available in different case shapes, materials, functionalities and designs.
Among them, a popular model is MDV106, an affordable Casio dive watch with a water resistance of 200 meters. The series also offer diver-style watch models like MRW200, which has a water resistance of 100 meters. This reasonably priced collection has a retail price range from HK$150 to HK$1,100.
Casio Oceanus 

Oceanus is a line of premium wristwatches that merges the latest technology with style. They are made with innovative materials like titanium and incorporate tough-solar movements. These luxurious Casio solar watches stand out with high-quality finishing, thin design and graceful forms. They feature sapphire crystal glass and 100-meter water resistance. Its retail price range is HK$14,000 to HK$20,000.