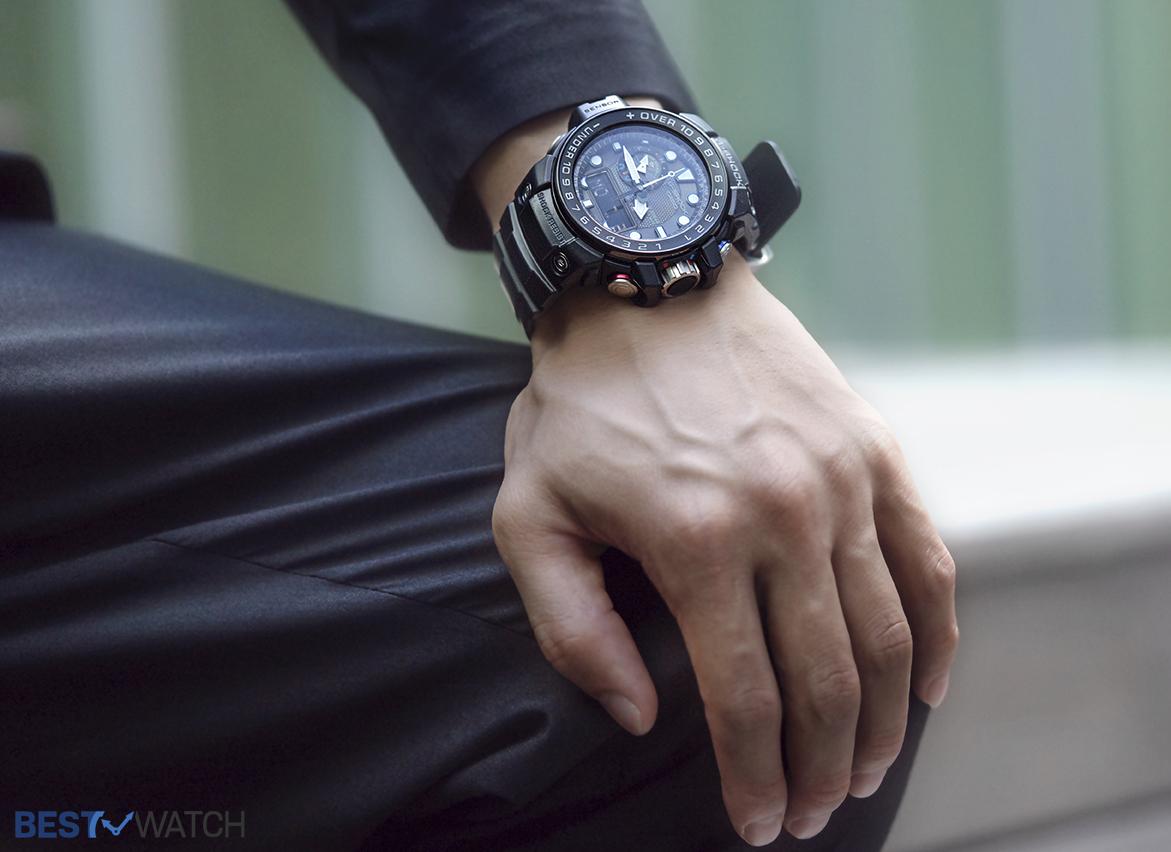 In the contemporary watchmaking space, Casio G-Shock series of watches enjoy a towering position among the toughest wristwatches ever made. Among the Japanese brand's flagship collections, it continues to be the best-selling range of sports wristwatches.
Casio was founded by Kashio Tadao in 1946. His company soon became a leading manufacturer of electric/electronic desktop calculators. In 1972, the brand launched Casio Mini, the world's first personal calculator. In 1974, the CASIOTRON watch was introduced. This quartz digital wristwatch marked the successful company's foray into the watchmaking business. In 1983, Casio launched G-Shock, one of the most popular watch collections ever made in history.
History of G-Shock Collection
Envisioned by Casio engineer Kikuo Ibe, G-Shock stands for Gravitational Shock. The first G-shock to be released in the market was GW-5000C, with a novel design ensuring ultimate protection for the inner mechanisms of the watch. The shock-proof design envisaged for the first G-Shock watch included several layers of protective features for safeguarding the quartz timekeeping module from extensive impacts. The stainless steel case is fortified with a screwed-down case back, a urethane rubber bumper and a hardened mineral glass crystal. The ingenious "floating component" allows the quartz mechanism to float free in a urethane foam cradle, with the outer buttons and LCD module attached with flexible cables. Its specially designed strap also protects the module during a fall.
Thanks to its ingenious design, rugged construction and superior shock-resistance, G-Shock series instantly became an international best-seller. In December 2009, its combined production crossed 50 million units and in September 2017, Casio shipped 100-millionth G-Shock watch. So far, the Japanese company has developed more than 3,000 models of this irresistible shock-resistant watch.
Presently, the collection consists of a comprehensive range of timepieces under various categories. Among the new models, the GA-2100 watch is extremely popular all over the world. Thanks to a number of notable features, this timepiece stands-out in the Casio G-Shock range, which is about to mark its 40th anniversary in 2023.

CASIO G-SHOCK GA-2100
In 2019, Casio introduced GA-2100, one of the most talked about wristwatches in recent years.
GA stands for G-shock with Analogue and Digital displays. This acclaimed timepiece has drawn its design inspiration from two iconic references: GW-5000C, the first G-Shock watch and AW 500, the first G-shock with analogue hands and LCD display. To create the GA-2100 watch, the brand has utilized the modern technologies and integrated them into a novel design framework. It seamlessly blends the most exceptional features of GW-5000C and AW 500 models. Further, they fortified the external structure and slimmed down the module by miniaturizing circuit board structure while ensuring optimum performance.
This G-shock family is immensely popular all over the world. Its profound success has been attributed to a number of reasons as explained in the following paragraphs.

(1) Rugged yet elegant outlook
G-shock watches are known for their excellent standards of ruggedness, shock-resistance and water resistance. These masculine watches also feature massive dimensions due to the multilayer architecture that cements their robust nature. In 2019, a breakthrough came in with the introduction of G-Shock GA-2100, which boasts a thin configuration with extreme levels of toughness.
It should be noted that Casio GA series of watches typically incorporate both analogue and digital elements. Merging both the technologies into a compact wristwatch without sacrificing the superior physical characteristics of G-shock is a challenging mission. For this timepiece, the company has efficiently utilized a high-strength resin, reinforced with carbon fibers. The super-strong watch case made of this innovative material measures a mere 11.8mm thick. GA-2100 is the thinnest among G-Shock GA series watches.
Casio GA-2100 faithfully represents G-shock's successful foray into sporty-elegant wristwatches, at the same time steadfastly maintaining the characteristics features of this famed collection. Moreover, it has received tremendous compliments from thousands of connoisseurs who typically collect mechanical watches.
It has inherited its distinctive case shape from GW-5000C, while the analog-digital dial lay-out from AW 500. Like the very first G-shock watch, this new reference boasts an octagonal-shaped bezel. Because of its striking resemblance with the distinctive silhouette of the iconic Audemars Piguet Royal Oak watch, GA-2100 has gained the nickname CasiOak. Smaller, refined and less flamboyant than typical G-SHOCK models, GA-2100's distinctive bezel instantly reminds us one of the timeless designs by Gerald Genta.

(2) Light in weight and comfortable
One of the lightest watches in the famed G-Shock collection, Casio GA-2100 features a new carbon core guard structure that adequately protects the module by enclosing it in a carbon case. This wristwatch case measures 48.5 mm × 45.4 mm and has a thickness of 11.8mm. Mounted with mineral crystal glass, this model offers impressive 200 meters water resistance. With a weight of a mere 51g, it is the lightest model in the G-shock Analogue Digital series. The ultra-light resin strap is solid and firm yet comfortable to wear. The watch is equipped with a slide lever, which allows quick and easy removal of the wristband for cleaning and maintenance. 
(3) Minimalist yet functional dial
The dial of GA-2100 features a minimalist and easy to read layout even though it hosts both analogue and digital displays. It has three analogue hands. Among them, the two centre hands indicate the hour and minutes respectively. The third hand, which is positioned near the 9 o'clock marker, indicates the day of the week along with the retrograde scale. The dial also incorporates a minute-mark notched dial-ring, three-dimensional index cuts and an LCD panel.
The small LCD display indicates the hour, minute, second, pm, month and date. The GA-2100 additionally offers a multitude of functions like World-time, 1/100-second stopwatch, countdown timer, 5 daily alarms, Hourly time signal, Hand shift feature and Full auto-calendar (to the Year 2099).
For ensuring readability in the dark, it has two LED lighting systems, respectively for the watch-face and the backlight of the digital display. Both the hour and minute hands of references like GA-2100-1A and GA-2100-4A are embedded with the proprietary Neobrite luminescent material.
(4) Choice of several styles 
Presently this model is available in several color versions. The GA 2100-1A and GA-2100-1A1 feature black exteriors, but with some differences in the dial details. The tone used for GA-2100-2A is navy blue. For GA 2100-4A, red color has been used. The other color variants available are Beige (GA-2100-5A) and White (GA-2100-7A).

(5) Affordable pricing
Blending extreme ruggedness with timeless elegance, Casio GA-2100 is available in an affordable price range. The G-Shock HK price of this model is approximately in the range of HK $900 to HK $950. The brand has also released GM-2100, touted as the G-Shock Ga-2100 metal avatar. Priced around HK $2,000, this new family boasts a stainless steel bezel in a more faithful and powerful tribute to a timeless design.