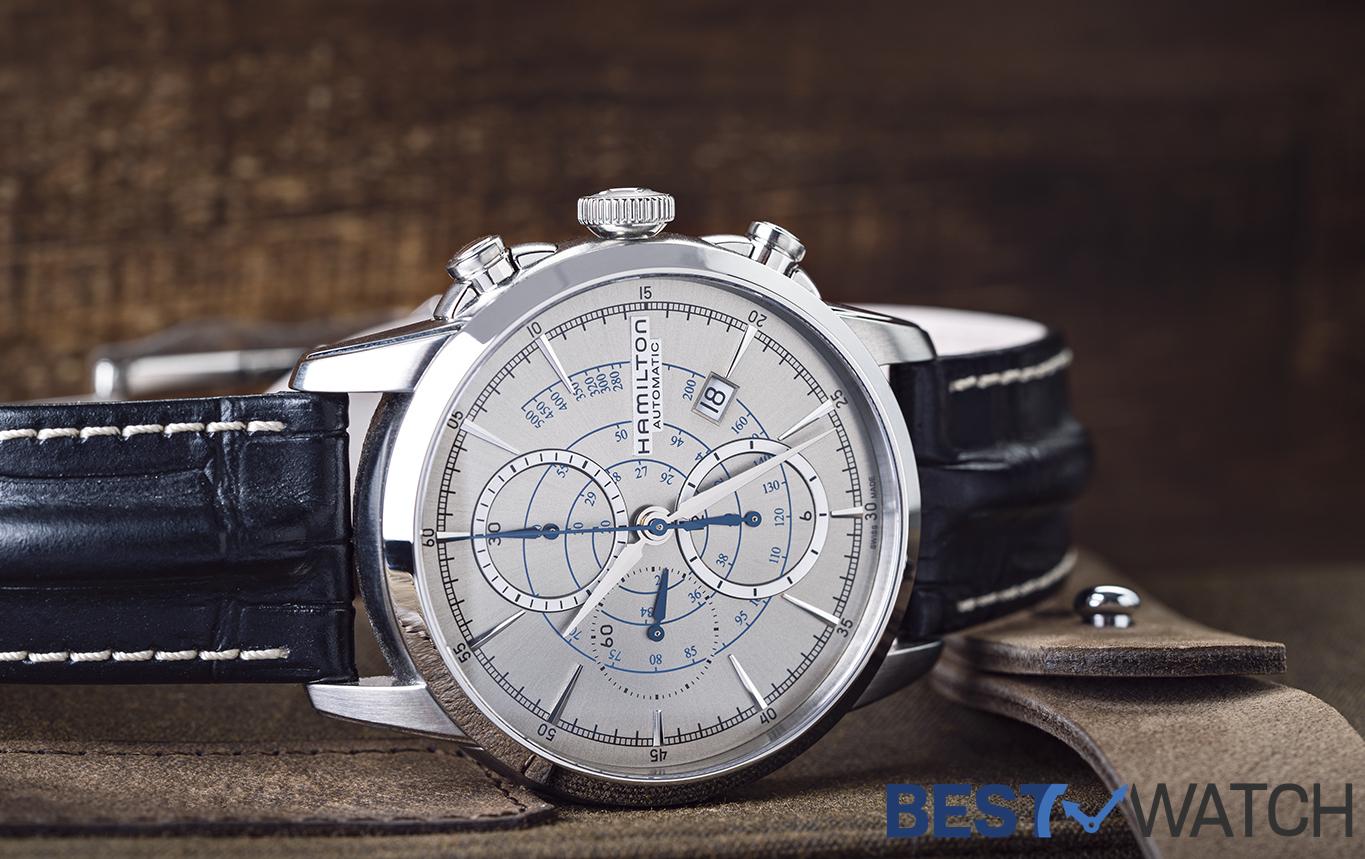 With a rich watchmaking heritage of about 130 years, Hamilton manufactures exceptional timepieces that seamlessly incorporate American spirit and Swiss precision. Currently based in Switzerland, the brand produces automatic, manual-wound and quartz timepieces. Positioned in the 'mid to luxury' price range, Hamilton offers ladies' and gent's wristwatches. Their flagship collections are American Classic, Broadway, Jazzmaster, Khaki Aviation, Khaki Field, Khaki Navy, and Ventura. Hamilton has been known for their lifelong association with the film world. 
History

Hamilton was originally established in 1892 in Lancaster, a city in South Central Pennsylvania in the United States of America. Initially, the company used to produce railroad watches for American Railroad corporations. In 1918, they commenced the production of aviator timepieces. The U.S. airmail service was the major consumer of these hamilton watches. After World War I, the company began producing wrist-worn timepieces for the commercial market.
In the 1930s, Hamilton established its enduring relationship with Hollywood and made its first appearance in the 1932 movie 'Shanghai Express.' During the World War II, they manufactured marine chronometers and deck watches in large quantities for the Unites States Navy. In 1957, Hamilton introduced the world's first electric watch.
In 1966, the brand acquired the Buren Watch Company of Switzerland. In 1969, the company closed its American manufacturing operations with the closure of its factory in Lancaster and shifted to Switzerland. From 1966 to 1972, the Hamilton watches were produced in the Buren's production facilities. The company developed the world's first digital watch Pulsar in 1971. 
In 1972, the manufacturing partnership between Hamilton and Buren was dissolved. Buren was acquired by Swiss investors. In 1974, SSIH group acquired the hamilton watch company. In 1984, the Swiss holding groups SSIH and ASUAG joined to form The Swatch Group, the world's largest watch-making conglomerate. Since then, Hamilton is a subsidiary of the Swatch Group.
Presently, design, development and production of all Hamilton watches take place in Switzerland under the efficient management of the Swatch Group. Although a Swiss-made brand right now, Hamilton continues to carry its American heritage. 
Hamilton Watch Collections
Hamilton offers an extensive product portfolio, ranging from elegant dress watches for trendsetters to rugged, professional timepieces for pilots, divers, sailors and military personnel. Presently, the brand has seven core collections as mentioned below:
American Classic

American Classic Intra-Matic Auto Chrono Brown H38416541
It is one of the largest and most diverse watch collections from Hamilton. This comprehensive collection celebrates the brand's American Heritage and some of its iconic creations. Notable models from the American Classic series are Ardmore, Boulton, Chrono-Matic 50 Auto Chrono, Intra-Matic, Pan Europ, PSR, RailRoad, and Spirit of Liberty.
Ardmore is a modern incarnation of its eponymous ancestor, which was originally introduced by Hamilton in 1937. This ladies' rectangular watch is available with various dial designs and straps. In the 2018 movie 'Venom', Michelle Williams wore an Ardmore wristwatch.

American Classic Quartz Silver Dial Stainless Steel Ladies Watch H11221514
Boulton is a re-imagined edition of a Hamilton watch produced in the 1940s. This iconic wristwatch line was revived and reintroduced in the 1980s. Bearing the same name as its ancestor, the modern Boulton series offers Mechanical and quartz watches, highlighting Art Deco design features and the distinct case shape.
The Chrono-Matic 50 Auto Chrono limited edition collection was launched to mark the 50th anniversary of the introduction of the Caliber 11, the first automatic chronograph movement.
The Intra-Matic series offers modern interpretations of some historic Hamilton watches, such as chronographs A & B. For example, the Intra-Matic Auto Chrono 40mm timepiece, which combines 60s style, is a fresh tribute to a 1968 chronograph. Available in chronograph and date versions, these automatic wristwatches seamlessly integrate masculine features with vintage elegance.
The Pan Europ collection is named after the 1971 Hamilton Chronograph that was equipped with one of the world's first chronograph movements. At present, the modern Pan Europ range offers a Day Date Automatic watch featuring Caliber H-30, rotating bezel and 42mm stainless steel case, with a choice of NATO or leather strap.
The PSR Digital Quartz wristwatch from the American Classic collection is a modern reinterpretation of the iconic Hamilton Pulsar digital watch introduced in 1970. The RailRoad collection is inspired by Hamilton's historic ties with American Railroads. Presently, this range offers a 42mm automatic Skeleton watch and a 28mm Lady Quartz timepiece.
The Spirit of Liberty collection pays homage to Andrew Hamilton, who was the owner of the site of the original Hamilton watch factory in Pennsylvania. Presently, this series includes a Three-hand version with the date and a Chronograph model. The Spirit of Liberty automatic chronograph watch features a 42mm stainless steel case and Calibre H-21, a self-winding movement with 80 hours power reserve. Dressed in a 42mm stainless steel case, the automatic three-hand with date watch houses the H-10 self-winding movement with a power reserve of 80 hours.
Broadway

Broadway Automatic Black Dial Stainless steel Men's Watch H43725131
The Broadway collection is a tribute to Hamilton's American roots and its historic alliance with New York's legendary theatre district. Driven by automatic or quartz calibers, these contemporary styled watches are available in 40mm, 42mm, 43mm and 46mm case sizes. The Hamilton Broadway series includes models like Day Date Auto, Day-Date Auto Chrono, Day-Date Quartz and GMT Automatic.
Jazzmaster

Jazzmaster Thinline Automatic Anthracite Dial Men's Watch H38525181
Featuring more than 20 watch models, Jazzmaster is one of the most extensive collections from Hamilton. This elegant series offers both automatic and quartz watches, with case diameters starting from 30mm to 45mm. The smallest wristwatches in the collection are the Lady Auto (30 or 34mm) and the Lady Quartz 34mm. In the 36mm category, Jazzmaster offers Skeleton Lady Auto, Viewmatic Skeleton Lady Auto, and Open-heart Lady Auto models.
The Hamilton Jazzmaster collection includes a large number of 40mm watches, like Auto, Day Date Auto, Open-heart Auto, Viewmatic Auto, Viewmatic Skeleton Gent Auto, Gent Quartz, Thinline Auto, and Thinline Small Seconds Quartz. Among these, the Viewmatic Auto is also available in a 44mm version.
In the 42mm category, Hamilton offers Auto Chrono, Chrono Quartz, Seaview Day Date Quartz, Thinline Quartz, Power Reserve Auto, Regulator Auto, Open-heart Auto, and Regulator Cinema watches.
In the 43mm case size, two models are available: Thinline Chrono Quartz and Small Seconds Auto. The Sea View Chrono Quartz features a 44mm case. The largest model in the Jazzmaster series is Maestro Auto Chrono featuring a 45mm case. The Maestro Auto Chrono is also available in a 41mm version.
Khaki Aviation

Khaki Aviation Automatic Silver Dial Stainless steel Men's Watch H77726351
Dedicated to the members of flying community and pilot watch lovers, the Hamilton Khaki Aviation series offers accurate and durable wristwatches that can withstand the challenging environments in the aviation field. This impressive professional watch collection includes models like Converter, Pilot Day Date Auto, Pilot Day Date Quartz, Pilot Pioneer Mechanical, Pilot Pioneer Chrono Quartz, Takeoff Auto Chrono, X-Wind Auto Chrono, X-Wind Day Date Auto and X-Wind GMT Chrono Quartz models.
Equipped with a hand-wound movement, the Pilot Pioneer Mechanical is a modern reinterpretation of a vintage military produced for the British Royal Air Force in 1973. The Pilot Pioneer Chrono Quartz watch comes with a 41mm case. The models like Converter Auto, Pilot Day Date Air Zermatt Auto, Pilot Day Date Quartz, and Pilot Day Date Auto (with H-40 movement) feature 42mm case.
The Converter Auto Chrono, Converter Auto GMT and X-Wind Auto Chrono are 44mm watches. The X-Wind Auto Chrono 45mm and X-Wind Day Date Auto models feature 45mm diameter cases. In the 46mm case category, this series offers models like Pilot Day Date Auto (with H-30 movement), X-Wind GMT Chrono Quartz and Takeoff Auto Chrono.
Khaki Field

Khaki Field Manual-winding Black Dial Stainless steel Men's Watch H69809730
This collection consists of rugged and precise wrist watches (automatic, hand-wound and quartz), made according to military specifications. This remarkable series includes models like Auto, Auto Chrono, Day Date Auto, King Auto, Mechanical, Murph Auto, and Quartz. In this collection, the brand provides wrist watches with case sizes 38mm, 40mm, 42mm, 44mm and 50mm. Available in time-only, day and day-date versions, the Hamilton Khaki Field watch incorporates the luminescent hour & minute hands, arrow shaped centre seconds hand, Arabic numerals for indicating 12h scale of the outer dial ring and a 24h inner dial. Some models have vintage radium-style luminescent coating.
Available in automatic and quartz versions, the Khaki Field King watch features a 40mm steel case with crown guards, and dial with apertures for day and date at 12H. In the 40mm category, the brand also offers Khaki Field Auto and Khaki Field Quartz models.
The notable 42mm watches in the Khaki Field series are Auto, Auto Chrono, Titanium Auto, Murph Auto, and Day Date Auto. Among these watches, the Khaki Field Murph Auto model is known as interstellar Hamilton watch after its appearance in the 2014 blockbuster movie Interstellar.
The 44mm version of the Khaki Field Auto watch is equipped with the H-10 self-winding movement. The 50mm version of the Khaki Field Mechanical watch houses the Caliber H-50, a hand-wound movement with a power reserve of 80 hours.
Khaki Navy

Khaki Navy Automatic Black Dial Stainless Steel Men's Watch H77725335
As the name suggests, this line includes exceptional wristwatches suitable for naval personnel, maritime professionals and water sports enthusiasts. The collection consists of 37mm, 40mm, 42mm, 43mm, 44mm and 46mm watches. Equipped with quartz or automatic movements, Khaki Navy timepieces are available with water resistances ranging from 100 to 1,000 meters. The Frogman Titanium Auto and the below zero 1000m Auto are professional diving watches with 1,000 meters water resistance. The Hamilton frogman auto stainless steel watches are tested for 300 meters water resistance. Models like Pioneer Auto Chrono, Pioneer Auto, Pioneer Small Seconds Auto, Scuba Auto, and Scuba Quartz have 100m water resistance.
Ventura

Ventura Mother of pearl Dial Watch H24211852
Boasting an audacious, ingenious and unconventional design, Ventura is one of the most iconic models from Hamilton. Introduced in 1957, it was the first electric watch in the world. Its unusual case shape (triangle) made it a beloved icon. Elvis Presley is an admirer of this timepiece and chose to wear a Ventura watch in his 1961 film Blue Hawaii. Presently, the brand offers Hamilton Ventura watches in quartz and mechanical versions, with different case sizes and styles. The most important models from the collection are Auto, Elvis80 Auto, Elvis 80 Skeleton Auto, Open-heart Auto, XXL Auto, Quartz, Chrono Quartz, S Quartz and Poggytheman.

Each Hamilton watch model faithfully represents a perfect fusion of Swiss precision watchmaking and the American Heritage that is dear to the iconic brand. It makes timepieces suitable for all aspects of the modern lifestyle, ranging from daily wear dress watches to deep diving instruments that can immerse up to 1,000 meters in depth. The company makes use of resilient and durable materials like 316L stainless steel and Titanium for crafting their timepieces. Depending upon the version, the glass can be a mineral crystal or sapphire.
All Hamilton watches are equipped with in-house movements manufactured in the production facilities of the Swatch group in Switzerland. The brand offers several attractive options of straps: Canvas, Leather, Metal, NATO, Rubber and Textile. Most Hamilton watches are available within the retail price range of S$ 500 to S$ 2000. Some premium chronograph models sell above S$ 2000.