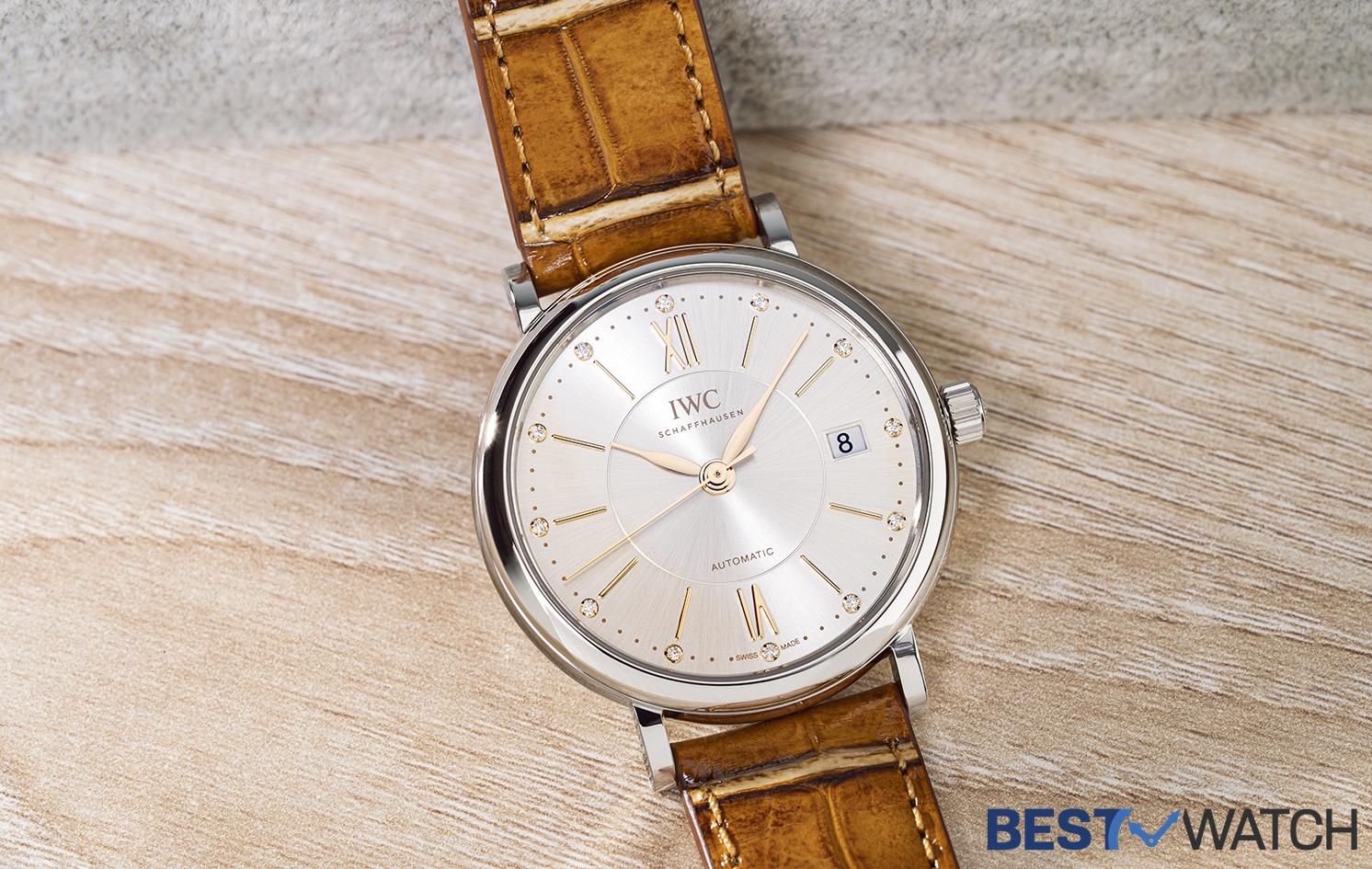 Introduction
IWC is a prominent watch manufacture based in Schaffhausen, a picturesque town in the German-speaking region of Switzerland. The company was established by the American watchmaker and entrepreneur Florentine Ariosto Jones in 1868. A subsidiary of the Richemont Group since 2000, IWC has been renowned for its high-quality Swiss-made mechanical timepieces, ranging from classic dress watches to spectacular grand complications.
The brand offers a wide range of superb wristwatches to match the tastes of various customers, starting from new generation watch lovers to seasoned horology enthusiasts. Several reasons emphasize the need for adding an IWC wristwatch to your valuable collection of timepieces. In this editorial, we are highlighting five specific reasons. 
(1) Watches with Impressive history

Portugieser Yacht Club Chronograph Automatic Blue Dial Men's Watch IW390701
A major selling point of a luxury watch brand is its rich history. Presently, only a few active watchmakers exist in the world with their origins dating back to the 18th and 19th centuries. IWC Schaffhausen belongs to this exclusive club. Established in 1868, it enjoys an impressive history of more than 150 years and also holds an impressive track record in the manufacturing of exceptional mechanical timepieces.
All flagship collections from IWC – the Pilot's Watches, Portugieser, Ingenieur, Aquatimer, Da Vinci and Portofino – are the inheritors of the brand's extraordinary legacy in fine watchmaking. The IWC Pilot watches family traces back its origins to 1936. Since the late 1930s, the brand has been a principal supplier of professional timepieces designed for pilots and navigators. During the 1940s, IWC was one of five manufacturers that built Pilot watches for Luftwaffe (Germany's air force). These timepieces are now highly sought-after among vintage watch collectors. The IWC big pilot Watch traces its origins to the military observation watches manufactured in the 1940s.

Pilot's Chronograph Edition Blue Angels Men's Watch IW389008
The most famous pilot's watch created in Schaffhausen was Mark 11. It was produced in 1948 for the British Royal Air Force (RAF). In 2016, the manufacture launched the IWC mark 18 pilot watch as a tribute to the iconic Mark 11 timepiece.
The IWC Portugieser series has a rich heritage that dates back to 1939. The IWC Ingenieur collection was introduced in 1954. IWC added the Aquatimer family in 1967, the Da Vinci line in 1969 and the Portofino range in 1984. From the watch connoisseurs' point of view, this rich heritage of IWC inspires the customers to acquire the brand's fine timepieces. 
(2) Extensive product portfolio

Aquatimer Chronograph Edition "Sharks Automatic Grey Dial Men's Watch IW379506
IWC is an all-around performer thanks to its remarkable expertise in all the fields of fine watchmaking. The company is capable of producing all types of timepieces: classic, contemporary, pilot, sports, diving, professional and etc. For aviation professionals and enthusiasts, the brand offers its Pilot's Watch line, which includes time-only models as well as multifunction timepieces featuring chronograph, Dual/World time or calendar. Among their military aviation watches, the IWC top gun line is named after the U.S. Navy's legendary Fighter Weapons School (TOPGUN).
The Aquatimer collection is a perfect place to find well-built and reliable diving watches. While the Portugieser series has been dedicated to new-age navigators and urban explorers, the Portofino line offers elegant dress watches embodying the vibrant lifestyle of Mediterranean coasts. The Ingenieur collection is comprised of extremely rugged and antimagnetic wristwatches suitable for adventurers, sportspersons and professionals.
IWC offers a comprehensive range of complication watches from its flagship lines as well as from the Jubilee collection, which was introduced in 2018 to mark the manufacture's 150th anniversary. In their extensive product portfolio, IWC offers the customers to explorer all major watch complications: Annual Calendar, Perpetual Calendar, Chronograph, Tourbillon, Minute Repeater, Moonphase, Tide Indication, and Multiple Time Zones. Some of their timepieces incorporate two or more complications, like Perpetual Calendar Chronograph, Perpetual Calendar Tourbillon and Double Chronograph.
Apart from these high-complication watches, IWC Schaffhausen also crafts Grand Complications that integrate a multitude of complex horological mechanisms. This broad selection of horological masterpieces makes IWC as one of the most preferred brands among fine watchmaking enthusiasts. 
(3) Wide choice of materials

Portofino Automatic 37 Automatic Grey Dial Men's Watch IW458104
The brand offers timepieces made of Stainless steel, 18-carat gold, bronze, platinum, ceramic, titanium and Ceratanium®. When it comes to straps, the brand provides stainless steel three links bracelets, Milanaise mesh bands, rubber straps, textile straps, and leather straps. The alligator leather and calfskin straps are made exclusively by Italian shoe manufacturer Santoni. This extensive range of choices allows the customers to instantly choose an IWC watch that suits his or her budget and specific requirements. 
(4) Impressive line-up of In-house movements

Da Vinci Automatic Slate Dial Men's Watch IW356605
The ability to develop and manufacture in-house mechanical movements is the ultimate dream of every watch company. IWC belongs to the exclusive club of manufactures that produces their own mechanical calibers.
IWC produces a broad array of in-house automatic and manual movements that are widely recognized for excellent chronometric performance and reliability. A significant technical aspect of the brand's in-house calibers is their impressive power reserve. Depending upon the caliber family, the power reserve of an IWC mechanical watch can range from 46 hours to 8 days. The self-winding movements incorporate either the highly efficient IWC Pellaton automatic winding system or a bidirectional pawl-winding system similar to the Pellaton mechanism.
Offering an outstanding level of precision, the in-house calibers employ traditional decorative techniques like circular graining and Geneva stripes. IWC also makes use of chamfering, burnishing, bluing and various surface coating techniques for enhancing both aesthetic and functional properties of their manufactured mechanical movements. Presenting with the most exceptional standards of precision and reliability, the calibers used in the IWC watches offer long service life. A fine mechanical timepiece housing an in-house movement is always a valuable investment. 
(5) High standards of manufacturing 

Ingenieur Chronograph Automatic Silver Dial Men's Watch IW380801
IWC is one of the finest watch manufacturers in the world. This premium Swiss brand has been known worldwide for its precision timepieces that unite traditional skills, technical inventiveness and innovation. It employs highly qualified watchmakers, who meticulously handle one of the most stringent production processes in Switzerland's watchmaking industry. Each timepiece is individually assembled by the expert horologists, utilizing their exceptional skills and state-of-the-art machineries. Every IWC watch is a perfect union of painstaking workmanship, optimum functionality and excellent design.
The brand's in-house manufacturing capability ensures the outstanding quality of timepieces. Before shipping out from the company, each timepiece undergoes rigorous quality checks, including the tests for corrosion resistance, UV resistance, abrasion resistance and the ability to withstand varying climates with temperatures ranging from –20 to +70 degrees Celsius. These stringent quality tests guarantee excellent chronometric performance, reliability and endurance for all IWC watches.