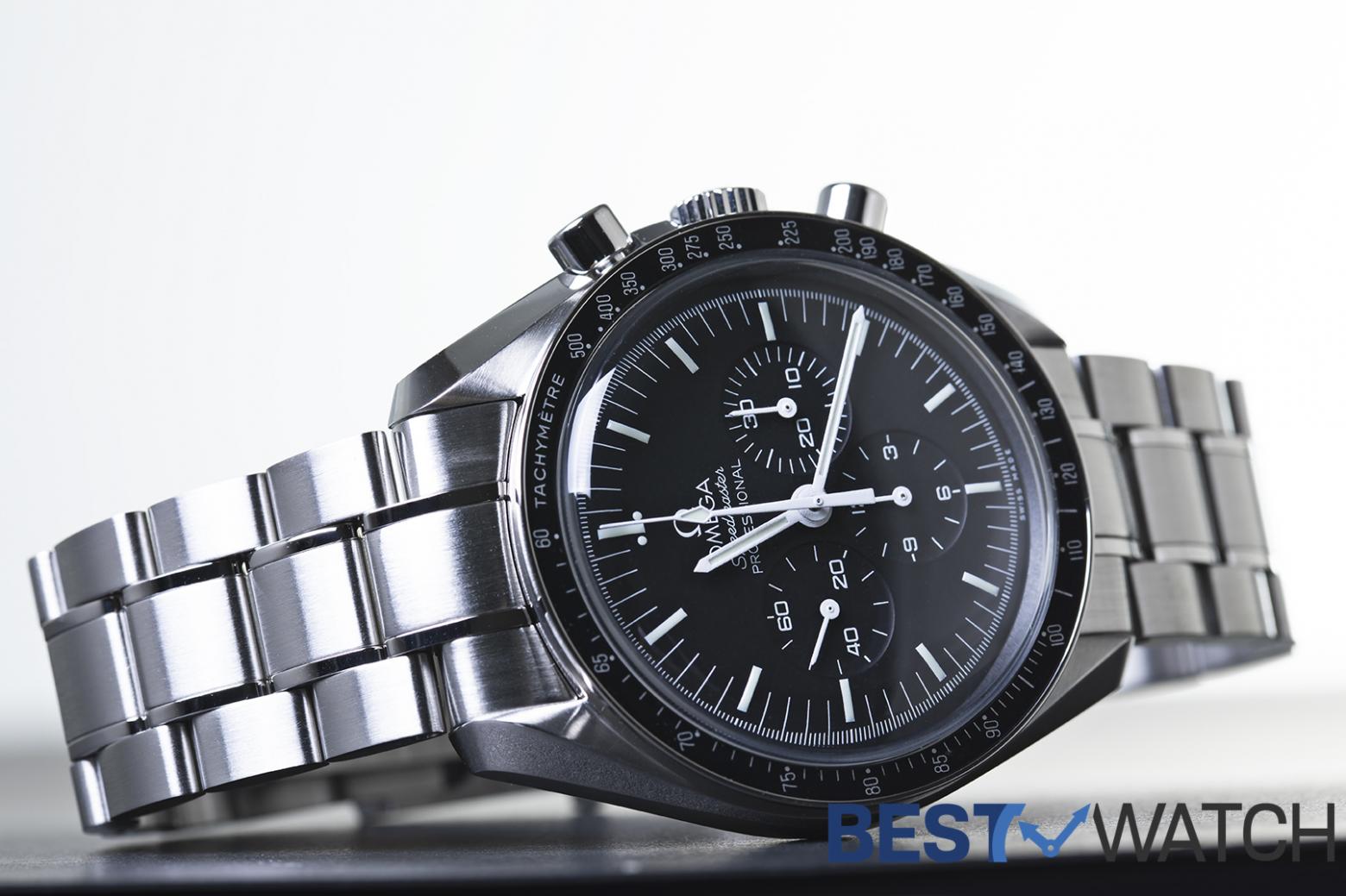 Upholding an enduring legacy of more than six decades, Omega Speedmaster is one of the most-celebrated mechanical wristwatches ever made. One of the key pillars of the globally acclaimed Swiss brand, Speedmaster family offers an extensive range of well-built and exceptionally precise wristwatches. 
History and Evolution

The origins of the Speedmaster trace back to 1957 when Omega launched its 'Professional' line of watches. The other two specialized timepieces introduced along with the Speedmaster were the Seamaster 300 and the Railmaster. The very first Speedmaster watch was equipped with the manual-winding column-wheel chronograph movement Cal.321. The first ever Speedmaster had the reference number CK 2915 and features a 38mm stainless steel case with tachymeter bezel and a three-counter dial highlighting the so-called 'Broad Arrow' hands. It was the first chronograph watch to feature the tachymeter scale on the bezel.
Introduced in 1959, reference 2998 was the first Speedmaster to feature a black aluminium bezel. This model features 39mm case and the manual winding chronograph calibre 321. In 1962, NASA Astronaut Wally Schirra wore an Omega Speedmaster reference 2998 watch during the Mercury Sigma 7 mission. In 1965, NASA tested and certified the Speedmaster for all manned missions and Extravehicular activity. 
In 1968, the Swiss watchmaker introduced calibre 861 for equipping their Speedmaster wristwatches. Most of these watches produced from 1968 to 2020 have used either calibre 861 or its variants, including the rhodium-plated caliber 1861.
Released in 1964, the reference 105.012 was the first Speedmaster to feature "Professional" signature on the dial. Equipped with the iconic calibre 321, this model has larger 42mm case size with crown guards. In 1969, it became the first watch worn on the Moon.
During the Apollo 11 lunar mission, Commander Neil Armstrong and lunar module pilot Buzz Aldrin wore Omega Speedmaster watches. Since the first every manned moon-landing mission, the Speedmaster has been known as Moonwatch and also participated in several space missions. This Omega Moonwatch was equipped with the Cal. 321, the same movement of the very first Speedmaster. Equipped with upgraded chronograph pushers, the ref. 145.012 was the last Speedmaster watch to utilize the famous manual-winding calibre 321.
Introduced in 1968, reference ST 145.022 was the first Omega Speedmaster Professional Moonwatch to feature the Calibre 861 mechanical manual-winding chronograph movement.
Subsequently, the iconic brand launched the Speedmaster Professional Mark II in 1969 and the limited edition gold watch to celebrate the successful Apollo 11 mission in 1970. In 1988, the Omega Speedmaster automatic watch with 39mm case was introduced.
In 1993, thirty-five Omega Speedmaster watches successfully completed a full 365 days on the Russian Mir Space station. In 2015, Omega introduced its Master Chronometer certification. In 2019, the brand reintroduced the iconic calibre 321 and launched the Speedmaster Heritage Calibre 321 watch. In 2021, a new generation of Speedmaster Professional watches equipped with Master Chronometer certified Calibre 3861 was introduced.
Shopping Guide
The key pillars of the present Omega Speedmaster family are: Moonwatch Professional, Heritage Series, Dark Side of the Moon, Speedmaster 38mm, and Two Counters. Among these, the Omega Speedmaster Moonwatch remains the most iconic and popular model. In the following paragraphs, you will find some key details of the present generation Speedmaster collection, along with estimated price range of each series. These shopping tips may guide you to find out a perfect Speedmaster of your choice.
(1) Speedmaster Moonwatch Professional

Speedmaster Moonwatch Professional 311.30.42.30.01.005
Introduced in 2021, the present generation Speedmaster Moonwatch Professional watches are typically equipped with the Omega Co-axial Master Chronometer Calibre 3861. This manual-winding chronograph movement with Co-axial escapement and silicon balance spring is a certified Master Chronometer calibre, approved by METAS (the Swiss Federal Institute of Metrology). It is resistant to magnetic fields reaching 15,000 gauss. This hand-wound calibre generously provides 50 hours of power reserve. 
Presently, the new Omega Speedmaster professional is available in three case versions: Stainless, Sedna™ gold and Canopus Gold™. All of them have 42mm diameter case and come with the choice of silver or black dial color. The anodised aluminium bezel ring with tachymeter scale is a stand-out feature of the Moonwatch. Water resistant to 50 meters, these watches are fitted with sapphire crystal. The current collection also offers stainless steel versions with Hesalite glass. The new generation models are available with the choice of leather strap, nylon fabric or integrated stainless steel bracelet with a five links per row design.
The starting price of a present generation Speedmaster Moonwatch Professional is approximately HKD$ 35,000 for the stainless steel version with hesalite crystal and nylon strap. It typically costs HKD$ 49,000 for its counterpart with a metal five-links bracelet. The stainless steel model with sapphire crystal and metal five-links bracelet approximately costs HKD$ 55,500 where as its counterpart with leather strap sells at HKD$ 53,000.
The Sedna™ gold version has an estimated retail price of HKD$ 270,000 with Sedna™ gold bracelet and HKD$ 190,000 with leather strap. The Canopus Gold™ version retails at HKD$ 380,000 with Canopus Gold™ bracelet and HKD$ 236,000 with leather strap.
Although Omega introduced calibre 3861 with a co-axial escapement and Master Chronometer certification, the Speedmaster Moonwatch Professional watches equipped with calibre 1861 are still available for purchase. These Speedmasters in stainless steel case and equipped with (with calibre 1861, chronometer certified) costs approximately HKD$ 40,700 with hesalite crystal and leather strap, HKD$ 41,400 with hesalite crystal and five links steel bracelet, HKD$ 48,500 with sapphire crystal and leather strap, and HKD$ 49,200 with sapphire crystal and five links steel bracelet.
(2) Speedmaster 'Heritage' 

Speedmaster anniversary series Apollo 11 50th anniversary 310.20.42.50.01.001
This sub collection is comprised of Speedmaster wristwatches that celebrate the great watchmaking heritage of Omega.
The Heritage Calibre 321 is a Speedmaster professional watch in 42mm platinum case and equipped with the original movement used with the very first Speedmaster watch launched in 1957. With the same movement, Omega is also offering a 39.7 mm Steel Heritage Calibre 321 watch without the 'PROFESSIONAL' inscription on the dial. The Platinum Heritage Calibre 321 retails at HKD$ 460,000and the 39.7 mm Steel Heritage Calibre 321 costs HKD $ 109,000.
The Speedmaster Heritage line also includes a number of 'Anniversary' models that mark anniversaries of some historic milestones related to Omega. This series offers models like 42mm Apollo 13 Silver Snoopy Award, 42mm Apollo 11 50th Anniversary, 39.7mm 'First OMEGA in Space', and 44.25mm Co-axial Chronometer GMT Chronograph. Available in Steel, Gold or Titanium case, this collection has a retail price range from HKD$ 41,000 to HKD$ 283,000.
The Speedmaster 57 is a remarkable collection of automatic watches featuring 41.5mm case and calibre 9300, the first chronograph in Omega's in-house Co-axial mechanical movement family. Paying tribute to the first Speedmaster released in 1957, this line offers Steel, Gold, Steel & Gold and Titanium case versions, with the choice of three-links bracelet or leather strap. The retail price range is from HKD$ 69,000 to HKD$ 279,000.
(3) Speedmaster 'Two Counters'

Speedmaster Racing Co‑Axial Master 329.32.44.51.01.001
This series includes Omega Speedmaster automatic watches featuring 44.25 mm diameter case and self-winding chronograph calibers with column wheel and Co-axial escapement. They boast two counter dial lay-out, along with a date display or the moon-phase at 6 o' clock. The movements used in the 'Two Counters' series are: Cal. 9904 for Omega Speedmaster moonphase versions, Cal. 9300 for regular two counter models and Cal. 9900 for Racing variants. 
Among these automatic movements, Calibre 9300 is Chronometer certified where as both 9900 and 9904 are Master Chronometer certified. The 'Two Counters' collection offers stainless Steel, Gold, Steel & Gold, Ceramic, Platinum and Titanium watch models. The approximate retail price of the watches vary from HKD$ 65,500 to HKD$ 478,000.
(4) Speedmaster 'Dark Side of the Moon'

Speedmaster Dark Side of The Moon Team Alinghi 311.92.44.30.01.002
The Speedmaster 'Dark Side of the Moon' collection was introduced in 2013 with a self-winding co-axial chronograph watch featuring black ceramic case, bezel and dial. Since then, the series has been enhanced with several new models. Presently the collection offer 'Dark Side of the Moon' versions like Apollo 8, Black Black, Meteorite, Sedna Black, Pitch Black, Team Alinghi and Vintage Black as well as the variants like 'Grey Side of the Moon' and 'White Side of the Moon'. 
Among these, both Apollo 8 and Team Alinghi watches are equipped with mechanical manual-winding chronograph calibre 1869. All other models are equipped with the Co-axial automatic chronograph calibre 9300. All timepieces from the 'Dark Side of the Moon' feature 44.25mm diameter case. The approximate retail price range is HKD$ 75,600 to HKD$ 200,000.
(5) Speedmaster 38

Speedmaster 38 mm Co-Axial 324.30.38.50.03.002
This collection consists of Speedmaster Omega watches featuring 38mm diameter case. Available in Steel, Gold and Steel& Gold versions, the Speedmaster 38 watches are equipped with the co-axial calibre 3330 automatic movement. The timepiece features a dual-layer bezel design, with an inner ring featuring tachymeter scale, and an outer ring with scale markings or set with diamonds. The retail price range is HKD$ 36,800 to HKD$ 153,100.
Popular Models

Speedmaster CK2998 311.33.40.30.02.001
The Omega Speedmaster is one of the most iconic timepieces ever made in the history of watchmaking. The much celebrated association with several space and lunar missions made it a cult icon. The first ever Speedmaster CK 2915 is the most admired historical model. The other sought-after vintage references are CK 2998, ST 105.003, ST 145.012, ST 145.022, 376.0822 and Mark II. Among the modern Speedmasters, the most admired creations are Moonwatch, First Omega in Space, Silver Snoopy Editions, Heritage Calibre 321, Speedmaster 57, 'Speedy Tuesday' and 'Dark Side of the Moon'.  
Collection Value

The Omega Speedmaster undoubtedly holds a great collection value thanks to its historical significance, unmatched performance and enduring admiration from watch connoisseurs. Since its induction, the Moonwatch has remained the most popular timepiece in the Speedmaster collection. As one of the most celebrated mechanical chronograph watches ever made, Speedmaster is a great investment for the future. Depending upon the age, condition and rarity, the cost of a vintage Omega Speedmaster watch can reach above HKD$ 584,800. The rare and historically important pieces cost higher.