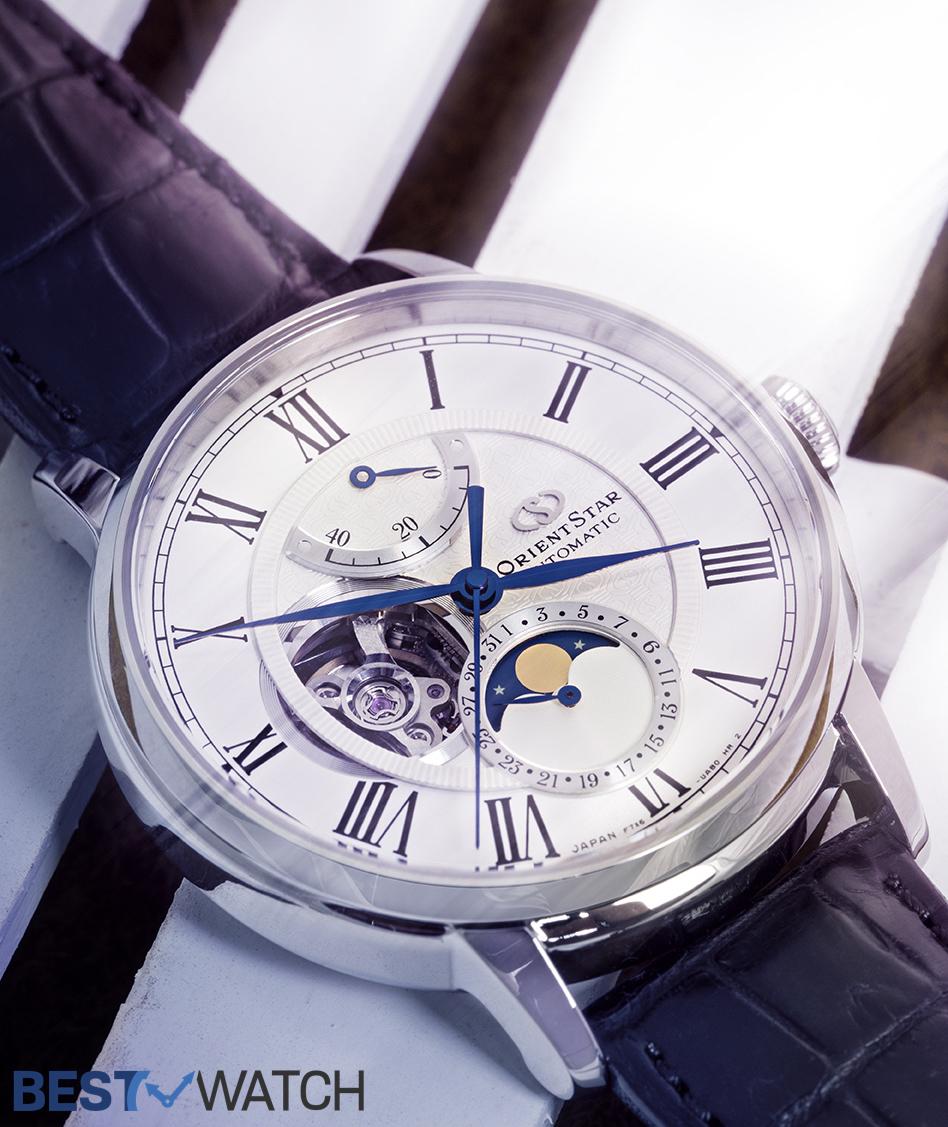 Introduction
ORIENT is a Japanese watch brand with a large number of ardent followers from all over the world. Its origins date back to the 1950s. The brand has been renowned worldwide for its budget-friendly, yet high-quality timepieces that feature in-house movements and indigenous designs with fine finishing.
Orient produces both quartz and mechanical timepieces featuring classic, contemporary or sports designs. Presently, the entire product portfolio of the company is divided under two distinct brand names: ORIENT and ORIENT STAR. Both labels are popular and when it comes to brand value, Orient Star ranks higher.
History
Orient was born in 1950, with the founding of Tama Keiki wristwatch manufacturing company at Hino in Tokyo. In 1951, this firm changed its name to Orient Watch Company. In the same year, Orient Star brand was introduced.
In 1958, Royal Orient was launched. In 1964, three watch models – Grand Prix 100, Calendar Auto Orient and Flash – all under Orient brand were unveiled. Other historic orient watches include: Fineness (1967), World Diver (1969), King Diver 1000 (1969), Chrono Ace Jaguar Focus (1970), Multi Year Calendar (1976), Touchtron (1976) and Mon Bijou (1991). In 1997, the brand launched the M-FORCE collection. In 2003, the Orient Technical Center (OTC) was established in Akita, Japan. In 2004, the company revived the royal orient watch.
Some of the historic Orient Star watches are: Dynamic (1957), Power Reserve (1996), and World Time (1999). In 2009, Orient Watch Company became a subsidiary of Epson. In 2017, the company was integrated into Seiko Epson Corporation, one of three core corporations of the Seiko Group.
ORIENT 
Under the Orient brand, the company offers both quartz and mechanical timepieces from four core ranges: Classic, Contemporary, Revival and Sports. 
Orient Classic

Orient Classic Limited RN-AS0004L
The Orient Classic collection consists of a diverse range of traditional dress watches that offers a timeless outlook with a vintage flair. These marvelous creations typically follow the iconic designs of the 1960s and the 1970s. For ladies, the Classic range offers a mechanical model with 36.4mm case, and quartz watches with 33.8mm and 34.3mm diameters. For men, the collection offers mechanical wristwatches with case sizes like 40.5mm, 41.5mm, 42.5mm and 43mm as well as quartz timepieces. 
Notable mechanical watch models from the Classic series are RA-AS010 (41.5mm case, sun & moon function and semi-skeleton window), RA-AC001 (36mm case, date function),RA-AC0000 (40.5mm case, date display), RA-AG000 (40.5mm case, semi-skeleton window and centre seconds), RA-AP000 (40.5mm case, date and small seconds), AC0800 (42mm case, date display), RA-AS000 (42mm case, dial with sun & moon function and semi-skeleton aperture), AK0000 (42.5mm case, dial with individual apertures for date, day, and sun and moon tracking), and AG0000 (43mm case, semi-skeleton dial).
The prominent Orient Classic quartz watches are: RA-KB000 (34.3mm case, three hands with sun & moon function), RA-QC170 (33.8mm case, time only), RA-KA000 (34.8mm case, sun & moon function, day and date sub dials), UG1R00 (40.5mm case, day and date window at 3H), RA-KV040 (42.4mm case, chronograph with 24h indication and date) and SZ4500 (28mm case, date display).
Orient Contemporary

Orient Contemporary RN-AC0E05N
The Contemporary collection is consists of elegant and sophisticated dress watches in various sizes and distinctive configurations. The diameters of the case can range from 25mm to 43mm in case of quartz watches and from 32mm to 42.4mm for mechanical timepieces. 
Some prominent mechanical Orient watch models from the Contemporary series are: RA-A000 (40.8mm case, dial with semi-skeleton window and small seconds), RA-AA0A0 (39.5mm case, dial with day-date display), AX000 (40.8mm case, dial with date at 3H and day aperture at 12H), EV0V00 (41mm case, dial with date at 3H and day aperture at 12H), ET0P00 (41mm case, date with date at 6H, day sub-dial and sun & moon function), RA-AK030 (41.5mm case, dial with centre seconds, day indicator, sun and moon tracking sub-dial and date aperture, AC0F0 (41.6mm case, date function), AA0C0 (41.9mm case, day and date display), and EU0A00 (42mm case, date and monthly calendar).
The Orient Contemporary range also offers a broad selection of quartz wristwatches either with time-only configuration or with date, day-date or chronograph functions.
Orient Sports

Orient Mechanical Sports Watch RA-AC0K03L
The Orient Sports collection typically offers reliable timekeepers suitable for active lifestyle and extreme sports activities. 
The Mechanical Sports range includes several models, including some well acclaimed dive watches. It offers highly durable and precise mechanical watches with case sizes 41.5mm, 41.8mm, 42.4mm, 42.6mm, 43.4mm, 43.6mm, 44mm, 44.5mm, 45mm, and 46mm. The Sports Collection also includes several watch models equipped with quartz movements. Depending upon the version, the case dimensions can vary from 41.5mm to 48mm. 
For dive watch lovers, Orient offers Mako, Ray, Kamasu, Kanno, Triton and M FORCE models. These 200m water resistant watches are suitable for nautical sports activities, snorkeling and skin-diving. The Orient Pro Saturation Diver watch has 300 meters water resistance. The automatic sports range also offers aviation watches and chronographs, Multi-Year Perpetual Calendar models, Field watches and etc. The reference RA-AC0H0 is an automatic orient flight watch while RA-KV050 is a flight chronograph with quartz movement.
Orient Revival

Orient Mechanical Revival Watch RA-AR0204G
The Orient Revival collection was introduced in 2020 to mark the 70th anniversary of the company. This exceptional line offers modern incarnations of the historic orient watches. The first model in this new series is King Diver, a reproduction of the 1965 Weekly Auto Orient King Diver. This was followed with the Retro Future Camera watch, faithfully recreating a popular model that seamlessly incorporates camera details into its retro mechanical design. In 2021, the Revival Collection World Map was introduced.
ORIENT STAR
The Orient Star brand offers mechanical timepieces for both men and women. It has three product ranges: Classic, Contemporary and Sports. 
Orient Star Classic

Orient Orient Star Classical WZ0041DX
The Orient Star Classic range has an excellent selection of traditional wristwatches for both men and women. The smallest model in the Orient Classic series is the 30.5mm Semi Skeleton ladies automatic watch. For men, the collection hosts several classic models featuring different functions and case sizes ranging from 38.5mm to 41mm.
The smallest Orient Star classic watch for men is AF0200 series, which features a 38.5mm diameter case and displays power reserve and date. The Classic Heritage Gothic model (RE-AW000) has a 38.7mm case and boasts a dial with gothic fonts inspired by the original Orient Star watch introduced in 1951. It displays the date, small seconds and power reserve. The brand also offers another 38.7mm case watch (RE-AU200), which incorporates the date, power reserve display and centre seconds.
The Orient Star DX0200 series includes skeleton wristwatches with 39mm diameter case. Orient Star RE-AV000 is an automatic timepiece with 40mm diameter case. This watch has a semi-skeleton widow, small seconds dial and power reserve indicator. In the RE-HH000 wristwatch, the 40mm case houses a dial with a semi-skeleton window, power reserve display and centre seconds.
The Mechanical Moon Phase watch (AY010 series) has a 41mm diameter case and a partially open-worked dial exhibiting a semi-skeleton aperture, power reserve indicator and a moon phase with date display.
The 70th anniversary Skeleton (RE-AZ000) model features a 40mm case and a new manufacture hand-wound mechanical movement with an in-house developed silicon escape wheel. Featuring a fully open-worked dial, this orient star watch displays small seconds and power reserve.
Orient Star Contemporary

Orient Star Contemporary Collection RK-HJ0001S
The Orient Star Contemporary range begins with a 30mm mechanical watch for women. Equipped with an automatic movement, this dainty, two-hand wristwatch boasts a semi skeleton aperture at 9 o'clock. For men, timepieces with 38.5mm, 39.3mm, 40mm, 41mm and 42mm case sizes are available. The Orient Star RE-AU040 watch features a 42mm diameter case and displays date, power reserve and centre seconds. The collection includes a 39.3mm wristwatch (RE-AT000) featuring power reserve indicator, semi-skeleton opening at 9 ' clock and centre seconds hand.
Orient Star Sports

Orient Star Mechanical Sports Watch RE-AU0301B
Orient Star Sports category includes durable and reliable automatic timekeepers useful for daily wear, outdoor sports and recreational diving activities. For divers, the brand offers 43.6mm mechanical sports dive watches (RE-AU030 series) with 200 meters water resistance. In the sports category, Orient Star also offers semi-skeleton and skeleton models. 
RE-AT010 is an automatic semi-skeleton watch with 43.2mm case, diver-style bezel and 200 meters water resistance. This timepiece offers partial view of the mechanical movement though a dial opening at 9 o' clock and power reserve display at 12 o'clock. The Avant-garde Skeleton (RE AV0A0) features a 43.2mm diameter case. Tested for 100 meters water resistance, this model incorporates a fully open-worked dial with a power reserved indicator at 12 o'clock and small seconds at 6 o' clock.
Summary

Orient is one of the most successful Japanese watchmaking companies. Orient watches are produced at Epson's manufacturing facilities in Japan. The in-house movements are produced by Akita Epson Corporation based in Akita Prefecture in Japan. All timepieces feature stainless steel case. Depending upon the model, the case is made available in silvered, black-toned or golden finishing.
Orient offers an extensive choice of dial colors in regular or gradation style. Some models feature dials made of exotic materials like mother-of-pearl. The dial architecture used in the brand's mechanical wristwatches can be plain or open-worked. In the Semi Skeleton watches, the dial hosts a window provided a glimpse of the calibre beating inside the watch. The Skeleton models offer a complete view of the movement thanks to the detailed open-working of the dial. Orient offers wristwatches with additional functions like Date, Day with the date, Power reserve, Sun & Moon function (24h), Monthly Calendar, GMT, World Time and Chronograph.
Orient manufactures several in-house movements for equipping their mechanical wristwatches. In 1971, the company launched the 46 Series calibre, which remains the base of all in-house movements produced thereafter.
The most commonly used caliber is automatic F6724, which drives hour, minute, centre seconds and date at 3H. The watches featuring the Sun & Moon function (day-night indicator) are equipped with self-winding movements F6L24, F6B24 or 46B46. The other important calibers are F6922, F6222, F6722, F6S22, F6T22 and F6C22.
The company offers timepieces with metal bracelet and leather straps. Some of their watch models come with Nylon, Rubber or Silicone straps. Depending upon the version, water resistance can range from 30 to 300 meters.