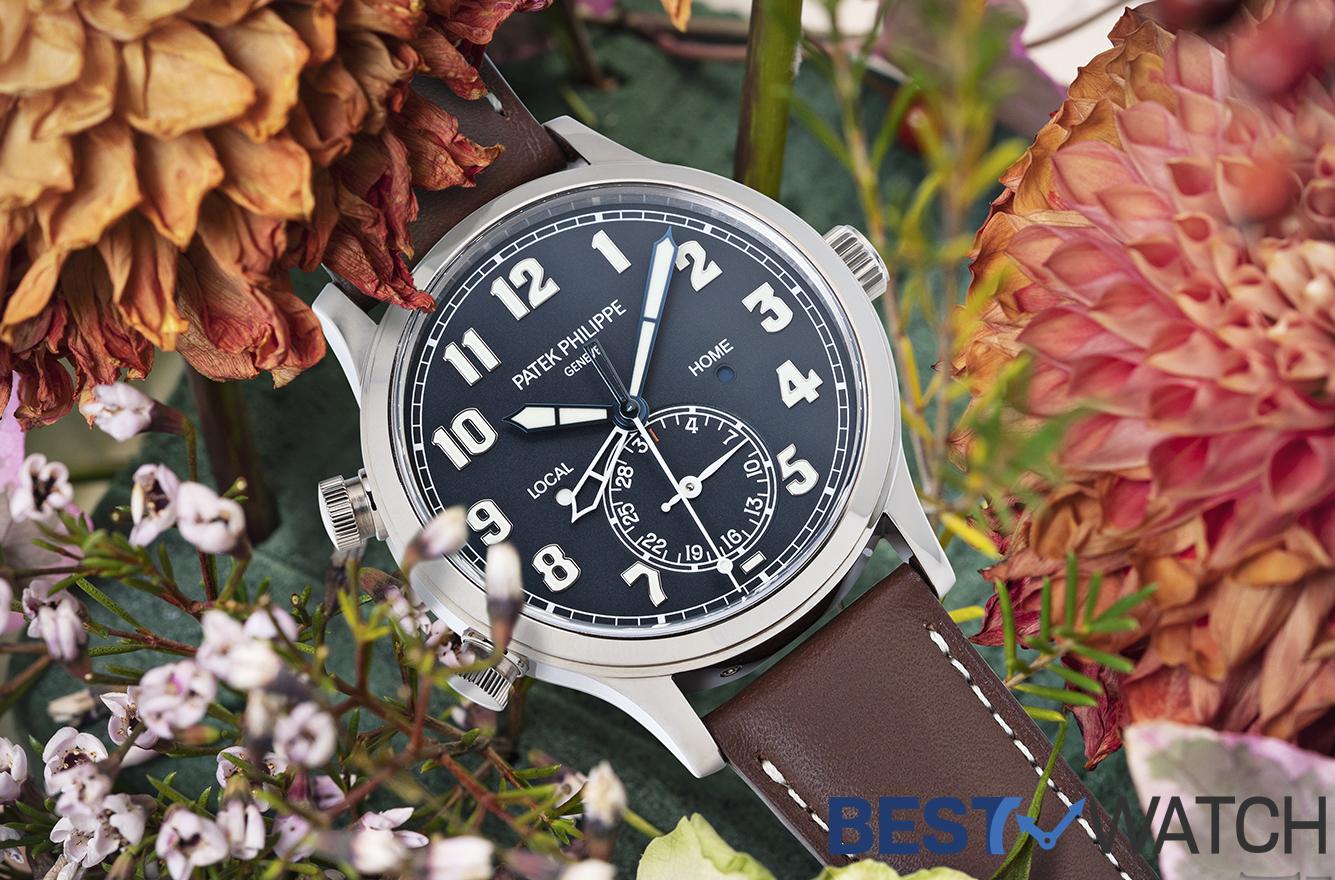 One of the most prestigious global high-luxury watch houses, Patek Philippe is a preferred brand of connoisseurs and collectors. With a proud watchmaking history that dates back to 1839, the iconic brand enthralls the ardent devotees of the high-horology traditions with its meticulously crafted masterpieces. Many of their vintage timepieces fetch more than a million dollars during the auctions.

Presently, Patek Philippe offers eight wristwatch collections: Aquanaut, Calatrava, Complications, Grand Complications, Gondolo, Golden Ellipse, Nautilus, and Twenty~4. Even though all Patek watches are excellent investments for the future, some special creations offer incredible collection value, which may vary depending upon various factors.
In this editorial, we are highlighting the five best Patek Philippe watches that are worth investing. To cover all the budget ranges of the brand, we have shortlisted five references, each from Calatrava, Aquanaut, Nautilus, Complications and Grand Complications collections. 
Patek Philippe Calatrava 5196

5196R-001
Calatrava, the entry level collection of Patek Philippe, has been renowned for its elegant dress watches featuring refined dimensions and minimalistic dial with simple complications like small seconds or dates. At present, this classic series consists of about 15 models in 18-carat gold or platinum. 
For investment, our suggestion from this series is reference 5196, the Patek Philippe Calatrava manual-winding watch model with a small seconds dial at 6 o'clock. It's elegant 37mm diameter case houses hand-wound caliber 215PS. 
The most classic creation within the present catalogue, reference 5196 takes inspiration from the iconic Calatrava 96 model, which was introduced in 1932 by the Geneva watch manufacture. Enjoyed a long production run of about four decades, the reference 96 is one of the most-sought after vintage timepieces today. 
Launched in 2014, the ref. 5196 follows the timeless design of this iconic creation from the prestigious Swiss maker. This timepiece is available in 18-carat gold (Rose, Yellow and White) and platinum versions, with retail price range of approximately HKD$ 190,400 – HKD$ 315,200. Like its ancestor, Calatrava 5196 is a perfect entry-level Patek Philippe watch for long-term investment purpose.
Patek Philippe Aquanaut Travel Time 5164

5167A-001
Aquanaut is the youngest collection from the venerable Geneva watchmaking house. In 1997, the well-established brand introduced the very first Aquanaut model reference 5060A. Equipped with a self-winding movement inside a 35.6mm diameter steel case, it is the first Patek Philippe wristwatch to be fitted with a rubber strap. A versatile sports watch, Aquanaut was inspired by the iconic Nautilus, but with more contemporary outlook. Presently, the collection consists of references like 5164, 5167, 5168, 5968, 5062 and 5072.
The approximate retail price range of Aquanaut is HKD$ 167,000 – 467,000, and the diamond-set versions cost above HKD$ 586,000. Just like Nautilus, the Aquanaut watch is a much-sought after timepiece. In the pre-owned market, their selling prices are significantly high. Although Patek Philippe 5167 is the most popular model, we recommend a promising creation named Aquanaut Travel Time. 
With the reference number of 5164, it is the first complicated Patek Philippe Aquanaut model. Available in stainless steel and rose gold versions, this incredible self-winding wristwatch integrates a quickly adjustable dual time-zone function along with Centre sweep seconds hand, Date and Day/night indicator. It is a great timepiece for investing in the price range of HKD$ 263,000 – 467,000. 
Patek Philippe Nautilus 5711

5711/1A-010
Nautilus represents the iconic brand's foray into the world of luxury sports watches, a new category born in the early 1970s with the launch of Audemars Piguet's Royal Oak, which designed by Gerald Genta. In 1976, Patek Philippe introduced the Nautilus collection with reference 3700/1A. Interestingly, the Nautilus watch was also designed by Gerald Genta. This new product line became a cult object due to its special characteristics.
Nautilus is a rugged yet luxurious watch with a distinct case shape inspired by the porthole of ships and an impressive 120 meters water resistance. In 2006, Patek Philippe revised this impressive family by introducing new generation models with enhanced design and improved specifications.
The present generation offers gent's wristwatches like 5711 (three hands and date), 5712 (moonphase, date and power reserve display), 5726 (annual calendar with moon phase), 5980 (chronograph with date), 5990 (flyback chronograph, dual time zone, date and day night indication) and 5740 (perpetual calendar with moon phase). The collection also includes ladies watches like reference 7118 automatic watch and ref. 7010, a quartz variant. The approximate retail price range of Patek Philippe Nautilus is HKD$ 217,000 to HKD$ 2,050,000. The full diamond-set Nautilus watches can cost above HKD$ 2,340,000.
In addition to its iconic status, the other feature that influences the collection value of the Nautilus watch is the long waiting period as the Manufacture produces these masterpieces in limited quantities only. Due to this reason, all Nautilus watches enjoy a great resale value. The best performing model among them is Ref. 5711.
Introduced in 2006, this reference has been enjoying immense followership. After the recent discontinuation of the flagship model 5711/1 A-001 in stainless steel with a blue dial, the resale value for this particular watch has increased multiple times. So, the other existing Patek Philippe Nautilus 5711 models can be considered as great investment timepieces with an assurance of astonishing returns in the coming years. 
Patek Philippe World Time 5231

5231J
The Patek Philippe Complications collection offers some spectacular high luxury wristwatches incorporating functions like Annual Calendar, Weekly Calendar, Chronograph or Worldtime. Depending upon the material and complications, the retail price of these watches can range from HKD$ 293,000 to HKD$ 1,170,000.
In the Patek Philippe 'Complications' family, the World Time Watch is the most iconic creation with an incredible heritage that dates back to the 1930s. Equipped with an ingenious mechanism invented by Louis Cottier, the World Time watch displays the time simultaneously and continuously in all 24 time zones. From the mid-1930s to the 1950s, Patek Philippe Geneve serially produced these timepieces under the direct supervision of Louis Cottier. Presently, these marvelous creations are coveted by vintage watch collectors. Most iconic among them are 605 HU (pocket watch) and 1415 (wristwatch). Both of them feature hand-made cloisonné enamel miniature painting in the centre of the dial.
Featuring the similar type of cloisonné enamel dial design, the modern generation world time watches like 5131 and 5231 are inspired by 605 HU and 1415. Introduced in 2008, the Ref. 5131 is one of the most coveted contemporary watches from the Geneva Maison. The 18-carat gold models of reference 5131 have been already discontinued. Right now, the resale price of this iconic watch is extremely high in the secondary market.
In 2019, the Ref. 5231 was introduced. This new World time model faithfully carries the legacy of the iconic watch series from the Geneva Maison. Just like its illustrious ancestors, reference 5231 is a worthy timepiece for investing in the price range of HKD$ 586,000 – 1,170,000. 
Patek Philippe 5270 – Perpetual Calendar Chronograph

5271/1R
The Patek Philippe Grand Complication collection has been renowned for extremely complicated timepieces. It offers wristwatches with single or multiple complications like Tourbillon, Minute Repeater, Perpetual Calendar, Split-seconds Chronograph, Sonnerie or Celestial mechanisms. The retail price range of Grand Complication watches starts at HKD$ 703,000.
Painstakingly crafted by most experienced master craftsmen of the Manufacture, all watches from this series are highly sought-after. Among these, the reference 5270 Perpetual Calendar Chronograph is a star performer in the auctions. It is a 'Holy Grail' among modern Patek Philippe Geneve wristwatches. We like to highlight certain factors that emphasize it as one of most collectible contemporary mechanical watches. 
Firstly, it belongs to a historically important wristwatch series that dates back to the early 1940s. In 1941, the Geneva watchmaking house introduced reference 1518, the world's first serially produced perpetual calendar chronograph wristwatch. Launched in 2011, Ref. 5270 is the most recent member of this series. Equipped with the in-house developed CH 29-535 PS Q manual-winding caliber, this timepiece features a 41mm diameter case made of 18-carat gold or platinum.
The Geneva based brand's Perpetual Calendar Chronograph series has been enjoying continuous production since the 1941. The previous references produced under this prestigious family are 1518, 2499, 3970 and 5970. All these iconic watches are equipped with manual-winding movements and carry a great collection value. Produced from 1941 to 1954, the reference 1518 is the most expensive vintage Patek Philippe watch as on date. Its successors also carry hefty price tags in the vintage watch market. This historical legacy undoubtedly adds the collection value of the Ref. 5270.
Reference 5270 is the first model in the series to be equipped an in-house movement entirely developed and produced by Patek Philippe. It is also the first Patek Philippe Perpetual Calendar Chronograph to be stamped with the new "PP" seal instead of the previous Geneva hallmark. These outstanding characteristics along with its prestigious lineage make the reference 5270 a perfect watch for investing in the price range of HKD$ 1,170,000 – 1,760,000.