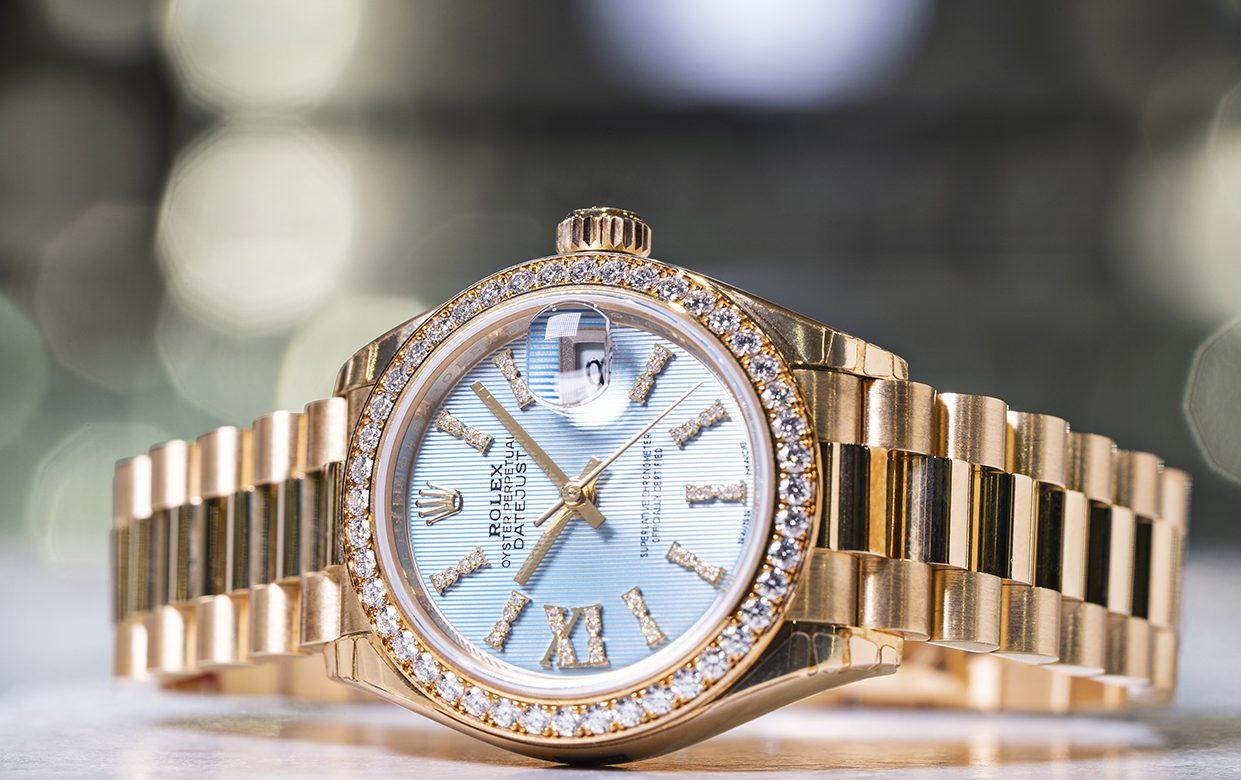 Diamond watches are a luxury everyone wants to have. No word in the English dictionary can appropriately sum up how good they look. All the adjectives combined together will also fall short to describe the beauty of such watches.
If you are looking for diamond watches for women, all diamond-paved watches should be your number 1 preference. They bring out your love for beautiful and exotic things and make every single day special for you. 
Contrary to popular belief, all diamond-paved watches are among the best luxury watches for men. Generally arranged in a geometric pattern, such watches give the message that you love to stay organized and unique. 
Diamond-paved Dial Watch 
If you desire an expensive and pleasing watch which catches the eyes of your audience without seeming to do so, a diamond-paved dial watch is exactly what you want. Such watches have small, neatly cut real diamonds embedded in the dial, which looks shiny, dazzling and simply amazing.
Diamond watches are great for women who want to create a distinct identity at the workplace. Your watch will attract attention to you and your unique and fabulous ways. 
A big diamond-paved dial looks awesome on men. The big dial is ideal for men with broad, muscular wrists while the real diamond fulfills your dream of wearing your wealth. 
3 Best Rolex Diamond Watches
Rolex Submariner 116659 SABR

The Submariner collection by the Swiss company Rolex was designed for professional divers. The Rolex Submariner watches are waterproof up to 300 meters of depth and have broad and big, luminescent hands and hour markers that enhance visibility in the dark deep waters. They also have a unidirectional bezel that rotates with small clicks and has a chroma light display embedded in the place of "zero". This helps you keep track of diving time in the dark underwater environment.Designed for men, the Rolex Submariner 116659 SABR is for those divers who love to shine out from the lot. The watch has a dazzling diamond-paved dial, surrounded by a bezel embedded with blue sapphire crystals and diamonds. The 12 o'clock position is occupied by a grey-colored triangle while the 6 and 9 o'clock positions have a thin rectangle of the same color. The other hour markers are in the form of bright blue circles. These stand out on the diamond-paved face of the dial, thus enhancing visibility.The 3 o'clock position has a date window with a white background that matches perfectly with the diamond-paved dial. The case of the watch is made of white gold, while the bracelet is made of OysterSteel three-piece links.
These lustrous materials add to the beauty of this exotic diamond timepiece. Added to this, are fabulous features like a 48-hour power reserve, Triplock crown, a calibre 3135 movement, and scratch-resistant glass.
Rolex Submariner 116659 SABR Blue

The Swiss watch giant Rolex launched the Submariner collection to cater to the big and small needs of expert divers.
The Submariner watches have a three-piece link bracelet made of OysterSteel which has Oysterlock, which ensures that the watch doesn't open accidentally, and the Rolex Glidelock(1), which allows you to make fine adjustments so you can wear it comfortably over your diving suit. The watches have Parachrom hairspring which makes the watch reliable in case of temperature variations or shocks.When it comes to diamond watches for men, the Rolex Submariner 116659 SABR Blue passes all tests of fabulous looks. It has a bright blue colored dial with simple grey-colored shapes as hour markers, except the 3 o'clock position which has a date window.
The bezel has blue sapphire crystals and diamonds to enhance the beauty of this masterpiece and is made of hard ceramic which protects the bright color against scratches, ultraviolet rays, chlorinated water, or seawater.
The white gold case of the watch is also paved with diamonds that form broad straight lines on either side of the dial. This gives an organized and stylish look to the dazzling timepiece.What makes this watch so unique is the combination of the bright blue hue with the dazzling diamonds paving. The blue color brings out the true shine of the diamonds and helps the diamond stand out while being a perfect partner for them.
Rolex Yacht Master 268655-0007

The Rolex Yacht Master was launched for those who love the open seas. The watches of this series have a bidirectional bezel with raised numeric markings which enhance readability and ensure that the markings never fade away. So if you love watches and love going on voyages, a Rolex Yacht Master should definitely become a part of your collection.The Rolex Yacht Master 268655-0007 is a unisex watch with a 37mm dial. This diamond-paved watch boasts of a smooth, neat, and beautiful diamond-paved dial with greyish-white hour markers and broad hands bordered with 18-carat gold. This gold border combines perfectly with the 18-carat Everose gold case. These also contrast with the diamond-paved dial which enhances readability.The traditional combination of black and white still looks stylish and fashionable. The watch proves this statement through the smooth, black-colored Rolex-patented Oysterflex bracelet. It also has soft cushioning on the inner side, so it feels comfortable on your wrist even in humid weather. This black color offers a great contrast with the shining dial paved with diamonds, and the gold case, making the watch more distinctive. This diamond-paved watch is also equipped with mind-blowing features like 100m water resistance, calibre 2236 movement, 55-hour power reserve, and a date window at the 3 o'clock position. 
In the end, it is appropriate to say that diamond-paved watches are a rich, unique and beautiful addition to your outfit. If you are a collector of luxury watches for men or women, a diamond-paved watch is a must have for you.