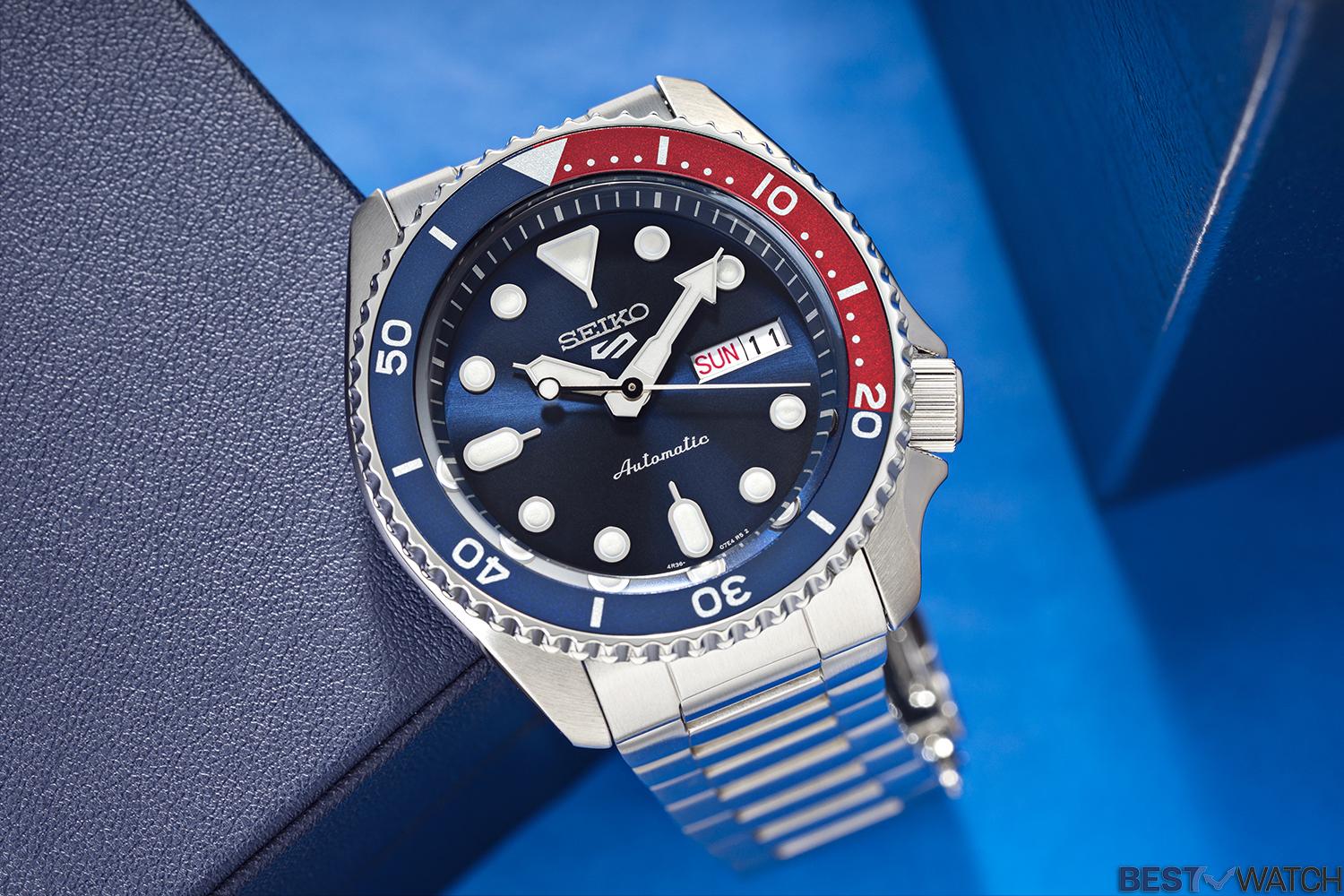 Seiko is Japan's gift to the world of watches. Representative of Japanese minimalist and perfectionist art, their watches are a product of expert craftsmanship. Among the many collections from Seiko over the years, the Seiko 5 stands out as the best entry-level watch to the automatic watch segment. The Seiko 5 range can be recognized with the emblematic number '5' on its logo. With this logo, the Seiko 5 range stands out from other Seiko lines. On top of this, the Seiko 5 is the longest-running range from the house of Seiko. Let's find out more about the best Seiko 5 automatic watches in the market. 

1. Seiko 5 Sports SRPD77K1

Known with the reference SRPD77K1, this Seiko 5 sports watch is a top choice among sports watch lovers. Apart from the sleek stainless steel case in gray, it also features a transparent back. The dial comes in a gorgeous green color with a green hour and minute hands. The color contrast between the hands and the background gives great legibility to the watch. With a 4R36 caliber powering the movement, it has the most accurate timekeeping possible. 
Being a sports watch, the 100 m water resistance works perfectly well. Its strap is very comfortable to wear for long hours. The price of the watch is around $327. 
2. Seiko 5 Sports SRP481K1

A peek at this timepiece, dubbed the 'Baby Ice Monster,' is all it takes to see why it is so titled. It has a white body with blue highlights. The color palette is reminiscent of Antarctica. This tough watch is unquestionably appropriate for adventurers. With the Hardlex glass and steel casing, it will survive years of wear and tear. It remains one of the toughest and strongest sports watch with stunning looks. 
3. Seiko 5 Sports SRPD73K2

The SRPD73K2 is yet another watch that should be on the list. This timepiece, which costs only $316, will offer you the most value for your dollars. The Seiko 5 Sports Automatic model is known for its flexibility, making it an ideal companion item. This watch is a wonderful item that completes virtually any appearance, whether you've been wearing sports or casual attire. It has a stainless steel casing and a beautiful black display with bright markers and markings that exudes authority and functionality. It also comes with a dark silicon band that fits snugly around your hand. It also has a hardlex crystal to protect the display from damages and bumps.
4. Seiko 5 SNK803

The movement of the Seiko 5 SNK803 is non-hacking. It implies that even after releasing the crown, the second marker keeps moving, and the watch won't stop working. After releasing the crown, a hacking action would halt the second hand, enabling precise time setting. There are 21 gems in the watch. Such jewels assist in decreasing resistance on axles and other key places in mechanical timepieces since they have so many working components. It increases the lifespan of the watch.
5. Seiko 5 SRPD63

If you are looking for something that merges the best of style and functionality, the Seiko 5 SRPD63 is the one for you. With the powerful 4R36 movement, you can be assured of its precision. It also has 24 jewels fitted to make the timepiece durable and robust. The transparent, screw-down caseback makes the watch look even more sophisticated. With a case diameter of 42.5 mm, it is on the bigger side of Seiko 5 watches. If you are looking for something that can go well with any occasion, choose this watch. 
6. Seiko 5 Sports SRPD73K1

With this Seiko Sports 5 watch, you get the best that Seiko has to offer in a sports watch. With a 42 mm stainless steel case, it looks stunning and commands authority. The material used in making the watch is known for its anti-corrosive properties, meaning that the watch would last you for years. The color combination is a mixture of black and cream – a contrast that makes it stunning and improves readability. With its all-silver body, you can't get any better than this in both looks and performance. 
7. Seiko 5 Sports SRPD76K1

Perhaps the most easily recognizable from the series, the Seiko 5 SRPD76K1 is known for its rose gold-tinted stainless steel case. The color contrast of black and rose gold is present throughout the watch's dials, indexes and hands. It is conceived of in a way that makes it perfect for grand and sophisticated events. Despite having a touch of sophistication, it is surprisingly robust and durable.
8. Seiko 5 Sports SRPE71K1

The Seiko 5 SRPE71K1 is an extremely functional timepiece with a distinct, minimalist design. Priced at around $350 USD, it is also a great choice for an entry-level watch. Everything about this watch screams durability and performance. You can wear this same watch every day for years after years, and it will still work fine. It comes in an overall silver-colored dial and bracelets, making it look smart and impressive.
9. Seiko 5 Specialist Style

With a 43 mm case diameter and 100 meter water resistance, the Seiko 5 Specialist style is one of Seiko's best timepieces. It is a Seiko 5 automatic watch with an impressive power reserve of 41 hours. When it comes to the case, you get three options. You can go for stainless steel or hardened steel. Alternatively, you choose rose-gold PVD encasement. It is a stunning watch for all watch lovers. 
10. Seiko 5 SNZF17

Also known as the 'Sea Urchin', this particular Seiko Sport 5 timepiece took submarines as its inspiration. It is a premium diving watch, among the best in the segment. Its automatic caliber Calibre 7S36 powers it for ultimate accuracy for underwater expeditions. With more than 40 hours of power reserve and water resistance of up to 100 meters, it is a very reliable diving watch. Its full lume indexes and hands make sure that it is not a dummy diving watch, but a real one. Get your hands on the Seiko 5 SNZF17 if you want a diving watch that can double up as a multipurpose timepiece.