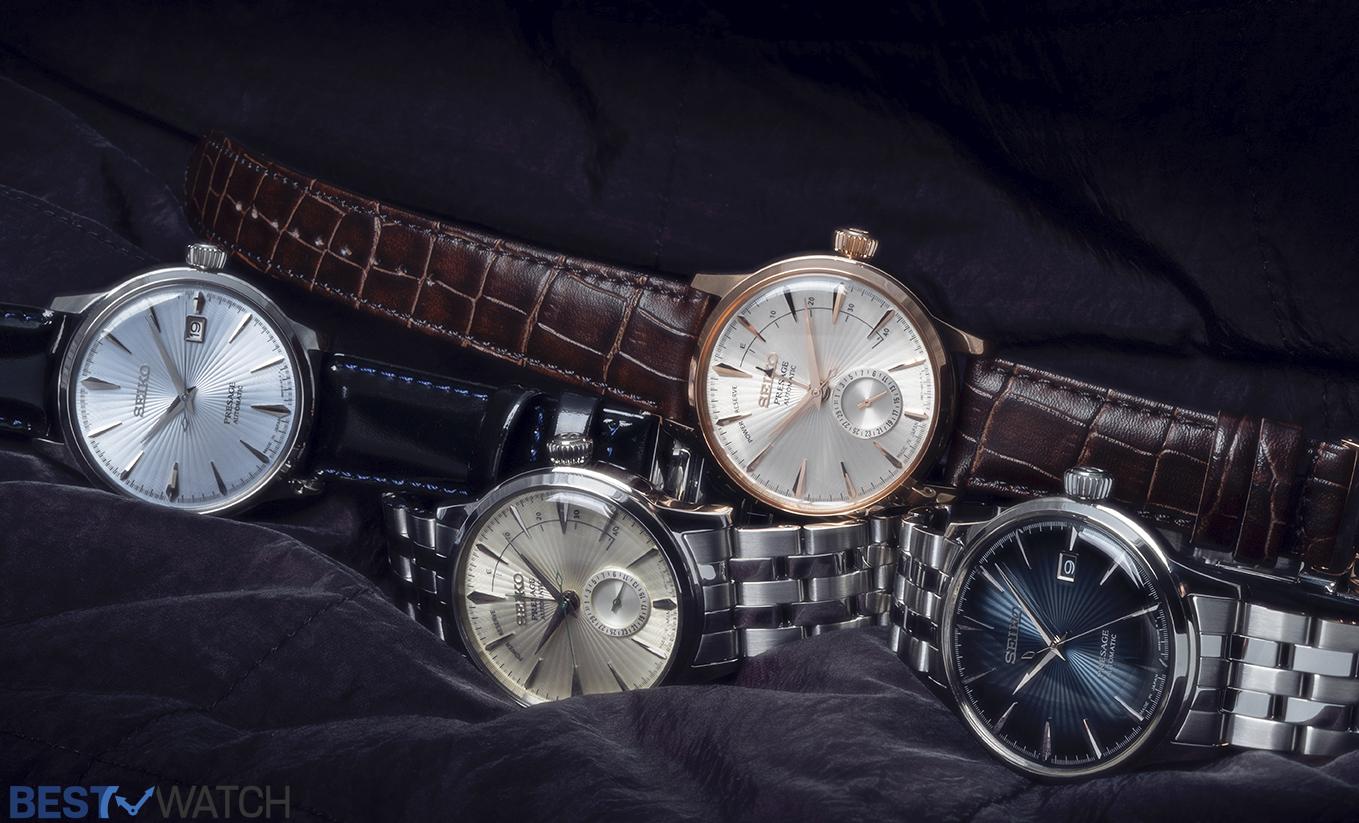 Introduction
The Seiko Presage series prominently represents a perfect union of world-renowned Japanese aesthetic sense and the company's immense expertise in the field of mechanical watchmaking.

A fully integrated watch manufacture, Seiko has been renowned for its all-around proficiency in various fields, especially quartz technology, which has revolutionized the precision timekeeping arena. The brand has also introduced several brilliant innovations in both electronic and mechanical branches of watchmaking.
The advent of quartz watches in the 1970s had a great impact on the long-established mechanical watchmaking traditions. However, in the 1990s, people began valuing the timeless nature of traditional watches and their enchanting mechanisms. This trend has gradually gained momentum, especially in Japan. To properly serve various categories of its loyal customers, Seiko Watch Corporation has constituted diverse segments for affordable and luxury wristwatches. Under the Seiko brand, the company offers a number of budget-friendly mechanical watch collections. 
Among its two luxury brands, Grand Seiko has been available in the international marketplace since 2010, and Credor is limited to Japan's domestic market.
In 2017, Grand Seiko became a fully independent marque. Presently, Seiko is offering mechanical watches from flagship lines like Presage, Prospex and Lukia (women's collection).
SEIKO Presage 

Grand Seiko watches have been admired worldwide for their extremely precise movements, immaculate finishing, finest decorations and artistic expression, usually inspired by the native beauty of Japan. With the Presage line, Seiko is now offering the much-admired Japanese aesthetic essence in an accessible price range.
An elegant mechanical dress watch collection, Presage serves a wide range of customers with a passion for traditional timekeepers. Seiko has categorized this series into two groups: Basic and Prestige. As their names suggest, they respectively belong to two segments: The mid-price (from HK $2,500 to HK $5,000) and the luxury (from HK $5,000 to HK $28,000), just below the price range of Grand Seiko mechanical and spring-drive collections.

For a more coherent picture on this comprehensive collection, we have summarized the most important details about the various Presage watch models.
(1) Presage Basic

To begin with, the Basic line is typically comprised of the most accessible Presage watches, usually equipped with Seiko 4R series automatic mechanical movements. The self-winding calibers used in this segment are 4R35, 4R38, 4R39 and 4R57.
In the Basic Series, all models feature the centrally placed hour, minute and second hands. The models with the date display are driven by the Calibre 4R35. Depending upon the version, the placement of date window can vary (3, 4.30 or 6). The open-heart versions house 4R38 (with the dial opening at 9 o'clock) or 4R39 (with 24-hour sub dial and dial opening). The variant with central power reserve indicator and date sub-dial is equipped with the 4R57 calibre. Each of these movements provides approximately 41 hours of power reserve once fully wound.

The Seiko Presage collection has been renowned for its attractive dials, representing various facets of Japanese aesthetic traditions – including the classic and modern. In the Basic line, you will discover designs like circular, gradient, grained, plain, sun-ray, tiled, vertical, undulating and more. The latest addition to an extensive range of Presage dials is a distinct pattern inspired by the cobblestone paved streets of Ginza.
The trendiest design in this line-up is Seiko Presage Cocktail, offering timepieces with dial colors inspired by popular concoctions. Each model is motivated by a different blend, for example, Black Russian, Frozen Margarita, Mojito, Negroni, Old Clock and Tequila Sunset. Appropriately representing the bustling lifestyle of Japanese megacities, these contemporary styled wristwatches are highly sought after by urban customers. These high-spirited models additionally feature a date display or an open-heart dial. They come in an affordable retail price range starting just above HK $2,500.
(2) Presage Prestige
This segment represents more exclusive and premium Presage watch models. Some of them highlight aesthetics features inspired by certain Grand Seiko timepieces. Prestige line offers luxury wristwatches with various configurations, starting from the classic three-hand watches with or without date to multi-function models. The brand uses technically advanced automatic movement families like 6R and 8R for this series. They offer better autonomy than their predecessors.
The Seiko Presage GMT models are equipped with the Calibre 6R64, a new-generation self-winding movement with a power reserve of 45 hours. The three-hand automatic with date watches feature calibers like 6R15, 6R35 or 6L35.
The Prestige range also offers a spring drive watch, the reference SARR003. Equipped with the spring-drive movement 5R65, this timepiece features a date window at 3 o'clock and a power reserve indicator at 7.30H.

Like the Basic Line, the Prestige category also provides a diverse choice of dial styles. A great thing about this premium range from Seiko is the availability of enamel dials, created according to the ancient Japanese artistic traditions. Mastered by a few talented craftsmen in Japan, the manufacturing of these immaculately finished dials demands meticulous workmanship and relentless attention to detail. This impressive collection additionally offers other luxurious dials like Arita Porcelain, Lamé, Guilloche (sharp-edged, sunburst or wave patterns) and Urushi.
The Presage watches featuring exotic dials (enamel, porcelain and urushi) are usually expensive than their counterparts with other dial styles.
Summary

Seiko Presage is an excellent collection from both aesthetic and technical standpoints. It offers a comprehensive range of finely crafted wristwatches dedicated to customers with a zeal for appreciating both mechanical watchmaking aircraft and the Japanese aesthetic traditions. These creations are superbly luxurious but still easily accessible.
Perfectly reflecting the essence of Japanese artistic visions, these timepieces are equipped with state-of-the-art horological engines. The automatic movements from 4R, 6R and 8R families are renowned for their precision and reliability. They also feature hand-winding utility and stop-seconds hand function. The spring-drive movements, of course, demonstrate Seiko's expertise in fusing various technologies for achieving high-precision timekeeping. All Seiko Presage automatic watches feature a see-through case back, affording the view of the movement beating inside.
The refined case dimensions make them perfect dress watches. The Presage wristwatches are available in stainless steel and titanium versions. In the stainless steel category, gold-toned and dual-tone versions are also available. Some timepieces feature the proprietary Dia Shield coating, which enhances the scratch-resistance of the case and bracelet. Topped with Harldex or sapphire crystals, these timekeepers offer clear view of their dial display.

Fitted with screwed-case back and transparent glass, Seiko Presage timepieces are available with water resistances 30, 50 and 100 meters. They come fitted on a metal bracelet, genuine leather (alligator or calf) strap or synthetic wristband. Artfully combining exceptional performance and classic style, these elegant wristwatches offer optimum wearer comfort.
In addition to regular models, this flagship collection also includes various Seiko Presage limited edition watches like the 140th Anniversary series, and the collaborative projects with Studio Ghibli.