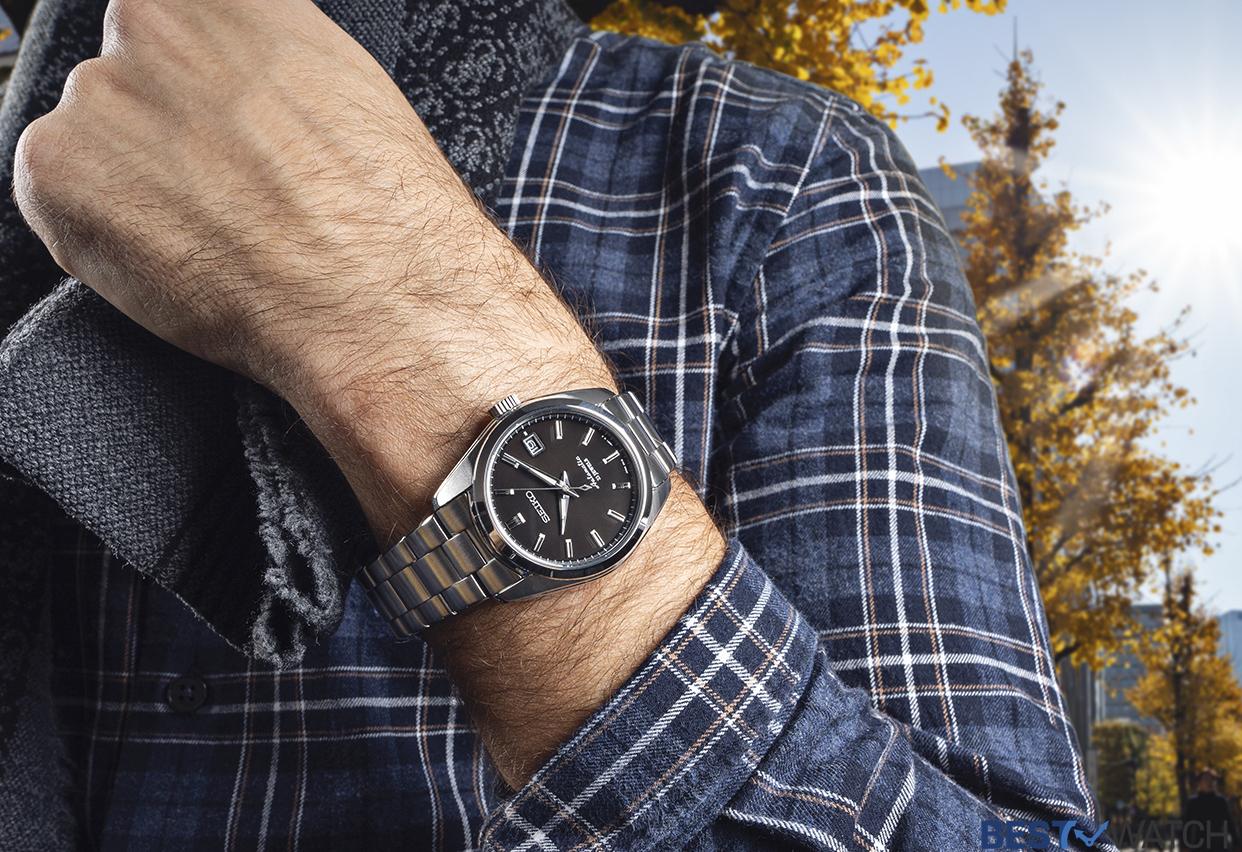 Seiko is most likely the only watch manufacture in the world capable of producing timepieces for every type of consumer. Enthusiastically celebrating its 140th anniversary this year, the iconic Japanese brand offers a wide range of timekeepers (wristwatches, clocks and other timing instruments) suitable for various occasions and purposes in our daily life.
Seiko watch's exhaustive product portfolio is comprised of mechanical, spring-drive and quartz (including solar, GPS, radio-controlled and kinetic) wristwatches.

We often say a wristwatch reflects the personality and status of its wearer. People have varied tastes regarding fashion, style and activities. Each one of us selects our dresses according to our interests, style and personality. This principle stands the same for wristwatches. There are various types of timepieces, made for different aspects of our everyday life. In the following paragraphs, we are highlighting some tips for choosing a Seiko watch suitable for your everyday outfit.
For Formal Outfits
In some workplaces and ceremonial occasions, we typically use formal dresses that follow strict sartorial codes. It is very important to pick up the most elegant accessories to harmonize with this traditionalist clothing style. For a formal-wear wristwatch, stylists suggest certain special features, for example, compact size, refined profile and luxurious appeal. Such timepieces usually come under the classic dress watch category.
In the present product portfolio, the best Seiko timepiece for men's formal attire is Presage, especially the models featuring black or white dial. This collection offers both classic and contemporary styled automatic dress watches with luxurious finishes to blend with the elegance of formal suits. The entry-level Presage formal-wear watches are available with retail prices typically starting from HK$ 2,500. At the same time, the cost of expensive models can fetch above HK$ 20,000.

The brand also offers formal-wear watches for under HK$ 2,500. Among them, the Seiko Solar watch models featuring ultra-slim cases and the minimalistic dial (for example references SUP854, 857 and 860) are budget-friendly formal-wear timepieces. The solar-powered quartz watches are also known for their hassle-free nature. In the kinetic segment, references like SRN043 and SRN045 go well with the traditionalist dress style. The premier line also includes some excellent formal watches with quartz or automatic movements.
For Semi-formal Attire
Semi-formal dresses are nowadays popular in new-generation businessmen and professionals. Although flexible in nature, this distinctive style prominently follows some codes of traditional formal wear. This attire is currently popular as lots of people love to wear a hassle-free dress while maintaining sartorial elegance. Moreover, it allows more personal expression. Seiko offers some excellent wristwatches for these outfits.

The Presage automatic watches with fume dials (like SRP41J1), sharp-edged series, and the versions with dial colors like blue, green are suitable for semiformal office-wear dresses. With these watches, you can easily pair the color of your clothing with the matching dial shades and styles. If you are wearing retro-themed Semi formal attires, the Presage references like SRPG 03J1/05J1/07J1 and SSA 423J1/425J1/427J1 are excellent choices. The Presage GMT watch with a slim exterior bezel (SPB217J1 and SPB219J1) is also suitable for this segment. These Seiko Automatic watches are usually available in the price range of KH$ 2,000 to HK$ 10,000.
If you are interested to draw attention to your techno-savvy nature, the Seiko Astron timepieces are the best. These state-of-the-art GPS wristwatches carry retail values in the HK$ 8,500-22,000 range. From the present Premier collection, the kinetic perpetual watches maintain all the typical features of this smart dressing style.
The Seiko 5 sports collection offers a segment called 'Suits style' automatic watches that can be paired with your semi-formal outfit. They usually come in the price range of HK$ 1,500 – HK$ 2,200.
For Casual Dresses

For informal occasions, we usually wear more relaxed dresses like denim jeans, casual shirts and polo T-shirts. This dressing style is also accepted in some workplaces. Along with casual clothes, we can wear large wristwatches, including models from the sports category. The brand offers casual style watches from Presage, Prospex, Seiko 5 sports and Premier collections.

Endowed with a glamorous touch of urban lifestyle, the Presage cocktail series is the best example for casual-wear automatic wristwatches. In the Prospex range, models like the alpinist, the field master and even the scuba-diving watches are also ideal for your informal dress. From the Seiko 5 sports collection, both "Specialist" and "Sense" versions are also recommended for the same.
For Sports Clothing

In these times, a substantial number of people keep sports-wear dresses to carry out physical fitness and sports activities on the regular basis. We also need wristwatches and other accessories to pair with our athletic outfits. A typical sports watch should have a minimum of 100-meter water resistance, robust exteriors and precision movements.
These timepieces are helpful in our routine activities like jogging, running, outdoor games and etc. The Prospex series offers a wide range of sports models, including the popular Seiko Dive watch families designed for either recreational or professional purposes. These robust wristwatches perfectly go with your sports outfits.
The Seiko Prospex watches typically feature exceptional water resistance. The Alpinist, the Fieldmaster and scuba-divers maintain 200 meters of water resistance. The Alpinist has been known for its modern built features while maintaining the charm of a Seiko Vintage watch of the 1960s. 
The Marine master professional timepieces are rated for waterproof up to 300 or 1,000 meters, depending upon the model. The Prospex line has a retail price range of HK$ 2,500 to HK$ 30,000. Among them, the solar-quartz Seiko Diver watch versions are less costly in comparison with the automatic divers.
If you prefer a more accessible range of less than HK$ 2,500, the brand offers the Seiko 5 Sports automatic collection.
For Streetwear fashion

Streetwear is a particular informal clothing style popularized by hip-hop artists and some fashion designers. To match this specific segment, the brand offers various timepieces, especially inspired by Japanese street fashion. The Seiko 5 Sports Naruto & Baruto, Street Fighter V and GUCCIMAZ models belong to this distinct category. These Seiko watches are usually expensive than the regular Seiko 5 Sports watches. For instance, the Street Fighter V SRPF21K1 carries a price tag of HK$ 2,850.