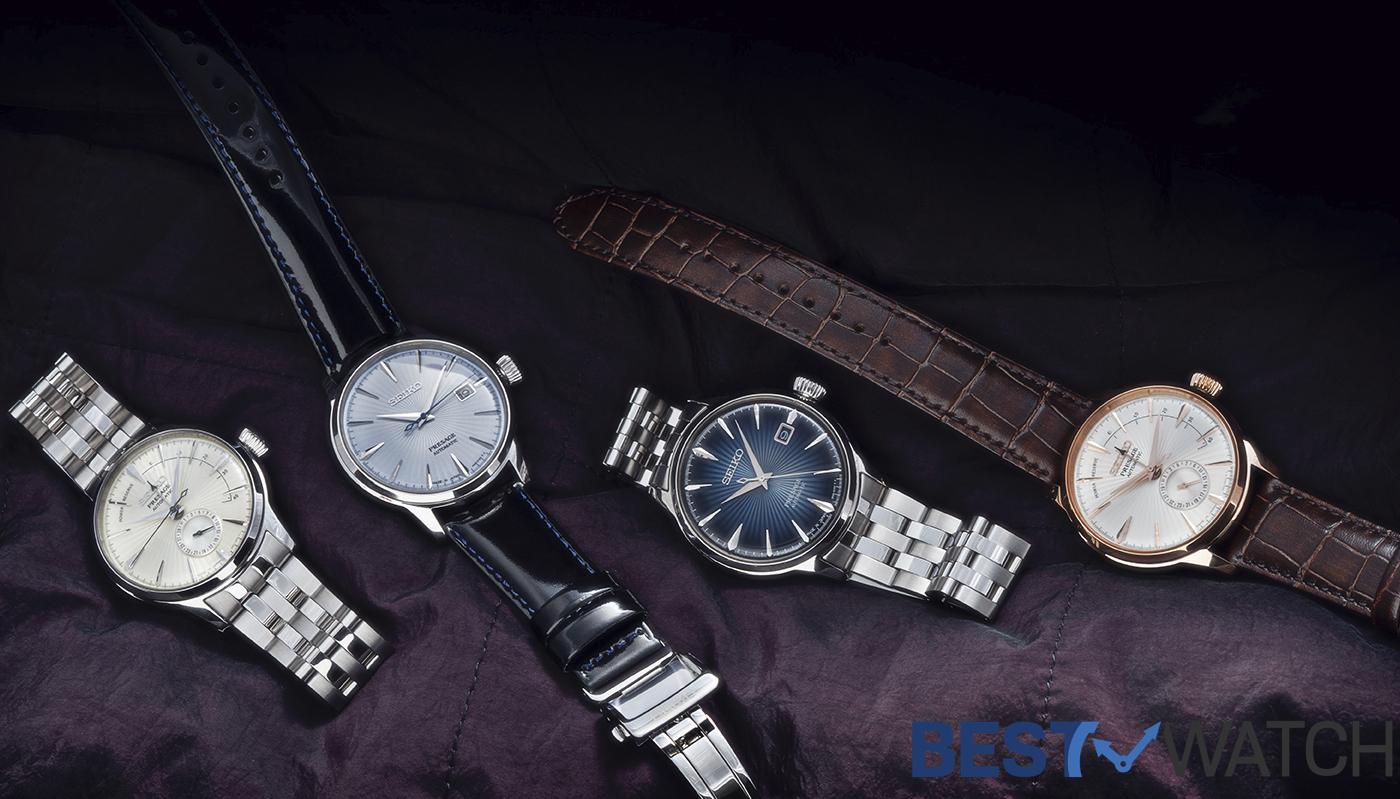 Seiko is one of the world's leading producers of wristwatches and clocks. The company enjoys great followership worldwide, thanks to its in-house expertise and extensive product portfolio comprising high-quality timepieces, ranging from entry-level to luxury segment. A Pioneer in the industrial mass production of excellent timekeepers, the well-established Japanese company manufactures watches powered by quartz, mechanical, kinetic and solar movements. The outstanding collections from the iconic brand are Astron, Premier, Presage, Prospex, Seiko 5 sports and Lukia. In this editorial, we are highlighting the 10 most popular and collectible Seiko watches. 
(1) Seiko 5 Sports Limited Edition SRPG47

Seiko 5 Sports is the entry level mechanical watch collection from the Japanese watchmaking giant. It represents an extensive collection of sports wristwatches evolved from the iconic Seiko 5. Introduced in 1963, it was the first automatic day-date watch from the brand. The Seiko 5 Sports collection was launched in 1968.
The brand launched the new edition of this iconic collection in 2019. With an accessible retail price range of HKD$ 1,750 to HKD$ 3,500, it is the best place for young customers who love mechanical wristwatches. The most sought-after among them are limited editions like NARUTO & BORUTO, Brian May, Street Fighter V and Evisen Skateboards. Recently, the brand has announced the Seiko 5 sports (SRPG47) 140th anniversary watch. It is limited to 11,000 pieces and boasts a white color dial, for the first time for Seiko 5 sports line. Thanks to its historical significance and unique characteristics, SRPG47 can be considered as a great collectible timepiece in the collection. 

(2) Seiko King Turtle

With an illustrious history that dates back the mid 1970s, Seiko Turtle is one of the most admired diving watches ever made. In 1976, Seiko launched a stainless steel self-winding dive watch with 150 meters water resistance. Dedicated to Japanese market, its reference was 6306 and featured a 45mm diameter case with a crown at 4 o'clock. In the same year, Seiko also launched 6309, which shared a similar case design and dimensions, but a different movement. Due to the unique shape of their case, these recreational diving timepieces received the nickname 'Turtle.' Nowadays, these references are highly popular among the Seiko watch collectors.
Among the modern generation Seiko Turtles, the King Turtle watches (SRPE03 and SRPE05) have the same dimensions of the historic model but with significant improvements. King Turtle is fitted with a sapphire crystal instead of Hardlex. The other details include redesigned bezel, magnifying glass for day and date display, new 4R automatic movement, LumiBrite luminescent coating and 200 meters water resistance. The King Turtle is an ideal watch for collecting, thanks to its vintage inspiration. The retail price of King Turtle is approximately HKD$ 3,980. 

(3) Seiko Presage Cocktail 
Introduced in 2016, Presage is a fine mechanical watch collection from Seiko. Combining the Japanese aesthetics sense with the brand's traditional watchmaking skills, this series offers timepieces under two categories: Basic and Prestige. The Basic line typically offers elegant automatic wristwatches with a retail price range of S$ 500-800. Among them, the Seiko Presage cocktail series offers wristwatches inspired by famous cocktails.
In addition to technical sophistication and refined design, the alluring beauty of the dial is a major reason behind the popularity of these contemporary mechanical watches. The latest additions to the Cocktail lineup are SRPE47J1 and SRPE49J1. Equipped with the 4R35 automatic movement, these stainless steel watches feature a 38.5mm diameter case and embossed pattern dials inspired by the color of cocktails. SRPE47J1 features a captivating pink dial inspired by the Tequila Sunset, and SRPE49J1 has a tempting blue dial that takes inspiration from the classic Frozen Margarita. Limited to 5,000 pieces each, these wristwatches are collectible. 

(4) Seiko Alpinist Re-edition
The Alpinist watch enjoys an incredible history of more than six decades. In 1959, the brand launched Seiko Laurel Alpinist, which marked the beginning of a new watch collection dedicated to mountaineers and outdoor sports enthusiasts. Thanks to its cult status and popularity, this phenomenal creation has now become an important collector's timepiece.
Recently Seiko has unveiled a recreation of the original Seiko Alpinist watch of 1959 in a limited edition of 1,959 pieces. The brand has also launched three modern interpretations of the Alpinist watch. All these automatic timepieces are collectible thanks to their historical legacy and all-round performance. The price of the latest Seiko Alpinist watch is approximately HKD$ 6,440. 

(5) Seiko Prospex 'Samurai' SRPB51/53
Seiko introduced its first diving watch in 1965 with reference number 6217. Equipped with an automatic movement, it had a water resistance of 150 meters. The notable references from the first generation Seiko diving watches are 6105, 6215, 6306 and 6309. In 1988, the company introduced 7002, a slimmed-down dive version. After a while, the brand increased the water-resistance of this variant to 200 meters. Its immediate successor was SKX 007, an ISO-certified dive watch with 200-meter water resistance. It was one of the best-selling diver's watches ever made. The Japanese company discontinued the production of the iconic Seiko Skx 007 in 2019.
In 2017, Seiko paid tribute to the iconic 6217 model by creating the First Diver's Re-creation limited edition SLA017 watch. Along with this, the brand also launched two modern interpretations (SPB051 and SPB053) of Seiko's first dive watch introduced in 1965. These references are popular among collectors, thanks to their lineage with Japan's first diving watch. The approximate price range is HKD$ 8,200 – 10,540. 

(6) Seiko Presage Sharp Edged Series
A recent member of the Presage Prestige line, the Sharp Edged Series is a much admired Seiko automatic mechanical watch family. An outstanding feature of the watch is its finely decorated dial highlighting hemp leaf pattern. Known as 'Asanoha' in Japan, this decoration has been used in holy rituals since ancient times.
The dial is extremely attractive, thanks to its rich texture and the sharply edged geometric pattern that generates a fine color nuance as they play with the light at different angles. Equipped with self-winding movements, Sharp Edged Series offers stainless steel watches with the Date display (caliber 6R35) or GMT function (caliber 6R64). The retail price range is HKD$ 8,780 to HKD$ 13,600. 

(7) Seiko Presage Arita Porcelain Dial
This elegant wristwatch belongs to Presage's Prestige line, which offers finely crafted mechanical timepieces in the price range of HKD$ 5,850 to HKD$ 23,400. The Seiko Presage Arita Porcelain Dial is a popular collector's watch. A key factor behind the popularity of this wristwatch is its immaculate dial made of porcelain from Arita, the Japanese town renowned for the finest, traditionally produced porcelain. Introduced in 2019, this stainless steel automatic watch is now available in references like SPB093, SPB095 and SPB171. The price range of the Presage Arita Porcelain Dial watch is HKD$ 12,800 to HKD$ 19,900. 

(8) Seiko Lukia New Automatic Series
Seiko Lukia is an impressive collection of stylish ladies' wristwatches inspired by the exuberance and glamour of Ginza, the upscale shopping district in Tokyo. Introduced in 1995, Lukia was earlier available in the domestic market only. In 2020, Seiko began selling Lukia watches in the International market. The most recent additions to the line are the Automatic models featuring meticulously crafted mother-of-pearl dials endowed with flower-motif and traditional Japanese colors.
Equipped with 6R35 self-winding movement, new Lukia is an ultimate meeting point of Japanese aesthetics sense, trendsetting fashion designs and traditional watchmaking. These special characteristics emphasize the new Lukia automatic as the best collectible ladies' watch in the present Seiko lineup. The average retail price range of the new Seiko Lukia automatic watch series is HKD$ 12,900 – HKD$ 23,400. 

(9) Seiko Marine Master Professional Automatic 1000m
After its successful foray into entry-level diving watches in the mid-1960s, Seiko decided to produce a dedicated collection for saturation divers. In 1975, the company launched its first professional diving timepiece with 600 meter water resistance. It was also the world's first diving watch with a titanium case. In 1986, the brand created a professional diver's watch with 1,000 meters water resistance. Available in quartz and automatic movement versions, Marine master Professional is a worthy successor of these deep-sea divers.
The Marine Master Professional Automatic 1000m comes with a massive 52.4mm diameter case made of titanium and ceramic. Being one of the most-admired deep-sea diving watches ever made, this model offers a great collection value. The approximate price of this 1000 meters water-resistant Seiko Prospex dive watch is HKD$ 22,250. 

(10) King Seiko KSK Re-creation
In January 2021, to mark the 140th anniversary of its establishment, Seiko released a re-creation of the iconic King Seiko KSK watch. Designed after the 1965 KSK hand-wound watch, this new recreation features a 38.1mm diameter stainless steel case with Zaratsu-polished surfaces. It boasts all aesthetic features of its illustrious ancestor, such as flat dial with faceted indexes and broad, sharp hands. 
This new creation, however, houses an automatic caliber instead of manual-wound movement. A premium timepiece that reminds us the glorious past of Seiko obviously deserves the generous admiration of fine watch collectors. Limited to 3,000 pieces, this luxurious mechanical watch has a retail price of about HKD$ 31,900.