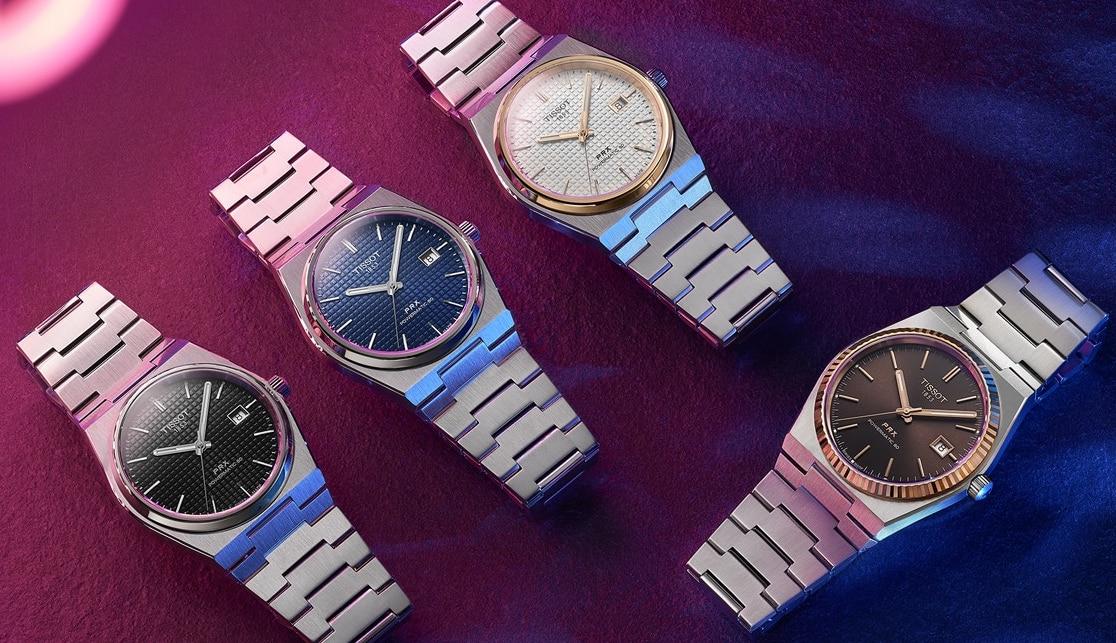 Ever since the collection's debut last year in 2021, Tissot has been actively adding new releases to its high-profile PRX lineup. Taking up a vintage 1970s design, the Tissot PRX watch has proven its popularity while being described as a budget-friendly Royal Oak. 
The brand actually launched two different models for the collection in the first year and more additions came up this year in 2022. So how attractive is the watch to get such a rapid expansion? Let us take a deeper look at it and also brief you with some popular models that would definitely well suit you. 
History of Tissot PRX Collection
Let us go back to the year 1978. It was a significant year of the brand's history when the first release of the Tissot PRX model. This Tissot quartz watch was equipped with a flat case and integrated bracelet which were the hottest design elements at that era. It was created under the circumstance of the global quartz crisis and helped the brand make it through. 
A few years after the first release, Tissot registered the name "PRX" for this watch. The initials "PR" refers to "Precise and Robust", while "X" represents the Roman numerals "10", which stands for the 10 ATM or an about 100 m water-resistance of the watch. 
While so many watch collectors are obsessed with vintage designs, Tissot decided to revive its iconic 1970s design over 40 years later. In 2021, the brand re-released such classic 1978 stainless steel watches with integrated bracelets as a new collection in the family. 
It firstly came with the modified Tissot PRX 40 205 versions with a quartz movement just like the original models and quickly followed up with a mechanical version after seeing overwhelming responses from the watch enthusiasts. Retaining the classic design aesthetics, the Tissot PRX automatic watch is equipped with the brand's most advanced and powerful mechanical movement. It is highly acclaimed for its exceptional quality in an affordable price range. 
And next in this year the collection has now expanded to the complicated functons as well as to all genders. With the release of the Tissot PRX chronograph and the unisex Tissot PRX 35mm version, the collection is now an impeccable range of all exquisite timepieces. 

Features of Tissot PRX Collection
This new Tissot watch was designed with the inspiration of a 1970s Tissot Seastar model. The Seastar back at the time came in several different cases but the new PRX offers the same case with several dial and configuration variants. 
The reason why watch admirers would associate it with Royal Oak is its widely known integrated bracelet. The case is widened and integrated with the bracelet without the presence of lugs. Its straight case edge seamlessly comments the bracelet's first link. This element enjoyed its momentum in the '70s when the watchmaking legends Audemars Piguet and Patek Philippe had both created odd-shaped watches with integrated bracelets. 
Most of the PRX versions feature a thin and smoothly polished bezel to match the slim case. The whole profile creates a soft and curvy line so to lie comfortably on the wrist. The watch is offering more options on the dials including colors and textures. Different PRX models have their unique variants on hues and finishings, for example, the automatic models are fitted in embossed checkered pattern dials with a few color options. 
6 Tissot PRX Models You Should Know
Tissot PRX Quartz 

As a modern adaption of the brand's iconic vintage model of the 1970s, This Tissot Quartz PRX 40 205 striked an immediate success for the collection. This contemporary interpretation is an on-trend tribute to its predecessor. It feels vintage that would take us back to the golden era of the 1970s while still looking decent and timeless. 
Well crafted with the improved finish, this refined watch is flawless in quality. This 40 mm Tissot watch is powered by an ETA F06.115 quartz movement that ensures high performance and precision. The Tissot PRX 40 205 is available in three dial colors, silver, black and dark blue, all simple and classic enough to deliver a cosmopolitan look.  
Tissot PRX Quartz Gold

If you opt for a more eye-catching watch, except for the classic style, you may have a look at the newer Tissot gold PRX quartz version. Equipped with a 40mm yellow gold PVD plated stainless steel case and a matching bracelet, it showcases a full golden profile that turns heads on every occasion. The champagne dial and baton hour markers created a soft balance of contrast that won't be overstyled. 
Tissot PRX Powermatic 80

The upgraded PRX Automatic version is the most discussed model in the collection due to its powerful movement. The watch comes with the brand's proudful Powermatic 80 movement which offers a power reserve up to 80 hours and an exclusive Nivachron™ balance hairspring, which guarantees high magnetic resistance. These watches feature a 40mm case that is water-resistant up to 100 meters. 
The first batch of Tissot PRX Powermatic 80 was presented in several dial colors in a full stainless stain look and also a gold-tone bezel variant. Another highlight of this watch is the embossed pattern tapisserie dial. It is also the other spot that would recall people of a Royal Oak or Nautilus, especially the Tissot PRX Powermatic 80 green dial model. 
Tissot PRX Automatic Gold

As stated above, this Tissot automatic watch also comes with steel and gold two-tone versions. Adding a touch of luxury, this premium model is equipped with a well-finished stainless steel case and an 18k rose gold fluted bezel. It is available in two dial colors, a dark blue dial and a brown dial. They both come with a satin sunray finish that reflects the distinctive sense of style of this Swiss watch brand.
Tissot PRX Chronograph

As one of the newest releases, the Tissot PRX Chrono is equipped with the brand's advanced Valjoux A05 H31 chronograph movement. Featuring a transparent crystal glass case back, you can see its beautiful movements anytime. While keeping the classic 1970s design like other PRX models, this 42 mm Tissot watch for men offers two dial options: blue background with white subdials and silver hands as well as a white background with black subdials and rose gold-tone hands.
Tissot PRX 35mm 

This watch may be the Tissot HK people, who are more likely to have smaller wrists, would find suitable.  For all ladies and men who prefer smaller watches, the brand has newly released the Tissot 35mm PRX models. It comes with a satin-finished stainless steel case and a reliable quartz movement. It is available in a nice variety of five vibrant colors: four full steel versions with silver, blue, green, or sky blue sunburst dial, as well as a full yellow-gold-PVD-plated steel case with a matching bracelet and dial.