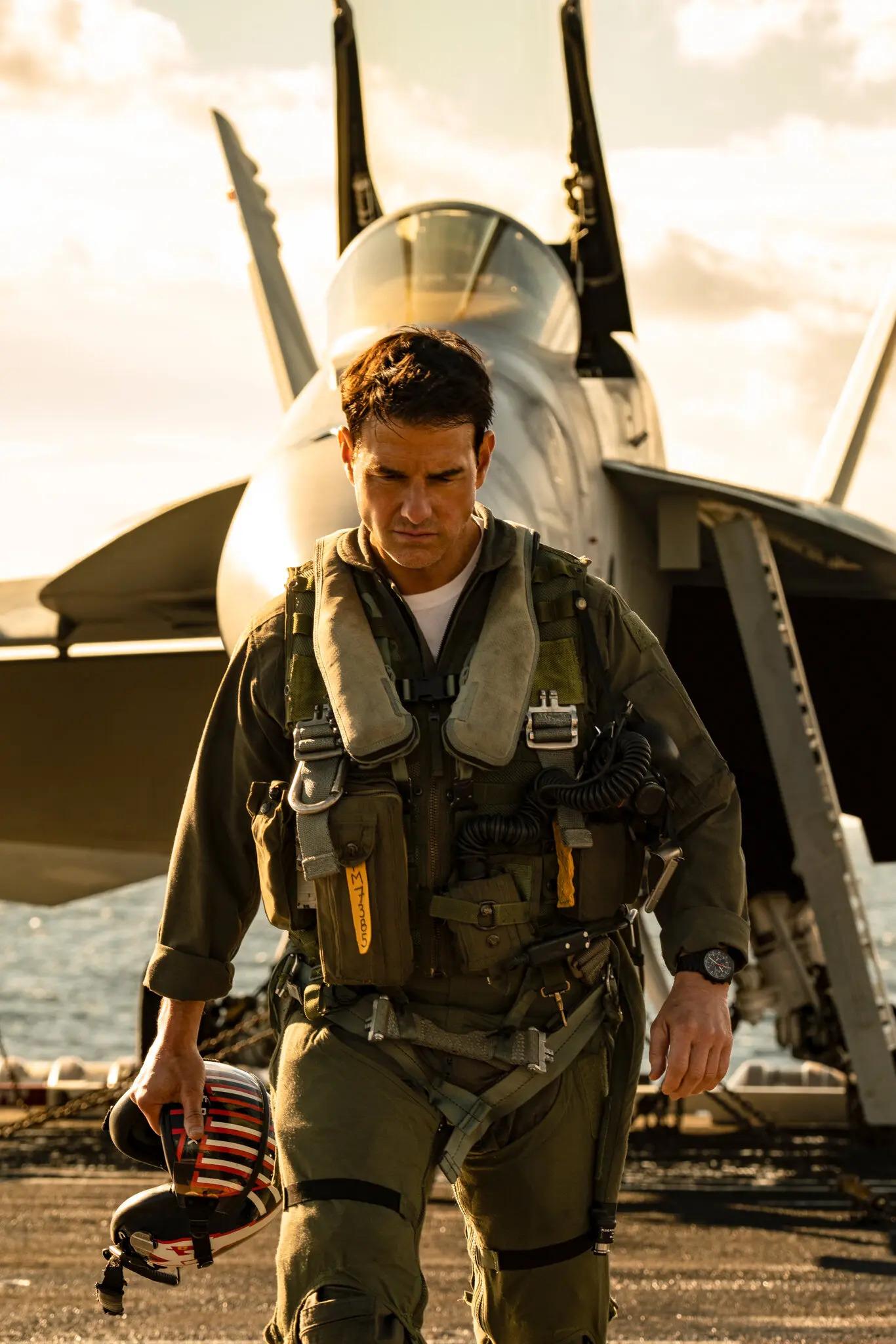 Have you watched the new TOP GUN movie yet? I wonder who will not fall in love with those pilots who flew cool in this 2022 blockbuster. In this Top Gun 2 movie, most of people are fascinated by its exciting flight scenes. I am sure watch enthusiasts indeed would check out the wrists of the pilots. 
After more than 30 years since its original release, the new TOP GUN: Maverick was released earlier in 2022. The ageless Tom Cruise, also known as "Maverick" in the movie, is assigned back to the Top Gun flight school to train a team of school graduates for a special mission. Except Tom Cruise himself, who wears the same Orfina Porsche Chronograph as the initial release from 1986, every young crew of his team wear a IWC pilot watch. These watches we can see ain't just some product placements, but there are also stories behind.
Porsche

During the movie, Tom Cruise was always accompanied by his Orfina x Porsche Design Chronograph which was the same model from the first Top Gun release in 1986. Tracing back to the early 1970s, Porsche Design introduced its first watch model from the inspiration of the Porsche 911 luxury car. The watch was an all-black chronograph which was very rare at the era and it began a PVD watches trend in the watchmaking industry. 
For decades, Porsche Design watches were basically sharing similar case and dial designs and fitted with Valjoux movements. They also had collaborations with a few other brands, such as Heuer and LeJour, and released and shared similar case, dial, and overall styling with a few other brands during those decades. Their watches used to be made by Orfina, then by IWC. Today they are producing on their own. 
Some of the most famous models are the Valjoux 7750 and the Lemania 5100 models. These are said to be the same watch that were found in both Top Gun 1 and Top Gun 2 releases on Tom Cruise's, a.k.a Pete 'Maverick' Mitchell, wrist. 
IWC Pilot Watches in Top Gun 2

In the Top Gun Maverick movie, the young and elite fighter pilots in Tom Cruise's team, can be seen wearing IWC watches. These watches were spotted on at least 3 characters: Robert "Bob" Floyd portrayed by Lewis Pullman, Bradley "Rooster" Bradshaw portrayed by Miles Teller, and the female aviator Natasha "Phoenix" Trace portrayed by Monica Barbaro. In the movie, these aviators are introduced as highly competitive, capable, being in the top 1% of Navy pilots. So why would these elites pick a IWC watch instead of others? 
In the real world, IWC has a deep relationship with the US Navy Strike Fighter Tactics Instructor program. With a long heritage in producing reliable tool watches, IWC has been an honored partner with Top Gun flight school and supplies its pilot watches to the aviators and instructors. The brand named this series the IWC Top Gun SFTI models. This has resulted in confidential models only available to real pilots, yet the brand has also released a number of SFTI models to the general public. 

IWC has kept releasing updated models for this special collection. For instance, in 2018, IWC added two special editions to the collection in honor of the US Navy Naval Aviation community. These watches were inspired by the "Strike Fighter Tactics Instructor" models which are only available for Top Gun graduates. One is the Pilot's Watch Mark XVIII Edition SFTI IW324705 and then is the Pilot's Watch Chronograph Edition SFTI IW389004. They are both black ceramic models with an eye-catching Navy Fighter Weapons School patch on the dial at 9 o'clock. 
With no surprises, these watches are the ones that can be seen on the flight recruits in Top Gun 2. These are almost the same watches that the real-life aviators from the "Top Gun" Navy Fighter Weapons School would actually wear. In 2017, the Top Gun IWC line became a part of the brand's Pilot's Watch collection, so if you want to taste a bit of how it'd look like to be a Top Gun aviator, here are a few exceptional choices and latest models for you. 
IWC Pilot's Watch Mark XVIII Top Gun Edition SFTI IW324705

The IWC Mark Series is considered as one of the best military watches in history. This ever-lasting watch lineup has been through many evolutions and now it comes in the Mark XVIII version. The latest IWC Mark XVIII edition embodies all the advanced design elements and innovative functionality needed for a larger pilot watch. The 40 mm case is made from automotive titanium 5N, to enhance its durability, light-weight, and skin-friendliness for comfortability. Just like other Top Gun editions, the Navy Fighter Weapons School patch is placed at 9 o'clock on the dial.
IWC Pilot's Watch Chronograph Top Gun Edition SFTI IW389004

As the chronograph version of the IWC Top Gun SFTI models, the reference IW389004 features a remarkable IWC in-house movement 89361 Caliber. The IWC Pilot chronograph features the hours and minutes indicators elapsed in its sub-dial at 12 o'clock. It also includes a flyback function. And the most important thing is, the iconic patch of the Navy Fighter Weapons School is displayed on the dial's 9 o'clock position. 
IWC Pilot's Watch Double Chronograph Top Gun Ceratanium IW371815

This model is the first IWC pilot watch made of Ceratanium® material. Featuring a black dial, hands and a black rubber strap, the watch is presented with a full black profile while the dial and hands are coated using luminescent material in gray color. This stylish and cool timepiece portrays a distinctive monochrome look during the day and at the same time performs perfectly with full luminescent functionality at night.
IWC Pilot's Watch Chronograph Top Gun 50th Anniversary Edition IW387813

To celebrate the 50th anniversary of its first Top Gun model, this chronograph was developed together with the instructors based in Naval Air Station Fallon, Nevada. It features a classic blue dial and black hands coated with highly luminescent material. Indeed, this model also showcases the Navy Fighter Weapons School logo at 9 o'clock on the dial. Besides, since they are available only to the Top Gun instructors, each watch has an individual engraving of its owner's name and class on the case back.
Fighter jets, vintage Porsche cars, heavy motorbikes, and pilot watches, the Top Gun 2 has provided all fancy cinema experiences to all of us. Although we may not have them all, these amazing pilot watches are probably a slightly approachable choice for us to enjoy more a bit of the aftertaste of this iconic movie.