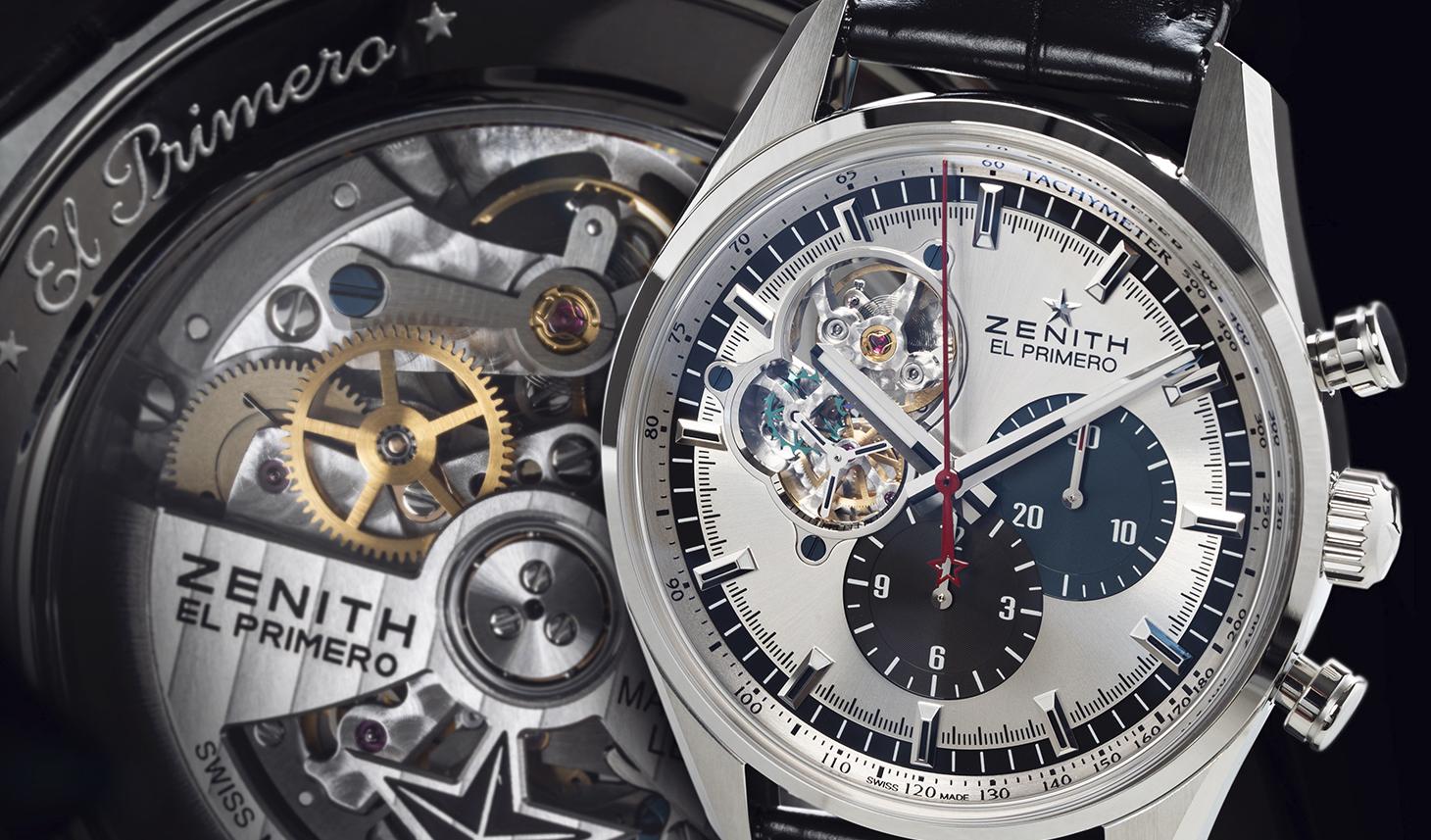 Introduction
Zenith is iconic watch manufacture based in Le Locle, Switzerland. It was founded by Georges Favre-Jacot in 1865. The first Swiss firm to introduce vertically-integrated watch manufacturing, Zenith is also known for its long-established expertise in developing and producing precise and reliable mechanical movements. Among them, El Primero is the most admired calibre family.
In Spanish language 'El Primero' means the very first. As its name indicates, the Zenith El Primero is a prominent pioneer in the evolution of ultra-precision mechanical chronograph technology.
History and Evolution of El Primero

At the end of the 1960s, several watch companies joined race to develop the first self-winding chronograph. Zenith, then operating under MZM (Mondia Zenith Movado) Holding Company, succeeded in developing a high-frequency automatic chronograph. On 10th January 1969, the Zenith S.A. watch factory launched El Primero, the world's first automatic chronograph movement capable of displaying 1/10th of a second.
During the 1970s quartz crisis, Zenith ceased the production of its mechanical movements. It the mid-1980s, the company resumed the manufacturing mechanical calibers thanks to Charles Vermot, who protected the production equipment and necessary documents. In 1988, Zenith started delivering El Primero chronograph movements for automatic versions of the iconic Rolex Daytona. Simultaneously, it launched new chronograph models from the company's flagship lines: Academy and Cosmopolitan.
Inspired by the successful re-launch of El Primero, Zenith introduced De Luca, a new collection entirely dedicated to chronographs. In 1991, the Le Locle based Manufacture marked the 700th anniversary of the Swiss Confederation by launching two exclusive models equipped with the two variations of the revived El Primero movement family.
In the 1990s, the brand progressively expanded its chronograph line-up by introducing the popular Chronomaster series. Thanks to strategic partnerships and new product launches, Zenith succeeded to revive its legacy as a full-fledged Manufacture with a production facility capable of creating its own movements. In 2001, LVMH acquired the great watchmaking company and its trademarks.
Under the aegis of the LVMH group, Zenith began creating new El Primero calibers featuring complex horological mechanisms like Tourbillon, Perpetual Calendar, Minute Repeater and etc. Introduced in 2004, the Grande Chronomaster XXT Tourbillon was the first high frequency tourbillon in the market.
In 2007, the brand unveiled a Perpetual Calendar Tourbillon model. Launched in 2010, the El Primero Striking 10th is able to display tenths of a second. In 2017, Zenith presented the Defy El Primero 21, which was able to measure and display one-hundredth of a second.
In 2019, Zenith enthusiastically celebrated the 50th anniversary of its El Primero movement family.
Popular Zenith Watches with El Primero Movement
Presently, the Swiss brand is offering a superb selection of chronographs equipped with the calibers from the iconic El Primero range. Let us have a quick glance on these contemporary Zenith watches. 
(1) Zenith Chronomaster Original

This series derives inspiration from A-386, an early generation El Primero-powered steel chronograph appeared in 1969. Available in stainless steel and 18k rose gold versions, the new Zenith El Primero 38mm Chronomaster Original retains the aesthetic features and dimensions of the historical model. It houses the self-winding El Primero 3600 chronograph movement endowed with a high frequency of 5Hz and the ability to display 1/10th of a second. It has a power reserve rating of 60 hours.
Chronomaster Original boasts a classic tri-compax dial layout featuring three sub-dials: 60-minute counter at 6 o'clock, 60-second counter at 3 o'clock and small seconds at 9 o'clock. It also features a date window at 4.30H and an outer dial-ring with 1/10th of a second scale. Its centrally positioned chronograph hand makes one turn in 10 seconds. In some variants, the three sub-dials come with different colors. Depending upon the version, this Zenith watch is available with a metal bracelet or leather strap.
(2) Zenith Chronomaster Sport
Representing a modern and sportier evolution of the Zenith Chronomaster watch, this model comes with a large size case measuring 41mm diameter. Its houses the El Primero 3600 1/10th of a second automatic calibre, the same movement that powers the Chronomaster Original models.
The Zenith El primero Chronomaster Sport can be distinguished by its bold case design featuring an external 1/10th of a second bezel, pump style pushers, modern proportions and tri-color sub-dials. This model exists in various material combinations: 18K gold case & bezel, steel case with rose gold bezel, steel case with ceramic bezel, and rose gold case with ceramic bezel. This sport-chic chronograph comes with a black or silver-toned dial, with the emblematic tri-color counters.
With Chronomaster Sport, Zenith is offering the options of three-link metal bracelet in monotone or dual-tone finish, rubber strap and calfskin leather strap.
(3) Zenith Chronomaster Revival

The Chronomaster Revival series is comprised of the faithful reproductions of the iconic Zenith chronographs produced in the 1960s and 1970s. Aesthetically, this collection sticks to the designs of the historical references such as A3817, A3818, A384, A385, A386 and G383. This collection also brings back historical ladder bracelet designs. The brand is also offering other strap choices like Alligator, Calfskin, Cordura effect rubber and Hybrid (combination of leather and rubber).
Presently, the collection includes chronographs with two case diameters: 37mm and 38mm. They feature tonneau or classical-round shape cases. Depending upon the model, the case material can be steel or titanium (with brushed or micro-blasted finish). For example, the Zenith El Primero A384 model has a tonneau-shaped case measuring 37mm diameter. All the watches from the Chronomaster Revival series are driven by high-frequency El Primero automatic movements.
(4) Zenith Chronomaster El Primero Open
This series includes automatic chronographs with an eye-catching open-heart dial design allowing the owner to admire the regulating organ. Available in steel, rose gold and bi-metal versions, Zenith El Primero open models are driven by Cal. EP4061.
A modernized version of the original El Primero automatic high-frequency chronograph calibre, this movement is equipped with a silicon escape wheel and pallet lever that typically require no lubrication. These timepieces come with classic-round shaped cases with 42mm diameter. A number of strap options are also offered: Alligator, Perforated Rubber, Stripped Fabric and Metal Bracelet.
(5) Zenith Defy 

Defy is an ultra-modern series that fuses cutting-edge designs with the most recent advancements in mechanical watchmaking. The brand has utilized various types of El Primero movements to power these timepieces.
A best-selling model of the collection is Zenith Defy El Primero 21, an automatic chronograph capable of measuring 1/100th of second. Powering these high-precision watches is Caliber El Primero 9004, which features two escapements: one for the watch (5Hz) and one for the chronograph (50Hz).
Dressed in a massive 44m diameter case, this Zenith El Primero 21 watch is available in materials like carbon, ceramic, gold and titanium. The brand is also providing an extensive selection of straps: Rubber (HNBR), Rubber with leather coating or "Cordura Effect" and bracelets in Ceramic, Titanium or Rose gold.
The other Defy watch models with El Primero movements are Skyline, Extreme, CHROMA, Zero G, Fusee Tourbillon and Double Tourbillon. Among them, the recently released DEFY Skyline houses the EP 3620 high-frequency automatic manufacture calibre with the innovative 1/10 of a second indicator. The Double Tourbillon is driven by the EP 9020 movement whereas the Fusee Tourbillon model houses the El Primero 4805 SK mechanism.
Summary
Known as Master of Chronographs, Zenith is grand watchmaking manufacture with a rich legacy that dates back to 1865. It is one of the most award-winning Swiss watch companies. The brand enjoys unmatched expertise in the manufacturing of high-precision mechanical chronographs. Its timepieces are highly sought-after by collectors and fine watchmaking aficionados. The typical Zenith HK retail price range is HK$50,000 to HK$300,000.