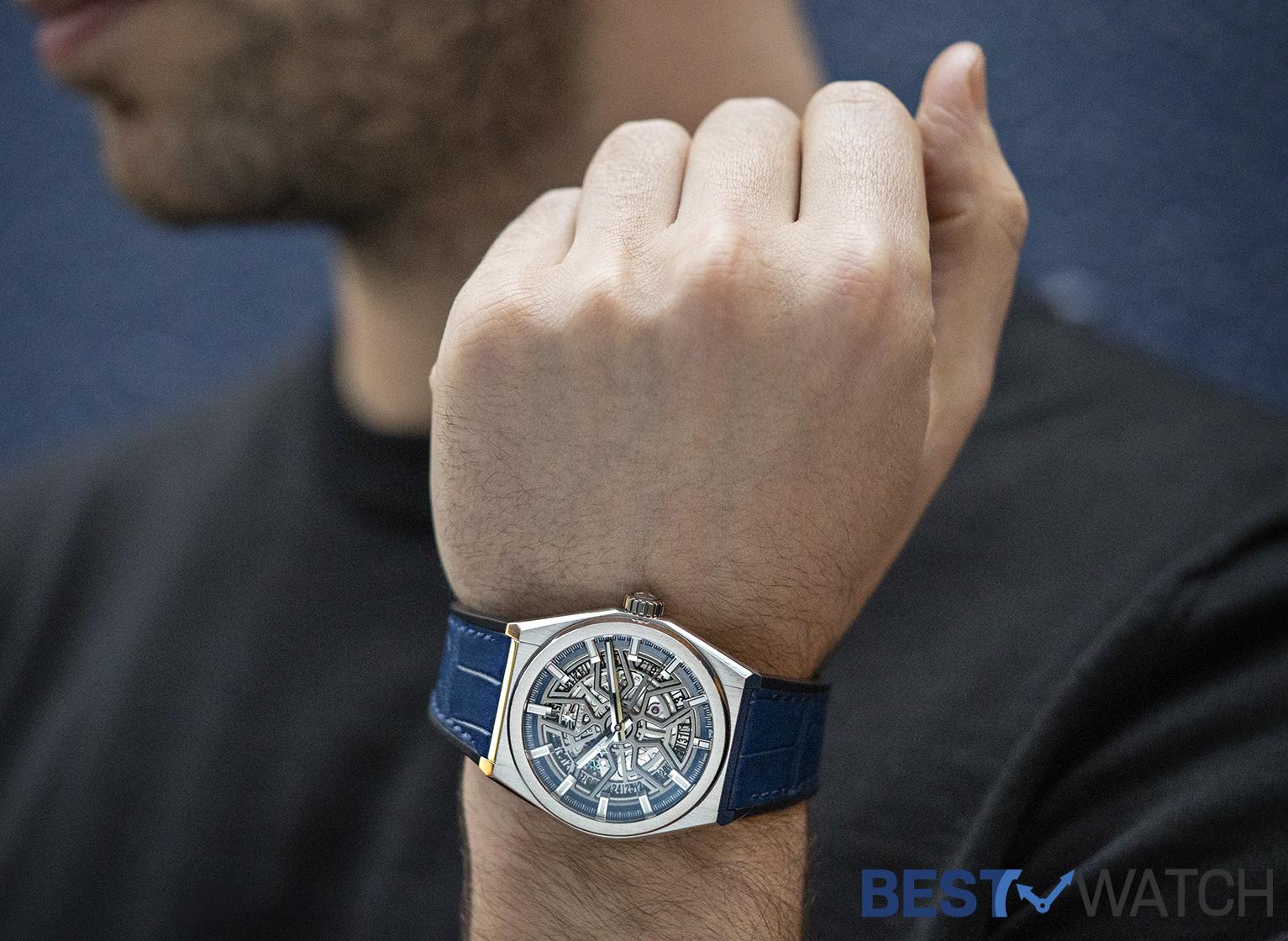 Since its establishment in 1865, Swiss luxury watch manufacture Zenith has been a pioneer in the field of precision timekeeping. Considered the first integrated watch manufacture in Switzerland, it has won more than 2,300 chronometry prizes. In 1969, the brand introduced the legendary El Primero chronograph movement endowed with a high frequency of 36,000 vph for ensuring short-time measurements accurate to the nearest 1/10th of a second. Zenith has since developed over 600 movement variations. The most addition is Zenith El Primero 9004 automatic chronograph calibre, which is capable of accurately calculating 1/100th of a second.
At present, the flagship collections of the iconic brand are Defy, Chronomaster, Elite and Pilot. From the impressive lineup of Zenith, we have shortlisted the 5 best watches for your everyday lifestyle. 

(1) Zenith Chronomaster Sport
Zenith Chronomaster is an exceptional collection of mechanical chronographs equipped with the modern interpretations of the legendary El Primero movement.
Zenith Chronomaster Sports is the most recent addition to the range. An outstanding characteristic of this 41mm stainless steel watch is a refined dial design featuring tri-color chronograph registers in blue, anthracite and light grey. This timepiece is equipped with the Zenith El Primero 3600 automatic calibre with 60 hours power reserve.
The polished black ceramic bezel with graduated 10 seconds scale allows precise 10th of a second chronograph reading. Available with a black or white dial, this versatile timepiece can be fitted comfortably with an integrated steel bracelet or a textured Cordura effect rubber strap. Comfortable to put on and boasting a contemporary yet timeless aesthetic, the Chronomaster Sport is a perfect Daily wear watch, especially for those who typically follow an 'on the go' lifestyle with hectic schedules. The selling price range of this extremely precise chronograph is HKD$ 80,800 to HKD$ 84,900. 

(2) Zenith Defy Classic with blue dial
Defy is an extensive watch collection, with notable models like Zenith Defy El Primero 21, Classic, Zero G, Midnight, Extreme and Tourbillon.
Among them, Defy Classic is an elegant and modern three-hand mechanical watch endowed with the useful date indication. It is available with an open-worked dial or a sunburst blue closed dial. This automatic timepiece has a graceful 41mm diameter case made of titanium, which is stronger and lighter in weight compared to stainless steel. It houses an Elite 670 SK automatic movement with a power reserve of 48 hours.
As a daily wear wristwatch, the version featuring closed dial is more preferable. Supplied with an integrated bracelet in titanium or a rubber strap with alligator leather coating, the blue-colored sunray dial features a date window at 3H. Thanks to its lightness and a quick-to-read dial, this Zenith Defy classic model is an ideal wristwatch for everyday lifestyle. Its retail price range is approximately HKD$34,500 – HKD$ 42,700. 

(3) Zenith Elite 6150 Steel
The Elite 6150 model belongs to the family of Zenith ultra-thin wristwatches. It is the most classic and minimalistic wristwatch in the present catalogue of the iconic Swiss brand. Although a classic timepiece in terms of aesthetics, it is loaded with several incredible features that make the Elite 6150 a perfect watch to worn during your daily lifestyle.
Firstly, this ultra-thin automatic Zenith watch has a power reserve of more than 100 hours. The alligator strap features protective rubber lining to avoid damages usually expected when it wear daily. The watch features a trendy, yet robust 42mm diameter stainless steel case. The cambered dial with lean baton-hands and long, slender hour-markers ensure excellent dial visibility. The average selling price of this timepiece is HKD$ 41,000. 

(4) Zenith Type 20 Extra Special 40mm
Zenith has a long history in manufacturing pilot watches, and it was a major supplier of aviation timepieces during the initial stages. The brand provided watches to aviation pioneers like Louis Blériot. Zenith's Pilot Collection is an inheritor of this great legacy. Presently, the collection consists of models like Type 20 (45mm), Type 20 Chronograph 45mm and Type 20 Extra Special 40mm.
Usually, pilot watches feature large cases and big crowns for wearing along with special clothing used by the aircrew. For most people, large dimensioned wristwatches may be unsuitable for daily wear. So, we have shortlisted the Type 20 Extra Special 40mm as an ideal daily beater from the Zenith Pilot collection.
This automatic wristwatch comes with a 40mm diameter case made of aged steel or bronze. It boasts all aesthetic features of the brand's iconic pilot watches, but with a compact case for a comfortable fitting. It is available with leather strap or nubuck leather strap with protective rubber lining. The retail price range is approximately HKD$ 33,400- 36,300. 

(5) Zenith Chronomaster Revival A 385
The Revival Series is comprised of faithful reproductions of the iconic Zenith chronograph watches. Presently, this impressive range includes models like A 384, A 385 and A 386. These timepieces are designed after their namesake ancestors. Zenith has used original blueprints and production plans to manufacture these spectacular mechanical wristwatches. Among them, we have shortlisted Revival A 385 as one of the most valuable Zenith watches for your daily lifestyle.
Introduced in 1969, A 385 was a tonneau-shaped stainless steel chronograph equipped with the iconic El Primero self-winding movement. It featured a brown gradient dial. This eye-catching dial design was used for the first time in the watch industry. The revival edition faithfully recreates the same aesthetic and design features of the original timepiece. It has a 37mm diameter stainless steel with distinctive tonneau shape. The Revival A 385 watch, however, is fitted with a sapphire crystal instead of acrylic. This timepiece is equipped with the El Primero 400 Automatic column-wheel chronograph movement with a power reserve of 50 hours.
This wristwatch is available with a light brown calf leather strap with protective rubber lining or a stainless steel "Ladder" bracelet designed after the Gay Frères bracelets of the early El Primero watches. The retail price range of Chronomaster Revival A 385 is from HKD$ 67,900 to HKD$ 72,300.