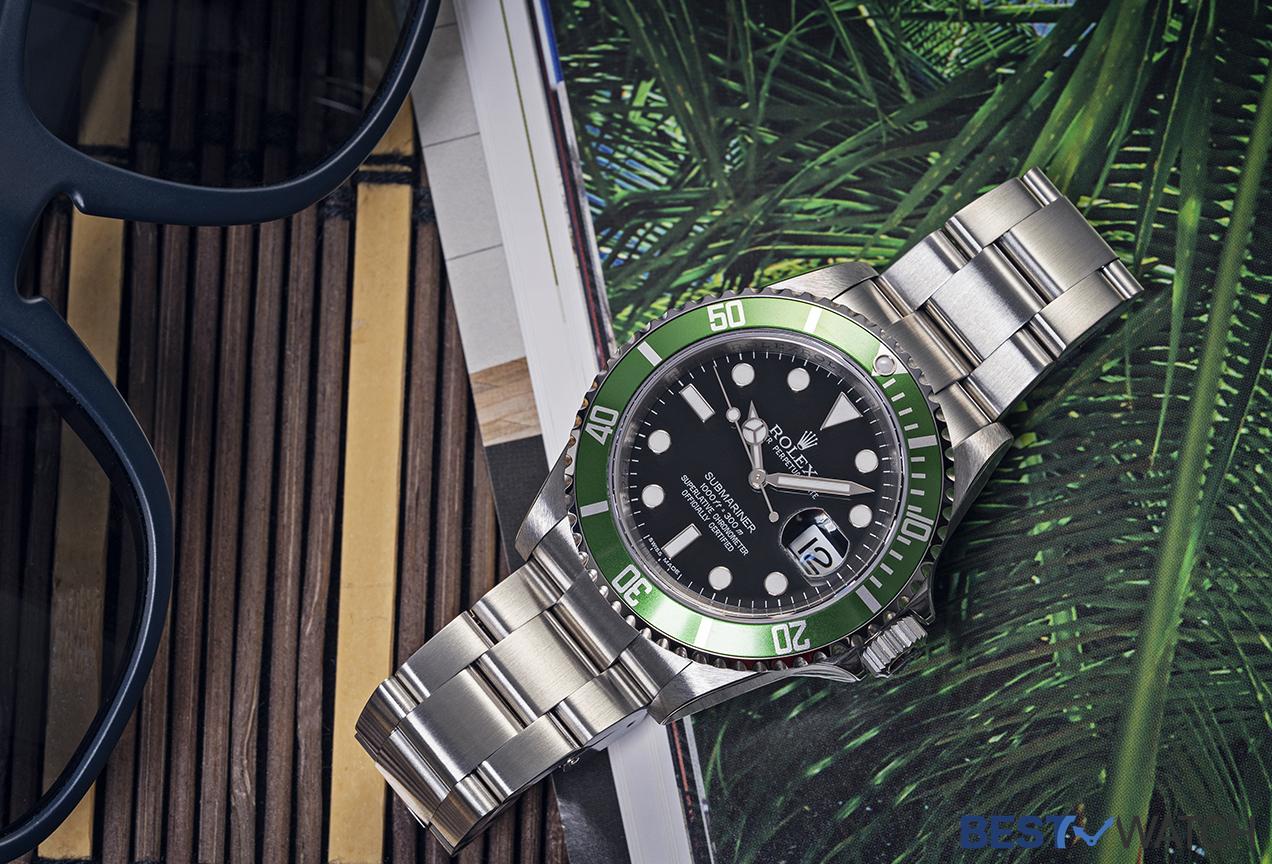 One of the most successful diving watches ever made, the Rolex Submariner enjoys a grand, unrivalled heritage that tracing back to the 1950s.
Founded by Hans Wilsdorf in 1905, Rolex has been an industry leader in the manufacturing of water-proof and shock-proof watches. In 1926, the brand introduced Oyster, the first waterproof wristwatch in the world. In 1927, young British professional swimmer Mercedes Gleitze wore a Rolex Oyster watch when she swam across the English Channel. This historical achievement helped Rolex to successfully market its newly inducted water-proof watches.  
The commercial launch of Submariner in 1953 represents the iconic Swiss watch company's first step into the world of diving. The first Submariner was capable to withstand the pressures up to 100 meters depth. In 1954, Rolex launched a new reference with 200 meters water resistance. Before achieving the existing standard of 300 meters water resistance, Rolex had made numerous Submariner watches with 100m or 200m depth rating. 
The Rolex Submariner family includes several references of 'Date' and 'Non-date' models. Additionally, most of the references include numerous variants, based on Case material, Dial color/type, Texts on the dial, Style of hands and markers, Lume material and more.
History and Evolution

1953, Rolex created Submariner, the first diving watch with 100 meters (330 feet) water resistance. At that time, the brand achieved this incredible water resistance rating by integrating a rugged 'Oyster' case, screwed-down winding crown and a thick acrylic glass. Among the first Submariner models, 6204 and 6205 were tested for waterproofness of 100 meters. The reference 6200 was the first Submariner with 200 meters water resistance.
Both 6200 and 6205 featured the so-called 'Mercedes' hour hand, which became a hallmark of all Submariners produced thereafter. Among the first-generation submariners, the models with crown size of 6mm or less are known as 'Small Crown' submariners and those with 8mm crown are identified as 'Big Crown' submariners.
Equipped with automatic movements, all first-generation submariners came with 37mm diameter case in stainless steel and highly legible dial with luminous hands for displaying the hour, minute and seconds. Their rotating outer-bezel features a triangle mark at the 0/60 position and minutes markers for recording the 'time elapsed' during diving. 
In 1959, Rolex unveiled a new submariner (reference 5512) with 40mm diameter case in stainless steel and the 7mm crown. This reference also feature crown-guards, a stand-out element of all Submariner models produced thereafter.
In 1966, Rolex introduced reference 1680, the first Submariner with date display. This 40mm diameter self-winding watch features stainless steel case, bi-directional bezel and acrylic crystal glass. The brand also added a yellow gold (1680/8) date version. All the above submariner date models were 200m water resistant.
In the 1970s, Rolex developed the Triplock winding crown, a patented triple waterproofness system designed especially for its diving watches. Subsequently, the brand increased the Submariner's water resistance to 300 metres (1,000 feet). In 1978, Rolex introduced the ref.16800, the first submariner date with a water resistance of 300m. This reference came with a flat sapphire crystal instead of acrylic glass. In 1988, Rolex introduced the first Submariner watch with 904L stainless steel case.
In 1990, the first no-date Submariner to be fitted with sapphire crystal and Triplock crown was launched. During this period, Rolex introduced unidirectional bezels for its diving watches. 

In 2008, the brand introduced Cerachrom bezel insert, which is more scratch-proof and UV-resistant than the metal bezel inserts. The first submariner models to be equipped with the proprietary ceramic bezels were 116618LN (yellow gold version with black dial and black bezel), 116618LB (yellow gold version with blue dial and blue bezel) and 116619LB (white gold version with blue dial and blue bezel). Introduced in 2010, the Rolex Submariner 116610 is the first 904L stainless steel version with Cerachrom bezel insert.
All Submariner watches are equipped with the chronometer certified self-winding movements. Since 1953, Rolex has produced several references based on the calibers used. Most of the movements were chronometer certified. The latest generation submariners feature in-house developed self-winding movements, made in accordance with the 'Superlative Chronometer' certification redefined by Rolex in 2015.
New Generation Submariners

In 2020, Rolex launched reference 124060, a 41mm diameter version of the classic non-date submariner in 904L stainless steel. Equipped with Superlative Chronometer certified Calibre 3230 self-winding movement, this timepiece has a power reserve of 70 hours. It features a black-lacquer dial and a unidirectional rotational bezel with black Cerachrom insert.
In 2020, Rolex announced the launch of a new generation Submariner Date with 41mm diameter case and COSC-certified Calibre 3235 self-winding movement with 70 hours power reserve.

The rolex submariner 2020 edition includes seven 'Date' variants. The first two models have 904L stainless steel case, black dial and Cerachrom bezel insert in green (126610LV) or Black (126610LN). The third variant (126619LB) features an 18ct white gold case, black dial and blue Cerachrom bezel insert. The new-generation line up also includes two yellow Rolesor versions – 126613LB (with blue Cerachrom bezel and a royal blue dial) and 126613LN (with black Cerachrom bezel and black dial). Finally, two yellow gold variants complete the list: 126618LB (blue Cerachrom bezel and royal blue dial) and 126618LN (black Cerachrom bezel and black dial).
Popular Submariner Models
Within the submariner family, a number of references became extremely popular and enjoyed long production runs. Due to various reasons, some references were produced for short durations only.
Introduced in 1989, the rolex submariner 16610 is considered as the most popular submariner model. Equipped with caliber Cal. 3135, this submariner date watch in 904L stainless steel enjoyed a long production run (from 1989 to 2010). Water resistant to 300 meters, this model features a black dial, sapphire crystal glass and unidirectional rotating bezel. The rolex submariner black (reference 116610, date version with ceramic bezel) is equally a best-selling model.

Nicknamed 'HULK', the rolex submariner green (reference 116610lv) is another popular model from the submariner collection. This version features green Cerachrom bezel and green dial. Among the Rolex Submariner no date watches, references like 14060 and 114060 are considered as most popular. From the old generation, references like 5512, 5513 and 1680 enjoyed wide popularity during their production period.
Apart from the above, most of the vintage submariner models are greatly preferred by experienced watch collectors, thanks to their historical importance and rarity.
The Best Diving watch

The Rolex Submariner is the most admired diving watch ever produced. It has been considered as the most ideal analogue dive watch in the 300m depth category. In comparison with other diving timepieces in the market, submariner boasts some superior characteristics that make it a trustworthy diving instrument.
For example, Rolex uses 904L grade for its stainless steel wristwatches, including submariners. In case of Rolesor models, the brand uses 18 carat gold and 904L steel. Most dive watches available in the market are made of 316L stainless steel. In comparison, 904L steel is more durable and corrosion-resistant. As a result, the submariner Rolex watch offers better corrosion-resistance when exposed to saline sea water.
During diving, the diver should be able to read the time with a glance. To ensure better dial visibility underwater, a diving watch must feature an easy to read dial with the luminescent coating on its markers and hands. The Submariner watch features broad hands and large hour-markers for crystal clear reading of the time. All their hands and the markers are embedded with Chromalight, a proprietary luminescent coating that offers superior and long-lasting glow compared to Super LumiNova and other luminescent technologies.
The unidirectional bezel is a crucial component of all modern day dive watches. It has been used for monitoring diving time and decompression stops. It rotates only in a counter-clockwise direction to prevent accidental manipulation underwater. All present-generation Submariners feature unidirectional rotating bezels with ceramic (Cerachrom) bezel insert, which is virtually scratch-proof and resistant to discoloration. This easy to operate bezel also features Chromalight lume on its triangle marker for better readability in the dark environments. This extremely durable bezel guarantees accurate monitoring of diving time and ensures the safety of the diver.
The Submariners are available with Black, Blue or Green bezels. Among them, Black-bezel Submariners top the list in terms of production and availability. The Green bezel models are rare, and most sought-after among them are 'Hulk' (116610LV) and 'Kermit' (122610LV). In the current line-up of 41mm versions, the ref. 126610LV features a green bezel. The Rolex Submariner blue bezel models included in the latest generation are: 126619LB, 126613LB and 126618LB.
The modern self-winding movements that power Rolex Submariner watches demonstrate excellent standards of precision, shock-resistance, magnetic-resistance and reliability. All the present generation submariners are 'Superlative Chronometer Officially Certified' and provide an exceptional precision of -2/+2 seconds/day. The Parachrom hairspring offers greater resistance to shocks and temperature variations. The Chronergy escapement ensures exceptional power reserve (up to 70 hours in new generation watches). These characteristics ensure excellent chronometric performance even in harsh conditions.
The Submariner watch incorporates the time-honored 'Oyster' design featuring monobloc middle-case, screw-down crown with Triplock triple waterproofness system, scratch-resistant sapphire glass and screw-down case back. This proven system provides an exceptional water resistance of 300 meters.
A durable, secure and expandable strap is necessary for dive watches. Each submariner watch is fitted with an Oyster bracelet. Both robust and comfortable, this bracelet is equipped with an Oysterlock clasp, which prevents accidental opening. The bracelet also features the Glidelock system, which grants fine adjustments of the bracelet without employing any tools – and allowing it to be worn and comfortably over a diving suit.
All Rolex Submariner date watches feature a Cyclops lens affixed on the glass for a clear and magnified view of the date display.
A Great Investment

Originally introduced as a great tool watch for divers, the Submariner has gradually become an ultimate status symbol, which makes it a superb investment option. This collectible timepiece ensures good returns in the future, thanks to its immense popularity and excellent resale value. The Rolex Submariner price differs depending upon the generation and materials used. For example, the new generation Rolex submariners introduced in 2020 has an approximate price range starting from 69,000 HKD to 346,000 HKD (Hong Kong Dollars).
When it launched in the 1950s, the Submariner had a retail price of around US $150 (approximately 1200 Hong Kong Dollars). Since then, the price of the Submariner watch has been increased multiple times. Around the world, a large number of connoisseurs collect both new and vintage models of the submariner.
The historical Submariners, especially those produced before the 1970s, are most sought-after in the vintage watch market. Some of them cost more than that of a new generation submariner. Among them, some rare references achieve record-breaking prices during the watch auctions. For example, in 2018, Christie's auctioned a Submariner reference 6538 watch for more than $1 million.