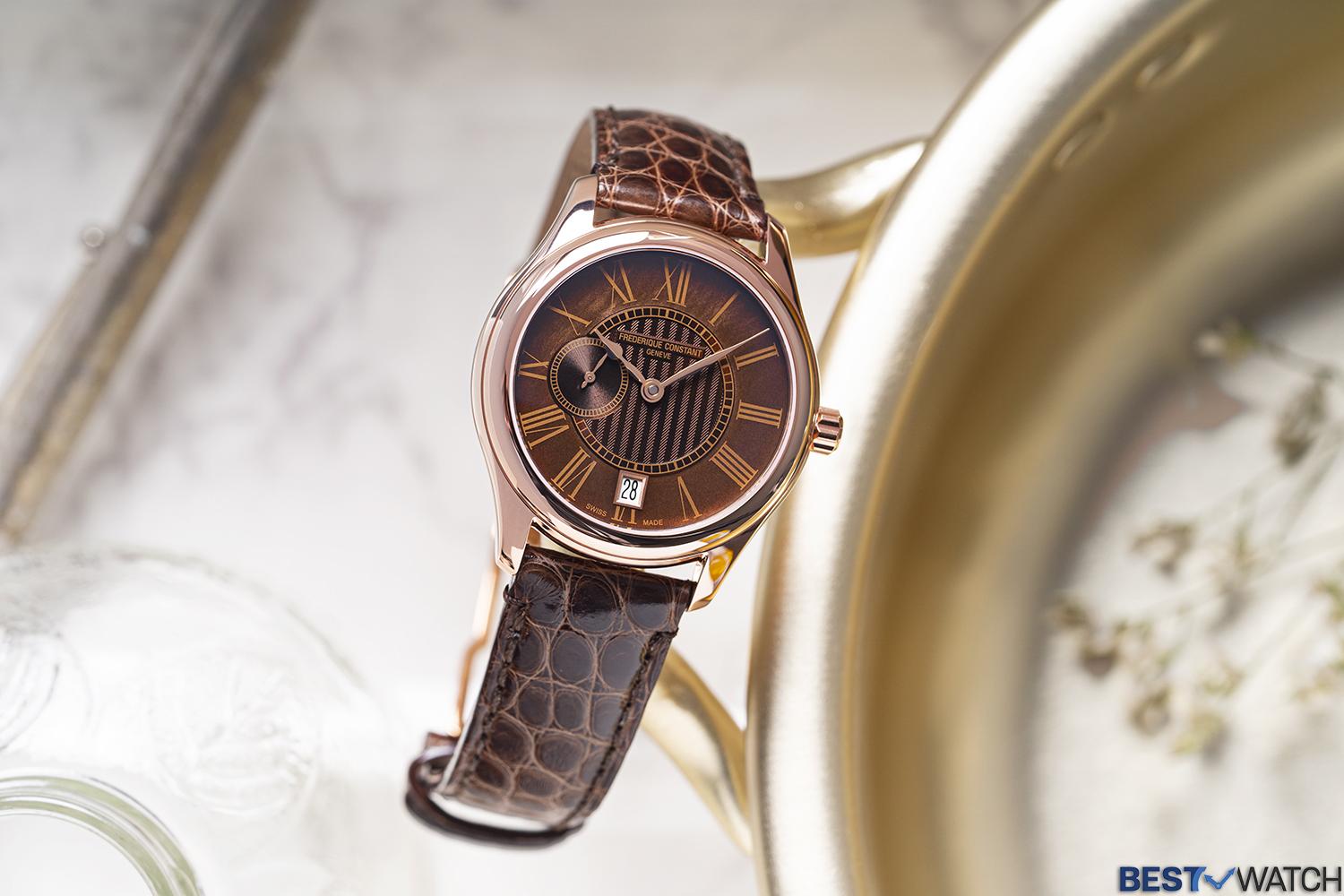 Standing along with all the historical and legend watch brands in the industry, Frederique Constant looks pretty like a cute little brother who gets tall fast and steadily. And yet the watches made by this young brand is so regit that no one's gonna underestimate its strength. 
Although having a comparatively short 30 years of history, Frederique Constant has already developed into a well-established manufacturer and gained international recognition. Incorporating its own in-house movements, the brand is offering a versatile watch family ranging from classic everyday watches, to highly complicated models including tourbillon and perpetual calendar. All are available at an approachable price range, so there are a number of Frederique Constant watch models that you should take note of.
A Brief History of Frederique Constant

Founded in 1988 by talented Dutch entrepreneurs Peter Stas and Aletta Stas-Bax, Frederique Constant is a relatively young Swiss luxury watch brand. With a few years of experiments and development, the brand launched its first collection with six models fitted with outsourced Swiss movements.
Just two years after its first watches, the brand released its very popular Frederique Constant Heart Beat collection in 1994. With the aim to produce fully in-house manufactured timepieces, the company had soon been established as a whole integrated manufacture. In just 10 years, Frederique Constant created its first in-house movement, the Heart Beat caliber FC 910, in 2004. Today, the brand has already rapidly expanded to more than 15 in-house movements, including highly complex calibers such as tourbillon, perpetual calendar and moon phase complications.
After being acquired by Citizen Watch Company in 2016, along with Alpina and DeMonaco, Frederique Constant is still growing and delivering quality timepieces at affordable prices. In recent years, the brand has gained huge success in Asia, especially the Frederique Constant HK banch received overwhelming responses in the market.
The Popular Frederique Constant Watch Models For Your First Purchase

Currently, there are nine different collections under Frederique Constant, each with its own purpose and style. The Frederique Constant watches are always a nice pick for different occasions no matter a formal, casual or a sports event. Amongst the FC watches, here are some notable models that are highly acclaimed in the global market.  
Frederique Constant Classics Worldtimer Manufacture 2022

Being the brand's flagship collection, the Frederique Constant Classics houses a collaboration of vintage and bold models in options of various designs. The Manufacture models in the collection are Frederique Constant's entirely in-house made watches. These models are entirely designed, produced and assembled in the Frederique Constant manufacture. There are many complicated models including chronographs, world timers, moon phase complication as well as HeartBeat versions. 
The Classics Worldtimer Manufacture model was introduced in 2012 as the brand's true travel watch. This release has immediately become one of the most sought-after Frederique Constant in record-breaking time. This Frederique Constant Worldtimer watch is still widely acclaimed by the watch admirers in the world. 
So in this year 2022, to celebrate the model's 10-year anniversary, Frederique Constant released two limited editions, exclusively for the brand's loyal watch collectors and fans. 
The new Frederique Constant world time model is available in two versions, one is with a stainless-steel case and another one is in premium pink gold. Both versions feature a world map with a deep blue background as the sea on the dial. And the dial is framed by a white rotatable disc which displays names of 24 main cities. Besides at 6 o'clock position on the dial, a matching blue sub-dial is placed to indicate the date. 
Frederique Constant Slimline Moonphase Manufacture 

The Slimline Moonphase Manufacture range is well crafted with classic design aesthetic, elegance and reliability. It is considered as one of the brand's most developed models to showcase horological perfection. 
The reference FC705S4S6B is one of the most popular Frederique Constant moon phase models. Measuring 42 mm in size, the watch features a gleaming, three-part stainless-steel case and a remarkable automatic movement which contains hours, minutes, date and moonphase complications. All the functions are adjustable by one single crown. 
Frederique Constant Slimline Perpetual Calendar Manufacture

The Frederique Constant perpetual calendar model was first unveiled at Baselworld 2016. Striking a new technical breakthrough, it is the brand's first in-house perpetual calendar model in the Manufacture line. Encaptivating simplicity and refinement, the perpetual calendar is so complicated that it is capable of showcasing the minutes, hours, date, day of the month as well as leap years in four digits. 
The FC Manufacture Perpetual Calendar watch features a 42mm case with options of a stainless-steel version or a rose gold version. They are also provided with different dial colors such as classic silver and blue. 
Frederique Constant Highlife Heart Beat

Being the first flagship model of the company, the Frederique Constant Highlife collection was launched in 1999 and has later become one of the most iconic FC watches. Its integrated straps and vibrant case silhouette are the distinguishable characteristics of the model. This watch offers a few complicated versions such as a perpetual calendar, a Heart Beat version, and more.
The Highlife Heart Beat is a standout with its emblematic dial. It features the motif of a globe which symbolizes the Earth, to express Frederique Constant's dedication towards harmony of the planet and sustainability in watchmaking. Making an enjoyable contrast with the gorgeous blue dial, the markers and hands are in silver toned with white luminous tips. 
Frederique Constant Highlife Automatic Skeleton

Being another highly appraised Highlife model, this Frederique Constant skeleton watch is regarded as a beautiful transformation from the original dial. It has changed the existing globe pattern into a charismatic skeleton area so that you can always appreciate the in-house movement. 
There are two versions available, dark titanium PVD coated steel and classic stainless steel. The dark titanium model features a deep grey dial while the well-polished stainless-steel model is paired with a navy-blue dial. This 41 mm skeleton watch is an elegant and timeless dress watch that garners everyone's attention. 
Frederique Constant Yacht Timer GMT

As a newer member of the family, the brand's first Yacht Timer GMT model was unveiled in 2019. Frederique Constant has been the Official Timekeeper of the Cannes Yachting Festival and its Yacht Timer Regatta Countdown has also been one of the most legendary complications of the brand. Now it is making a comeback with a GMT function. The GMT has only appeared in the Classics collection and it is the first time that GMT is featured in a Yacht Timer. 
This Frederique Constant GMT watch model is offering two versions: one in a rose gold-plated case and white dial as well as one version in a standard stainless-steel case. The Yacht Timer GMT has water resistance up to 100 meters to work perfectly on any water sports activities. Even though it is being less talked about in the global market, Frederique Constant watch is definitely a worth-owning piece to show how knowledgeable you are on watches to get a quality but affordable timepiece.