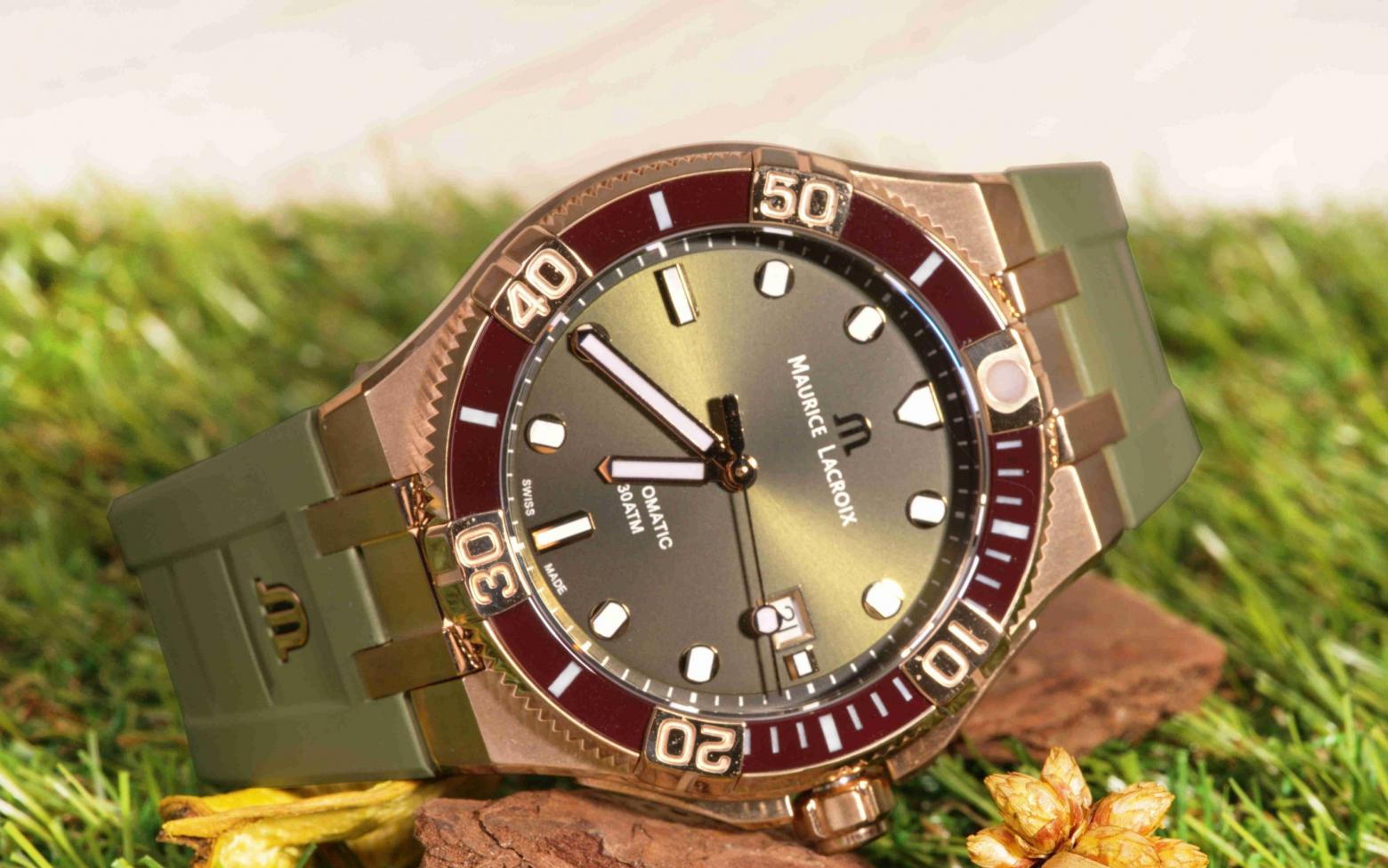 Maurice Lacroix is well known as an affordable alternative to high-end luxury watch brands. Sustaining promising quality and design, Maurice Lacroix has been further highly recognized ever since it started to create its in-house movements. 
The Maurice Lacroix watch has kept on evolving with new updates and releases. Its flagship watch, Maurice Lacroix Aikon, and other collections such as Maurice Lacroix Eliros and Masterpiece are their most sought-after models. This year the brand has released some alluring models, so if you are a new collector of this brand, you should not miss the following introduction about the most known and new models.
A Brief Story of Maurice Lacroix
Founded in 1975, the Maurice Lacroix company seems to be a young brand amongst the Swiss luxury watchmakers, but actually, its roots can be traced back to 1889. Headquartered in Zurich in Switzerland, Maurice Lacroix is a subsidiary of the Desco von Schulthess company, which had roots in trading silk internationally ever since its foundation in 1889. 
Initially, the Desco von Schulthess company was mostly focused on the Asian market, and later the company has successfully expanded its scale and diversified its business to include other goods. In 1946, the company started to get involved into various luxury businesses, including Swiss-made watches. Desco von Schulthess did not just stop at selling, yet the company set up a watch factory in Saignelégier in 1961 and began to produce its own private label watches. As a result, its own watch brand Maurice Lacroix was officially established in 1975.

To further expand its business and secure the quality of its watches, the company acquired a renowned case-making company Queloz SA, that also based in Saignelégier, in 1989. Ever since its foundation, this Swiss watch brand has caught up with the needs of watch enthusiasts from all over the world. The release of the high-end Les Mécaniques line in 1990 and the Cinq Aiguilles watch in 1992 have brought a resounding triumph to the brand. These popular models are now still an important reference to today's modern watch design.
With these high-quality watches, Maurice Lacroix has occupied a prominent position in the high-end Swiss watchmaking market. Furthermore, in 2001 the brand set up its own facilities and started to produce in-house components and movements. It was one huge step as an independent legal entity in the horology industry. In 2006, Maurice Lacroix succeeded to create its first fully in-house movement, the ML106 and equipped it to the brand's popular Masterpiece chronographs. Since then the company has developed more impressive movements such as an automatic movement in 2011. More models of its iconic watches are powered by its own movements.
Modern Models for Your First Maurice Lacroix Watch
Many watch collectors generally consider Maurice Lacroix as an enjoyable entry-level watch while you can get a satisfying quality at an affordable price range.  In its current catalog, the Maurice Lacroix Masterpiece, Maurice Lacroix Aikon and Maurice Lacroix Eliros are sought-after collections. The brand has been putting enormous effort into their growth and expansion. Let us check out some of their newer models of recent years.
Maurice Lacroix Eliros Sunshine

In March 2022, Maurice Lacroix presented the new Eliros Sunshine, a stylish timepiece in a full sunny golden tone. As suggested by its name, you would really feel the temperature rise when you look at the shinny watch.
The Maurice Lacroix Eliros was crafted with stainless steel and fully coated with a yellow gold PVD material. This 40 mm watch is also equipped with slim golden matching bezel and a 2N gold dial. The embossed pyramidal pattern on the dial also created a fancy reflection of light which has added a touch of playfulness. Wearing such a stylish watch would definitely turn people's heads all around in your summertime.
Maurice Lacroix Aikon Quartz

The Maurice Lacroix Aikon watch is known to be the Swiss watchmaker's flagship model. Its integrated case and ratcheted six-arm bezel are the emblematic design elements of the brand's watches. It is quite the brand's greatest creation that houses a number of popular models. The Maurice Lacroix Aikon Quartz watch was its first model that was released in 2016. It was actually a re-edited version of the brand's early sports watch in the 1990s, Maurice Lacroix Calypso. As a modern reinterpretation of the popular vintage Calypso, its has effortlessly continued the success and brought a significant reputation for Maurice Lacroix. 
These years the Aikon Quartz watch has kept on evolving with more updated models including the new 2022 range. Showcasing refined upgrades including a new Easy Strap Exchange System, the 2022 Aikon watch is currently one of the hottest timepieces in the market, which could surely be a piece that you are proud of.
Maurice Lacroix Aikon Automatic

Two years after its first quartz model, the brand released the Maurice Lacroix Aikon Automatic version, due to its massive success. Carrying most features of the original model, its iconic details such as the six-armed bezel and signature "M" logo remained while more dynamic angles and sophisticated polishing were added. The new Aikon Automatic watch is available in a number of versions such as three-hand date versions and chronographs. For watch lovers who prefer automatic movement, this precious Aikon watch in the collection is a real statement for your wrist.
Maurice Lacroix Aikon Tide

In this era which is very concerned about being environmentally friendly to our planet, Maurice Lacroix formed an inspiring partnership with #tide and developed a new range of wristwear made from upcycled ocean-bound plastic waste. The Tide Ocean SA, also called #tide, is an upcycling company specializing in recycling ocean plastics into usable products. Most parts of the Maurice Aikon Tide watches are engineered from ocean-bound upcycled plastic which is five times more resistant than normal plastic. 
Meant for younger audiences, the Aikon Tide series is featuring a stunning number of neon color dials and quartz movements at an affordable price range. Meaningful, stylish and reliable, the Maurice Lacroix Aikon Tide watch is a full package that represents modern values.