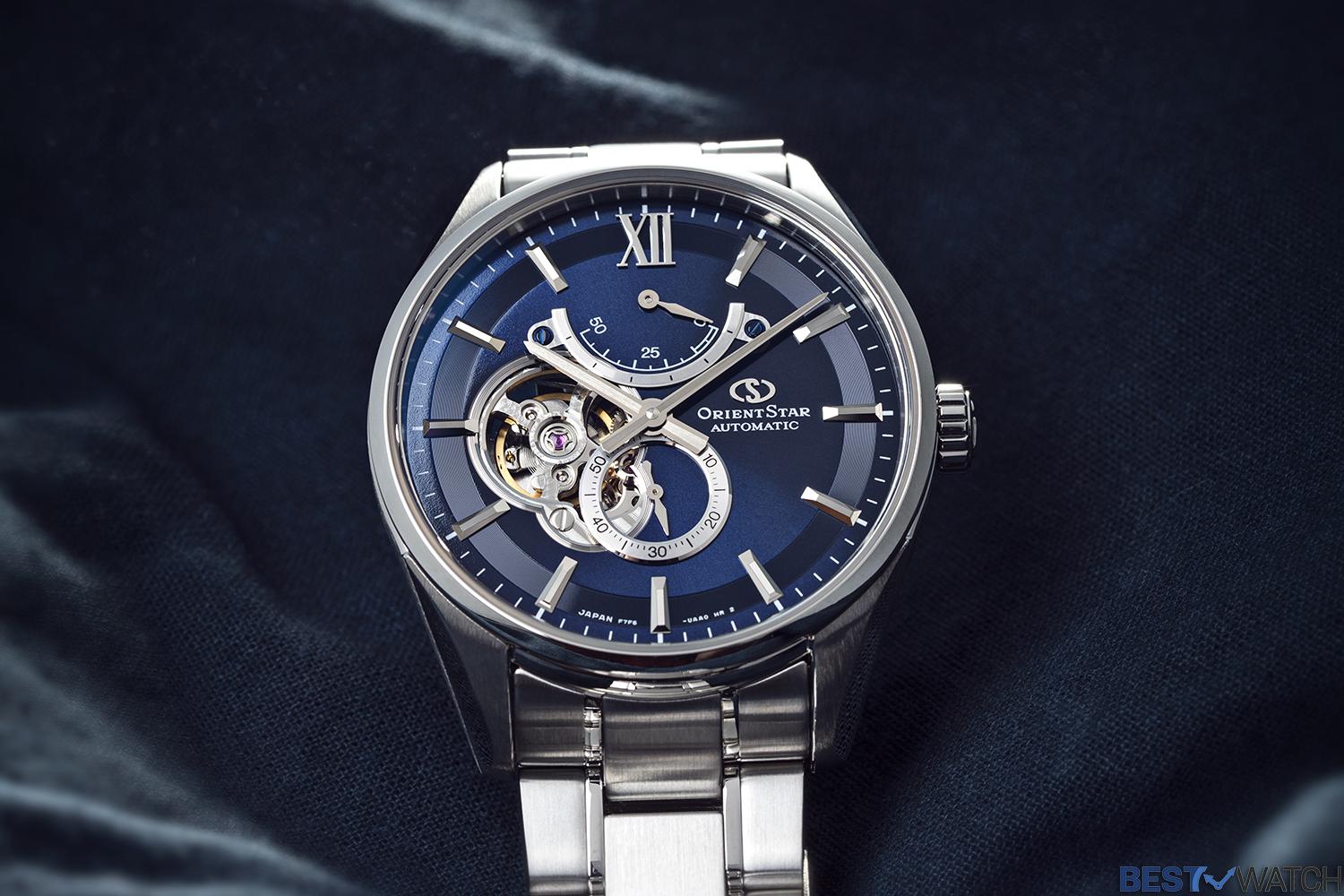 When speaking of Japanese watches, their groundbreaking timepieces must be one of those that would come to your mind. The gigantic brands like Seiko and Casio have continued to innovate on watchmaking advancements and technologies. Another huge Japanese watchmaker, the Orient Watch, is no exception. 
Orient and Orient Star
Managing two different lines, the Orient and Orient Star, the Orient Watch company has delivered a number of exceptional mechanical watches that have built its name widely. Lately, the brand has constantly released a few new Orient Star watch models that impressed watch enthusiasts over the globe. If you are new to this Japanese watch brand, we are here to brief you with its story and some of its best watches. 
For people who are not very familiar with the Orient watch families, you might get confused about the difference between Orient and Orient Star. In short, Orient is the entry-level lineup and Orient Star is a more premium lineup of the brand.
As said, the Orient series consists of more standard models at an affordable price range, while the Orient Star is offering more complicated and premium watches at a slightly higher price package. Compared to other luxury watches in the same quality, the Orient Star includes still exceptional timepieces at an affordable package. Featuring high-quality materials and advanced functions in terms of design and specifications, Orient Star is considered as one of the most notable Japanese watch lines amongst watch collectors from all over the globe. 
The first Orient Star watch was released in the 1950s. Without surprise, its design inspiration is from the image of stars just as its name stated. As of today, the Orient star line has already developed into a versatile house of a series of highly desired watches. There are three main collections categorized by different styles: Orient Star Classic, Orient Star Contemporary, and Orient Star Sports.
The Best Orient Star Watches for You

"Pleasure to Wear", "Delight to See " and "Joy of Connections", every Orient Star watch is well crafted under these core values of the brand. With the legacy and pride, Orient has been dedicating itself to watchmaking advancements and innovations. Its famous 46 series mechanical movement has kept evolving since its debut in the early 70s. This movement is still powering many popular Orient Star watches today. 
Over these years, Orient Star has been exploring new watchmaking technologies and from time to time releases new types of models for the brand. Following the quartz watch crisis of the 1970s to 1980s, Orient Star launched its first mechanical watch with a standard power reserve in 1996. And in the following years, it was followed by the brand's first World Time models, GMT models, and the later-renowned Orient Star Skeleton models. 
Seeing the success of its skeleton models, Orient Star released more updated models in recent years, such as a complete skeleton display model in 2016 and a semi-skeleton model with a mechanical moon phase in 2017. Now let us pick up some of the most popular Orient Star models for you. 
Orient Star 70th Anniversary Moonphase 

Being the brand's flagship model, moon phase versions should be the must-have item for Orient Star's 70th Anniversary in 2021. The brand introduced both the limited version RE-AY0111A and the available new model RE-AY0107N. The most distinguishing difference between them should be the "shining star" coated dial background. Except that, both mechanical Moon Phase models feature the same power reserve indicator and moon phase indicator, together with a semi-skeleton open-heart dial design that reveals a part of the exquisite mechanical movement. 
These new Orient Star Moonphase models are fitted with the brand's in-house automatic mechanical caliber F7M62 movement. The highly-respected Orient Star movement offers a power reserve of up to 50 hours while providing stable precision and reliability. 
Orient Star 70th Anniversary Modern Skeleton Limited Version

For such an important event, Orient Star Skeleton models must also present at its 70th anniversary indeed. The Modern Skeleton model from the brand's Contemporary Collection is another highlight of the event. Just like other limited versions, the golden-colored highlights and sparkling accents on the dark sky dial background have beautifully portrayed the shimmering starry sky in the universe. Coming up with the latest in-house mechanical movement, this Orient Star Skeleton watch is an ideal piece for collection especially since it is very rare, limited to 900 pieces worldwide.
Orient Star 70th Anniversary Semi Skeleton Limited Version
The last limited-edition model for its 70th anniversary is the Classic Semi Skeleton version. It features a fresh new design with a dial of color gradation from navy blue to green. Together with glittering accents, it is reminiscent of starry outer space. There are both models for men and women while are also limited to a few hundred pieces worldwide. 
Orient Star Layered Skeleton
Also released for the celebration of its 70th anniversary, the Orient Star Layered Skeleton was designed as a turning head everyday watch for men. As its name suggests, the watch is presented in a two-layer dial design that subtly incorporates formal menswear patterns on the top layer. It is a contemporary and interesting timepiece that suits every formal and work occasion.  
Orient Star Avant-Garde Skeleton

Inspired by the mechanical design elements of motorsports and automobiles, the Orient Star Avant-Garde was presented as the brand's sporty series in a large 43.2 mm dial. The dial of the Orient Star sports watch features a power reserve indicator that resembles a car's speedometer while offering an impressive 50-hour power reserve with the powerful in-house caliber F6F44 movement.
Orient Star Moonphase Open Heart RK-HJ0002L

The reference RK-HJ0002L with SAR was released in 2018 only at the Japanese market which is not in European distribution. Less fancy but timeless, this 41 mm Orient Star watch was presented in a classic Orient Star style. Under the name of Slim Skeleton, the case has a thickness of only 10.6mm that could lay comfortably on the wearer's wrist.  It is powered by the brand's proudful Orient F7F62 in-house automatic movement with an impressive power reserve of 50 hours. 
Orient Star Classic Skeleton WZ0041DX

Same with RK-HJ0002L, this Orient Star Classic Skeleton watch is also being sold only at the Japanese market. It features a 39mm stainless steel case with an elegant crocodile leather strap. The full skeleton display of its golden color-plated movement has beautifully contrasted with the silver dial background. It gives out a touch of luxury without being too flashy. While appreciating the movements of the caliber, this watch is a mechanical masterpiece for anyone who enjoys watchmaking mechanisms. 
Orient Star Diver 1964 

Lastly, we would like to introduce something different. Sometimes being overshadowed by the moonphase and skeleton models, the brand actually houses a few nice sports watches as well. Originally released in 1964, the first Orient Star Diver has been revived with a greatly updated version in reference RE-AU0501B. This new Diver 1964 release is a faithful adaptation of the original Orient Olympia Calendar Diver, which stays true to the origin design, while having several technological updates on the features and movement. This is a perfect pick-up for every collector who wants to "own" a piece of memorable history of Orient Star. 
Offering exceptional, beautiful and yet affordable watches, if you are a new collector, you should take a much harder look at the Orient Star watches. Numerous models are actually showing Orient's finest craftsmanship and here are some of those.